Bagnoli's Valedictory Season Promises an Uphill Climb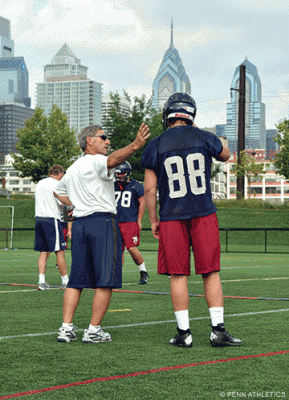 By Dave Zeitlin | For a while, it seemed like the calls, texts, and emails would never end. After announcing in April that the 2014 season would be his last as Penn's head football coach, Al Bagnoli was inundated with a barrage of messages from colleagues, professional peers, former players and, most surprisingly, Penn alumni he never coached but who still wanted to tell him how they tried to incorporate his leadership approach into their own careers.
For Bagnoli, it was all very gratifying and humbling. But perhaps the best part was when those messages recently began to subside.
"I get it," said the longtime head coach from his office as he began preparations for his 23rd and final season at the Quakers' helm. "But I'm happy that's behind us now. You don't really want to deviate and put any more spotlight or onus on yourself. It was never about that."
Bagnoli's attitude about his impending retirement should come as no surprise to those who know him best. His humility, at least publicly, has been perhaps the defining characteristic of a coach who has always let other people recite his accomplishments—namely, capturing nine outright Ivy League championships in 22 seasons at Penn—while he quietly went about the business of winning year after year.
And so, when Penn's 2014 football season begins with a road game against Jacksonville University on September 20, Bagnoli will do his best to convince his players to ignore the storyline of sending him off into the sunset with a championship ring for his tenth finger. Winning the Ivy League, after all, is the goal every year, regardless of who's holding the clipboard and calling the plays on the sideline.
"There's enough pressure here," Bagnoli said. "I don't think you want to add another variable. It's never about the coaches. It's always about the kids."
Those kids will have a daunting challenge ahead of them nevertheless. In addition to preparing for the torch to be passed from Bagnoli to longtime assistant Ray Priore at the end of the season, the Quakers also enter the 2014 campaign in another unfamiliar situation: as underdogs.
Despite winning three of the last five Ivy League titles outright, Penn was picked fourth in the preseason Ivy League poll, behind reigning co-champs Princeton and Harvard, as well as Dartmouth. The prediction shouldn't come as much of a surprise; after losing their final four games of the 2013 season to fall below .500 for just the second time in Bagnoli's tenure, Penn graduated a handful of program stalwarts, including record-breaking quarterback Billy Ragone C'13.
Of course, this isn't the first time Bagnoli has come into a season needing to reload at certain positions. And just as in years past, the head coach is optimistic that his team can rally around a few standout seniors—a group that this season includes linebacker Dan Davis (a preseason All-American), defensive backs Dan Wilk and Evan Jackson, and wide receiver Conner Scott—while new young stars emerge. One potential breakout player is sophomore quarterback Alek Torgersen, who made his collegiate debut in the 2013 season finale against Cornell and threw for a pair of touchdowns to offer a glimmer of hope at the end of a brutal year.
"We have a real diamond in the rough with him," Bagnoli said of Torgersen. "He acquitted himself really well in the final quarter of the Cornell game and I think he took that momentum into spring football. He's a kid that can do anything you want him to do."
The thing about quarterbacks, though, is they need experience, and Torgerson hardly has any at this level. For the Quakers to return to the top of the league, Bagnoli knows he has to take some of the burden off the young QB's shoulders and surround him with enough proven talent to make his job easier. How that plays out remains to be seen—but here's one thing that's more certain: other coaches in the Ivy League believe Bagnoli will figure out a way to win this year.
"Al's done an amazing job—truly one of the great runs in Ivy League history," said Harvard coach Tim Murphy, who will become the league's longest-tenured coach upon Bagnoli's retirement. "I have nothing but admiration and respect for him. I know for us, the road to the Ivy League championship starts—and a lot of time ends—[at] Penn."
Murphy was just one of the coaches to offer praise and gratitude to Bagnoli at the annual Ivy League preseason teleconference with reporters in early August. And Bagnoli, of course, tried to quickly brush aside the compliments, reminding everyone that "the pleasure's been all mine" when it was his turn to get on the call. But the revered coach did open up a bit when asked to reflect upon his tenure at Penn, discussing not only the championships but also the two suicides that rocked the program—that of Kyle Ambrogi W'06 in 2005 ["Gazetteer," Jan|Feb 2006] and Owen Thomas W'11 in 2010 ["Gazetteer," Nov|Dec 2010].
"I was fortunate to be a part of some really, really great moments with record-setting winning streaks and back-to-back championships, and dominant teams, and great kids," he said. "And also I was part of some tragedies. There were two suicides we had to deal with. If you stay at any job long enough, there's always going to be a balance between the really good moments and some of the low moments. And I think I experienced the extreme on both ends."
In the end, Bagnoli felt he had seen enough, surprising many with his retirement announcement. In addition to the congratulatory messages, Bagnoli said he was often asked over the past few months why he decided to stop coaching when he's still winning and still healthy. The 61-year-old's response to people who've wondered that: "I look at them and say, 'I have been head coach for 22 years, going on 23—it hasn't been a two-week honeymoon here! Change is not always bad. It makes everyone apprehensive because of the unknown. But it could be an exciting time.'"
Perhaps the most apprehensive person is Bagnoli himself. He may be focusing on his team right now, but when the season ends—at Cornell on November 22—he knows he's going to have to figure out a way to suddenly turn off the coaching switch.
"I think it will feel weird the Sunday after Cornell and I'm not coming to the office," Bagnoli reflected. "Or it will feel weird when I'm not on a recruiting trip. That's new. That's something I've never experienced. And only time will tell if it's something I can deal with. I'm in uncharted territory, to be honest with you."
Men's soccer hoping to go back-to-back
It's a testament to the state of Penn's men's soccer program that when head coach Rudy Fuller discusses his team's outlook for the upcoming 2014 season, he can't help but also discuss the professional aspirations of his top players.
Chief among them is forward Duke Lacroix, who returns for his senior season fresh from leading the Quakers to their first outright Ivy League championship since 1972 while taking home the conference's Offensive Player of the Year award.
"I'd be shocked if he wasn't drafted—and drafted high [into Major League Soccer]," Fuller said. "He has natural ability that you can't teach. There are very few guys like him in terms of pace and athleticism."
In the meantime, Lacroix will try to lead the Quakers to their second straight Ivy title, as well as the program's fifth NCAA tournament berth in Fuller's 17-year tenure. His head coach believes the high-scoring striker can improve on last year's performance, when he had eight goals and three assists, including one in the title-clinching win at Harvard.
"My hope for Duke," Fuller said, "is that last season was a bit of a coming-out party for him and gives him the confidence to take on an even greater role on the team this year."
Lacroix will get offensive help from sophomore Alec Neumann, who had five goals and four assists as a freshman and whose brother, Steve, was a first-round pick in the 2014 MLS draft after starring at Georgetown. Fuller is also counting on big things from senior midfielder Louis Schott, sophomore midfielder Matt Poplawski, and senior center back Jason deFaria in the middle of the field; sophomore Max Polkinhorne in goal; and senior Kamar Saint-Louis—another pro prospect—at left back.
"Kamar developed into what I think was the best left back in the Ivy League and one of the best in the region," Fuller said. "Kamar, in my opinion, has a decision to make because I think Kamar has the potential to play at the next level. And I think he is potentially starting to grasp that."
With so much star power on the team, it should come as no surprise that the Quakers are hoping to not only return to the postseason but advance further in the NCAA tourney after losing, at home, to Providence in the first round last year.
"I think the Ivy League title is certainly something we feel is realistic, and that's one of our goals every year," Fuller said. "But we also want to reach higher."
---
Dave Zeitlin C'03 writes frequently for the Gazette.