Artful Additions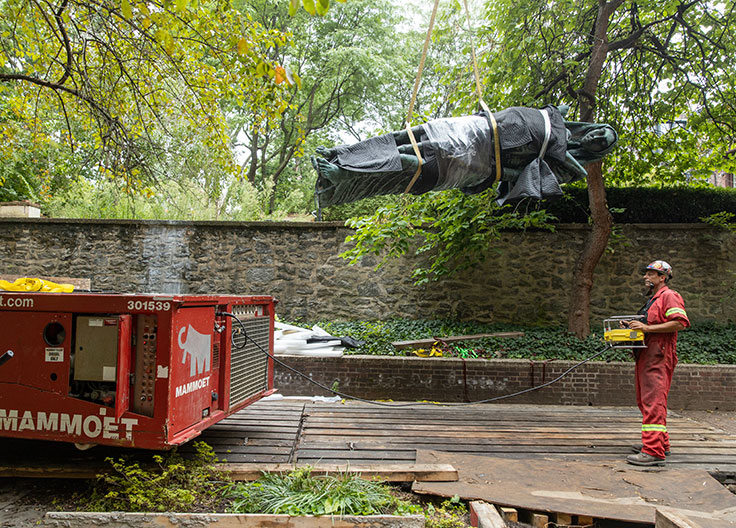 Ask any student or alum about Penn's outdoor sculptures and prepare for a litany of nicknames, rumors and urban legends. From the broken button outside Van Pelt Library, to "Ben on the Bench" further down Locust Walk, to the massive red steel pipes outside the high rises, the University's public sculptures are staples of campus life—and now two more have joined the landscape.
Louise Nevelson's "Atmosphere and Environment XII" and Sir Jacob Epstein's "Social Consciousness" both came to Penn this summer from its neighbor across the Schuylkill, the Philadelphia Museum of Art. Since 1955 ("Social Consciousness") and 1973 ("Atmosphere"), the massive sculptures have greeted every museum visitor who enters the PMA from its western, non-Rocky steps side. But with extensive renovations now underway at the museum, the artworks—both owned by the Association for Public Art—needed a new home. They've found one at Penn.
"We're just so thrilled to have these artworks," says Lynn Marsden-Atlass, the University curator and executive director of the Arthur Ross Gallery. "This is an amazing opportunity for us that brings even more visibility to Penn and Penn's wonderful sculpture collection on campus."
Describing Nevelson as "far and away the most renowned female artist of mid-20th century," Marsden-Atlass said that "Atmosphere and Environment XII" is a prime example of the single-color, wall-like sculptures for which the artist is best known. Created in 1970 from 18,000 pounds of steel, the 18-foot-tall "Atmosphere" is made up of rectangles, cubes and other geometrical forms. Its six narrow, height-varied columns mimic a city's high-rise landscape.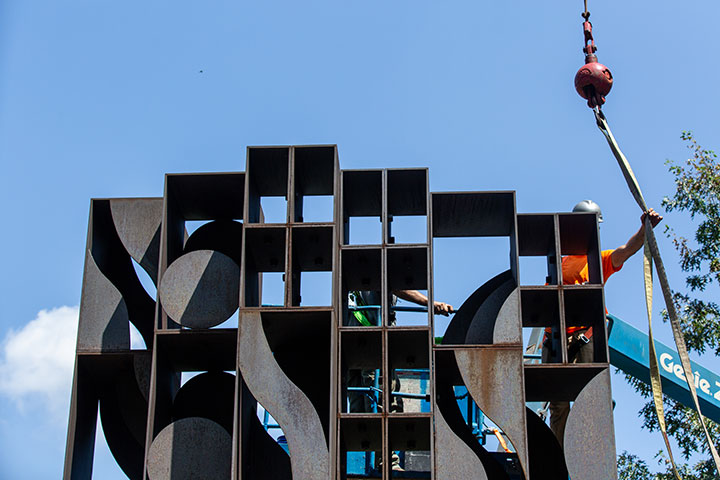 The piece now lives at Penn on Shoemaker Green, a public commons added to campus in 2012 near the Palestra. "It seemed so huge and imposing on the stairs of the Philadelphia Museum of Art," Marsden-Atlass says of "Atmosphere," "but here I think it's going to have a very different feel." Flanked by trees that are taller than the sculpture itself, the work now includes glimpses of stadium, grass and sky through its open areas, and allows enough room for viewers to study it from all sides.
Epstein's striking bronze work "Social Consciousness," commissioned in 1950 to represent compassion and sympathy in the face of suffering, arrived next. Its elongated figures, the tallest of which reaches over 12 feet high, include the seated Eternal Mother and two standing female figures: one who is comforting a child crouched at her feet and the other supporting a boy who's draped against her body, arms hooked over her shoulders.
That piece went into the Memorial Garden Walkway that runs between Van Pelt Library and Addams Hall. "It will very much be integrated into the life of the campus," Marsden-Atlass says. "And you'll come across it in a very natural and meditative environment." The location also puts it in close range of several other prominent Penn sculptures: Claes Oldenburg's "Split Button," Robert Indiana's "Love" sculpture, and Alexander Archipenko's "King Solomon."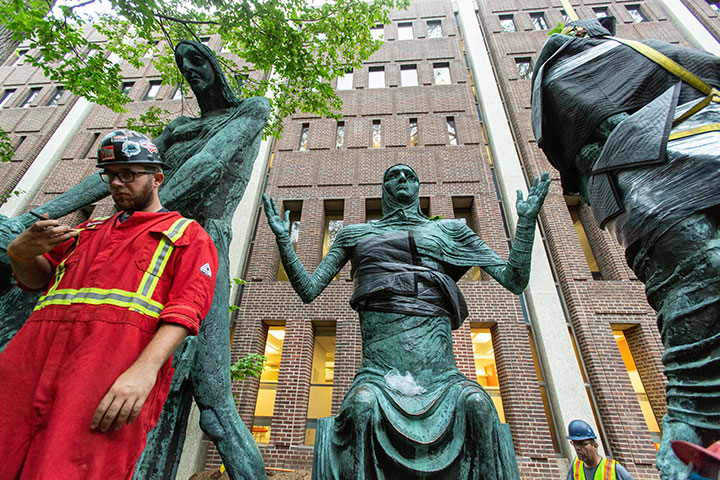 Choosing just the right spots for both new-to-Penn pieces wasn't a quick or simple mission. Two different committees worked through the options, reviewing site studies and whittling down the list of possible locations. "When you think about putting a 20-foot sculpture at Penn, you really have to be sensitive to where it will be and how it will fit harmoniously into the campus sculptures nearby," Marsden-Atlass says. "I think that's really a decision best made by a committee, and we felt that these were both central locations."
Both pieces will remain on campus for at least 99 years as long-term loans from the Association for Public Art.
"These are beloved sculptures that are very well-known in the City of Philadelphia, and I think they will become beloved by many generations of Penn students between now and 99 years from now," Marsden-Atlass says.
—Molly Petrilla C'06