All In The Family
Dr. Andrea Wieland doesn't need to look very far to be reminded of the wonderful uniqueness of her new job opportunity.
Within a few feet of her office is a statue of legendary football coach George A. Munger Ed'33 … who also happened to be her step-grandfather.
"What makes it even more meaningful," said Wieland, Penn's recently hired associate athletic director for sports performance, "is I have a family history at Penn."
And not just any kind of family history.
Munger, one of the most famous people ever to come through Penn Athletics, married Wieland's grandmother Viola when Wieland was about 10 years old. And, she said, he quickly became "just a lovely addition to our family."
Wieland — who was born at the Hospital of the University of Pennsylvania and had other members of her family go to Penn, too — knew a lot about Munger, who ran a national powerhouse football team at Penn from 1938 to 1953 when more than 70,000 fans regularly packed Franklin Field to watch the Quakers.
But he didn't used to talk much about those gridiron glory days. Wieland's best memories of Munger before he died in 1994 were sitting by his Christmas tree, watching him riding a horse with her cousins, or listening to old records with him.
"His humility was striking," she said. "He was always a gentle guy. … My wonderful grandmother got a great catch in George Munger and he got a great catch in her."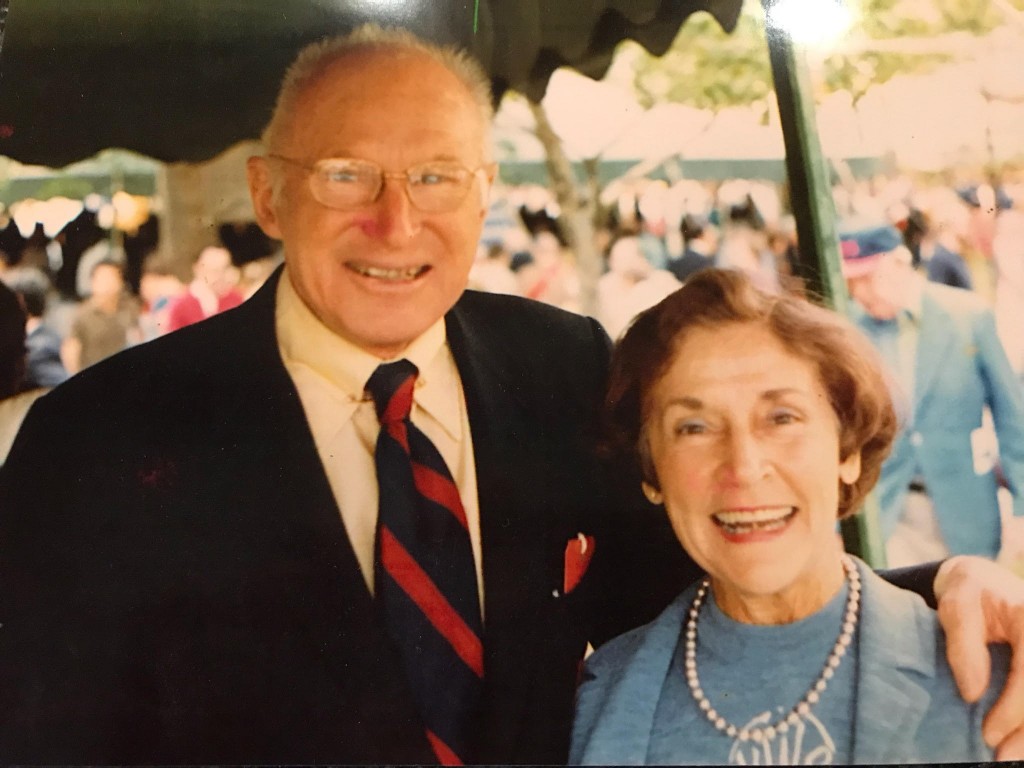 George Munger with his wife Viola, at Penn (courtesy of Andrea Wieland)
Wieland also had something in common with Munger, who played football and was a track star at Penn before getting into coaching. A renowned athlete herself, Wieland was a member of the United States field hockey team at the 1996 Summer Olympics, helping the Americans to a fifth-place finish in her hometown of Atlanta.
But she only did that after getting cut from the U.S. national team eight times — a hard-earned lesson of perseverence she's carried with her into her career as an athletic administrator.
"I'm a huge proponent of not quitting just because it gets hard or it's not what you expected it to be," she said. "Greatness comes from adversity, really. That applies to life. If you're going to do something hard or great, it isn't going to happen the first time."
Wieland will certainly try to pass along that message in her new role at Penn, which consists of overseeing Penn's sports performance team, focusing on sports medicine, athletic training, strength and conditioning, nutrition, sports psychology, and mental health for the University's nearly 1,000 student-athletes.
Most recently the head of mental conditioning at IMG Academy in Florida, Wieland will pay particular attention to mental health — a crucial part of any college student's busy and often stressful life.
"It's one of the components that more and more people are recognizing how important it is but not many people really know how to train it," she said. "We need to make sure athletes know it's OK not to feel OK and to ask for help. We definitely want that message to be loud and clear."
Wieland, who was hired earlier this month, expects a collaborative effort to maximize Penn's success and has eased into the job by asking coaches to fill out profiles and questionnaires while, of course, "doing a lot of listening."
One of those listening sessions even included being regaled with a story by Ray Priore, the George A. Munger Head Coach of Football, about the time Munger stayed on the field for an extra 10 minutes while his players were in the locker room at halftime just to hear the opposing team's "really good" band.
It's a story that's been told often at the "Mungermen" reunions when Munger's former players gather to honor their old gentleman of a coach, as they've done for more than 60 years.
"I would love to meet them," said Wieland, who plans to treat everyone at Penn in a friendly, down-to-earth and respectful manner.
Just like George Munger once did.
— Dave Zeitlin C'03