National Book Award Finalist Is Also A Penn Writer-in-Residence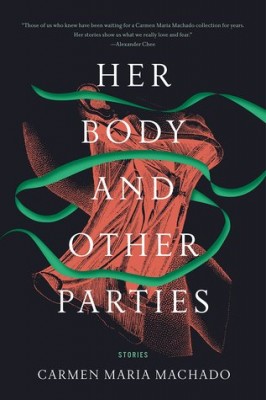 In the year and a half since she arrived at Penn as a writer-in-residence, Carmen Maria Machado has taught six fiction classes and published her first collection of short stories: Her Body and Other Parties.
That book, which came out last October, started winning awards right away and hasn't stopped since. Its wide-ranging accolades now include the Bard Fiction Prize, the National Book Critics Circle's John Leonard Prize, the Lambda Literary Award for Lesbian Fiction, and just this week, the Shirley Jackson Award.
Machado was a finalist for a slew of other prizes, too—the National Book Award, the Kirkus Prize, the PEN/Robert W. Bingham Prize for Debut Fiction—and her book showed up on more than two dozen "Best Book of the 2017" lists.
"I'm super surprised at the attention it is getting," she said in a Penn Today interview last November, when her book had been out only a month and already received several awards. In fact, she added, "It's weird how much attention it's getting." Two months later, she told The Guardian that "it's been very intense."
And that was before the TV news. Last month, Vulture announced that Imagine Television is developing Machado's book into an anthology series. The company's president told Vulture that the stories "capture the intense, unspoken psychology of inhabiting a woman's body today," and added that the series will "undoubtedly be a force in the conversation about gender."
As expansive profiles and news stories and awards continue to emerge with her name attached to them, Machado herself is in semi-hiding at the moment. (A post on her Twitter account explains that she's on a writing residency in New Mexico until mid-August.) But even in her absence, she has new work entering the world. Slate published "A Brief and Fearful Star" last month, and "Mary When You Follow Her" appeared in the Virginia Quarterly Review. Like the works in her book, both are short stories.
"I always tell people that a novel is a thing that wrestles you to the ground over a long period of time, and a short story is like a punch to the nose," she told Omnia of her chosen form. "It's meant to leave you breathless, and then depart. To make you ask, 'What happened?' I feel that I'm better at the short form and my desire to experiment and play around is easier to do when I'm writing a 20-page story as opposed to a 200-page novel."
Reading through the plentiful book reviews and articles about Machado's work, it seems like everyone finds a different way to describe her style, themes and genre. Science fiction, queer theory and horror have all been mentioned, as have psychological realism, comedy, fantasy and fabulism. "I'm really interested in interrogating tropes and engaging with genres and messing with them in a way I find satisfying," she told The Guardian.
And soon Machado will have another genre attached to her name. Her debut memoir, In the Dream House, is due out in Fall 2019.
—Molly Petrilla C'06