Pictures of Penn, Vol. 4
Your fellow Quakers sure have been busy. From weddings to golf games to work anniversaries, they've been on the move. Check out these photos they've submitted over the summer to see for yourself.
Jessica M. Dinh C'09 and Timothy Siegmund C'09 were married in Santorini, Greece, on June 18 in front of family and friends, including many from Penn (and Hill College House), such as Sarada Bheemineni EAS'10 WG'17, Dzi-du "Andy" Chen W'11, Austen Helfrich C'09, Anita Sellers Helfrich C'09, Bruce Hogan C'09, W'09, Alexander Lambert W'09, Jessica Levy Kania C'09 W'09, James Kania C'09, Avryl Klich Blum C'09, Katherine Long C'09 G'10 L'13, Susan Garrigle Mallaney C'09, Thomas Martin C'09 L'13, William Murcia W'09, James Riley W'09, Taylor Rycroft EAS'09, Sarah Seligman Rycroft C'09, Sarah Stroh C'10, and Yvonne Wang W'08.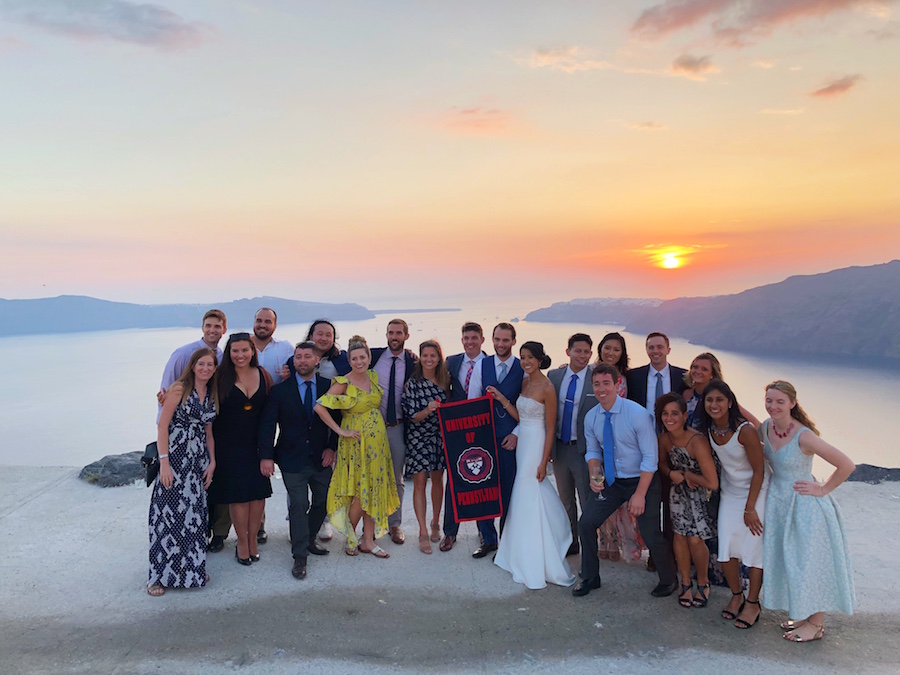 Ken Athaide W'84 writes, "For the 18th year running, this group of friends from King's Court/English House (1980–81) have gotten together for weekend of great conversation, good food, and passable golf. This year we met in Hilton Head, South Carolina, and were very happy to have Jerry Musto C'86 join us for the first time. Pictured (from bottom left) are Larry Curtis W'82, Eric Marsh C'84 D'88, Steve Wendel C'84, and Ken Athaide W'84. Standing (from left) are Rich Krieger ChE'83, Joe Lee W'84, Yon Cho W'84, Fran Kelly W'83, Jerry Musto C'86, Ed Finnegan W'84, and Rich Bilotti W'84."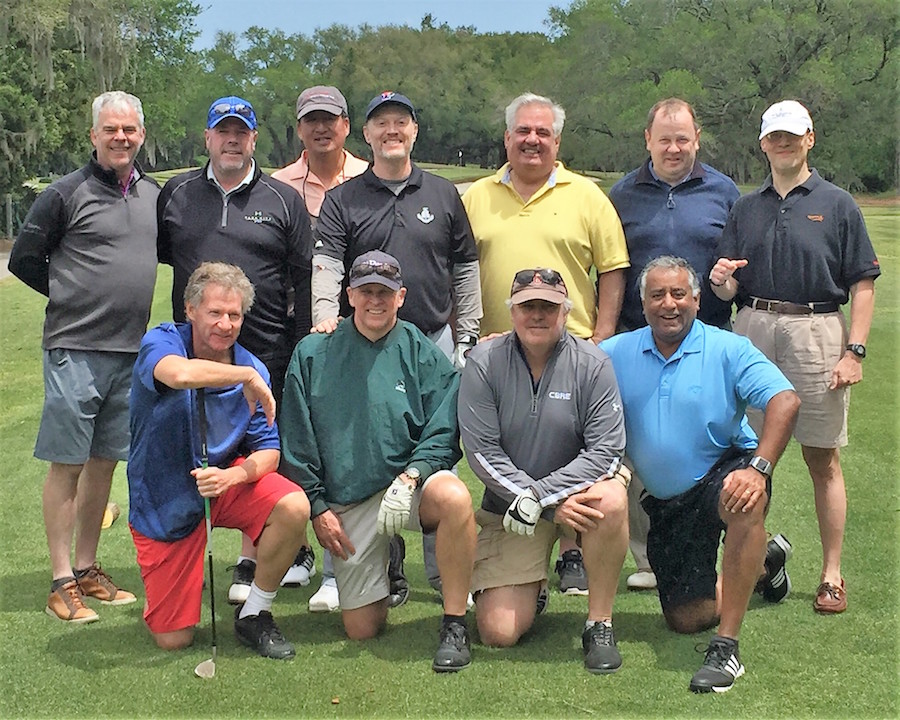 Dr. Richard Cohen C'69 writes, "My daughter, Julia Cohen, and I defended our title in the USTA National Father and Daughter Hard Court Championship in San Diego, California, in June. We set a family record for only losing five games in the entire tournament." They are ranked No. 1 in the USTA Father and Daughter Championship in the Hard, Indoor, and Clay Court categories for 2017.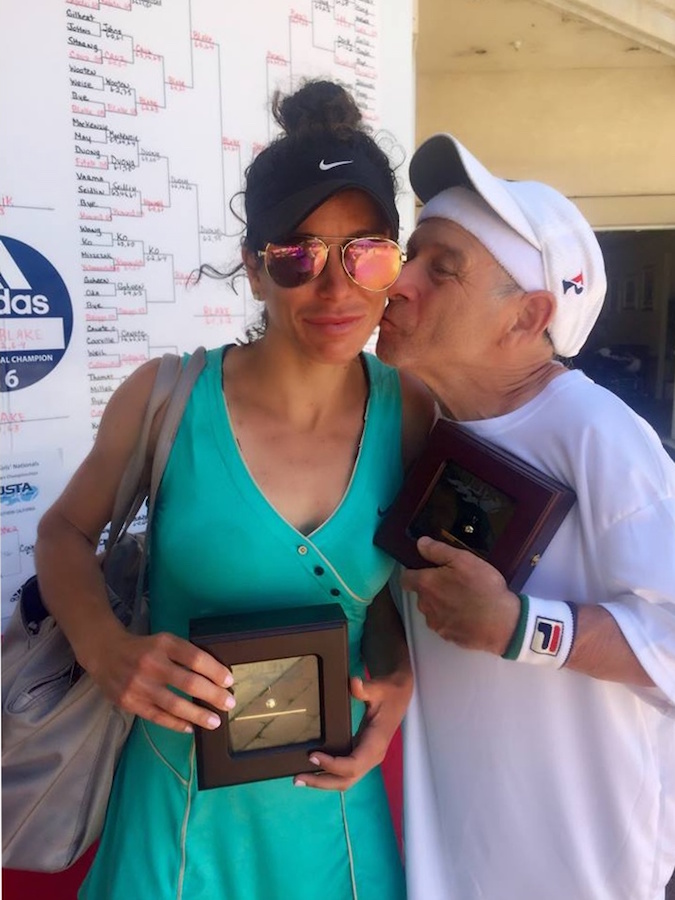 Edward L. Snitzer L'55 writes, "The investment management firm Prudent Management Associates (PMA), which Dr. Marshall E. Blume Hon'70, emeritus chair of the Department of Finance at Wharton, and I cofounded in 1982, celebrated its 35th year of operation on April 25 at the Union League of Philadelphia. PMA has $1B of AUM with Dr. Craig MacKinlay Hon'91 of Wharton and Barbara Snitzer Solit C'92 as part of the team. A full video of the luncheon, including an investment debate entitled 'Is the low-cost Vanguard way the only way?' between Dr. Blume, Dr. MacKinlay, and Ted Aronson of AJO Partners, is available at bit.ly/2Lcv7J9; and a short recap of the event is also available at bit.ly/2uKWKxU."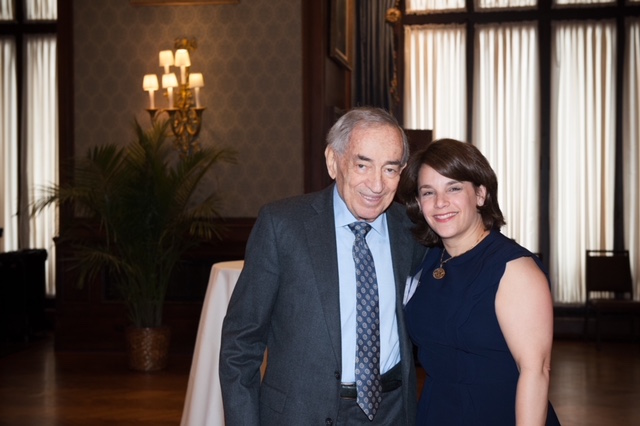 Samuel J. Fetchero W'03 writes, "My wife, Allison, and I are proud to announce the birth of our daughter, Eva Danielle Fetchero, on April 15. She is our third child, along with Noelle (5) and Caleb (3). I am a product marketing director for Apptio, and Allison is a physical therapist at Peak Sports and Spine Physical Therapy. We live in Bellevue, Washington."
Elizabeth "Bepe" Boatright Kafka GFA'79 writes, "I am an artist. I went to Penn to study under Neil Welliver, the great landscape painter. I had been living in Utah for 15 years (for the scenery, of course!). I knew that as soon as I could retire, I wanted to move back east to help my sister take care of Dad, as it was getting tougher for her by the year. We settled in an adorable town in the middle of Appalachia, and I was able to help care for him in his last years, near the place of his roots. When he passed, I wanted to do something wonderful with the money he left me, so I opened Art on 16 Contemporary Gallery in Marion, Virginia. It is a stone's throw from Exit 45 of the well-traveled Interstate 81, a beautiful little 'white cube' gallery showing contemporary art. I have a studio in the back, and I get to do my work and be around artists and beautiful art every day—a dream come true. Anyone traveling in or through the Blue Ridge Mountains in Southwestern Virginia should stop by!" Below is a picture of Bepe in her gallery, standing between two paintings by Kim Do GFA'79. On the left is "Black Bear's View" (oil on canvas, 40×60 inches) and on the right is "View from Olana" (16×20 inches).
Sonie Kama Guseh C'10, a content strategy and partnerships professional at Comcast NBCUniversal, married Kevin Osayi Osagie EE'10 EAS'10, a technology and analytics professional at Pandora Media, on August 4. Sonie writes, "My parents are Dr. James and Thelma Guseh of Durham, North Carolina, and Kevin is the son of Patience Osagie of Ewing, New Jersey, and the late Dr. Emmanuel Osagie. My cousin, Rev. Dr. Wilfred M. Manyango, Pastor of Covenant Community Church in Garland, Texas, officiated the ceremony at the Pen Ryn Mansion in Bensalem, Pennsylvania. The matron of honor was Camilla Williams Seawright C'10, the maid of honor was Janday Wilson C'10, and bridesmaids were Stephanie Guseh, Daniella Jones C'10, Jessica Magness C'10, Shadlyn Minor, and Kimberly Osagie. The best man was Naveed Baksh, and groomsmen were Vignesh Chandramouli EE'10 EAS'10 W'10, Andrew Godwin C'10, Nahnsan Guseh, Sawalla Guseh, Jason Rodriguez W'10, and Jonathan Thompson. Kevin and I have much in common. We met as college freshman (my degree is in English; his is in electrical engineering), and both earned our MBAs from Columbia Business School. Both sets of parents consist of educators—professors and teachers—and are originally from West Africa—the Gusehs from Liberia, and the Osagies from Nigeria. Kevin and I reside in Oakland, California."
Submit your photos and updates to gazette@ben.dev.upenn.edu. Keep smiling, Quakers!