A Unique Talent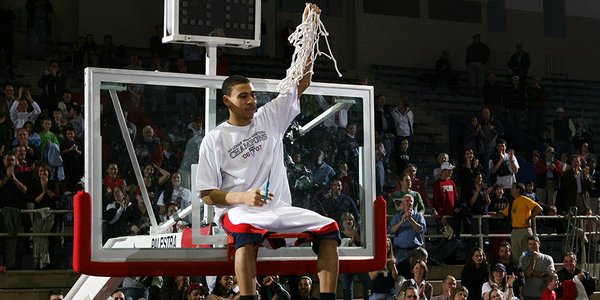 If you went to Penn basketball games at any point between 2004 and 2007, you can still hear the chant ringing in your ears.
EEE-BEE JAA-BER! [Clap-clap clap-clap-clap] EEE-BEE JAA-BER!
A unique talent unlike any other in Penn basketball history, Ibrahim "Ibby" Jaaber C'07 made the Palestra rock time and again. And now, he'll get to return to the Palestra on April 17th as one of the newest inductees into the Big 5 Hall of Fame.
Jaaber joins other great recent guard like Jameer Nelson (St. Joe's), Lynn Greer (Temple) and Randy Foye (Villanova) in this year's star-studded class, but he's the youngest of the group. In fact, getting inducted less than 10 years after graduating is quite an achievement for Jaaber, who's used to those.
At Penn, he was named the Big 5 Player of the Year in 2006-07 after leading the Quakers to Ivy League titles in each of his last three seasons. He graduated as the Ivy League's all-time leader in steals with 303 — 137 more than the next person on Penn's all-time list — and finished his career with 1,518 points (7th at Penn) and 321 assists (8th).
But more than any numbers, it was seeing him play and do things you didn't think possible that made Jaaber such a transcendent player for the Quakers. With a little help from his classmate Steve Danley C'07, here's a look at some of Jaaber's most memorable moments at Penn:
THE DUNK
Florida Gulf Coast became known as "Dunk City" during their high-flying act in the 2013 NCAA Tournament. But six seasons before that, it was an opposing player who had an incredible dunk against them as Jaaber started a 2-on-1 break, received a lob from Mark Zoller C'07, stretched his arm WAY behind his head, and somehow completed the alley oop before falling on his butt. Watch the video below to enjoy the play in real-time and slo-mo, as well as the great crowd reaction that included a crowd-surfing Quaker.
[youtube height="HEIGHT" width="WIDTH"]https://www.youtube.com/watch?v=ambYMme4I4o[/youtube]
THE COMEBACK
Jaaber was not quite yet a star but was beginning to show that kind of potential midway through his sophomore season when Penn hosted Princeton at the Palestra. And on that night, he made one of the most memorable plays of one of the most memorable wins in Penn basketball history— jumping in front of a passing lane, stealing the ball and going coast-to-coast for a huge overtime layup to help seal a win after the Quakers had trailed by 18 with 7:35 left.
I compiled an oral history on that game a couple of years ago and the praise his teammates lavished on Jaaber for that play was indicative of the awe they felt playing with him. Here's another look:
Steve Danley: We weren't allowed in that game to overplay anything to avoid the backdoor cut. You see Ibby out there in the passing line and you think it's a layup for them. But of course rules only apply to good players – not to great players. So Ibby gets in the passing lane and it's a basket for us. That's what made him special.
Eric Osmundson: I think he took one dribble and got from end of the court to the other because he's such a freak of nature.
Tim Begley: That was one of those games where you got to see Ibby become what he ended being at Penn. I remember being absolutely exhausted in overtime and Ibby getting a couple of steals. It was watching those guys grow up a little bit.
Mark Zoller: There was no one better in the Ivy League – and I want to say the country – than Ibby at stealing the ball.
Eric Osmundson: Ibby was one of the best players that ever played in the Ivy League. It was only natural for him to come up with a huge play.
You can see the steal at the 2:32 mark of the great video below.
DEFENSIVE MONSTER
Danley told me a few more memories he had of Jaaber's freakish defensive talent, thanks to his long arms and quick instincts. In a game against Villanova when the Wildcats were ranked No. 3 in the country, Jaaber had a huge strip at halfcourt of fellow Big 5 Hall of Fame inductee Foye. And the season before that, Danley said his teammate had two or three steals in a row against the same Harvard point guard, leading the Crimson to call a timeout and make sure they had five guys passing and cutting just against Jaaber in the backcourt — "and," Danley recalled, "he still go this hand on one of the passes."
And yet that was nothing compared to the time he tortured Dartmouth's DeVon Mosley in back-to-back games in 2006, notching five steals (to go with his 21 points) in a 70-51 win on Feb. 10, including a couple of strips of Mosley, one of which was followed by a dunk over him. And about 40 seconds later, he blocked a Mosley fast-break layup from behind. And 15 days later, Jaaber had another incredible block on Mosley to help the Quakers to a 68-52 win.
On top of his ridiculous steal numbers, Jaaber finished his career with 59 blocks, 10th all-time in Penn history and the most of any guard who ever wore the red and blue.
THE TRICKERY
Other players have done it before but it's still quite rare. So when Jaaber threw an inbounds pass off a Cornell player's back to himself for a layup in a win over the upstart Big Red in 2007, it was very cool to watch — and showed just how intelligent of a player he was.
You can watch the play in the video below at the 0:50 mark, along with other great putback dunks, some of his big moments vs. Mosley, and more Ibby Jaaber highlights.
[youtube height="HEIGHT" width="WIDTH"]https://www.youtube.com/watch?v=ANJToInGsDU[/youtube]
BIG 5 DOMINANCE
When Jaaber returned to the Palestra after many years away to be honored during last season's Big 5 doubleheader, he spoke with me about his favorite memories vs. city opponents.
One was his monster 27-point, nine-assist game in a 93-92 win over La Salle on Jan. 18, 2007 — which he called a "milestone" for his confidence as he began to think about a "vision beyond college basketball." And the other, of course, was Penn's huge win over Temple less than a week later in his coach Fran Dunphy's emotional return.
That game is best known for Zoller calmly hitting the game-winning free throws with 1.4 seconds left but Jaaber also had one of his better college games that night, scoring 21 points (two of which you can see below) and carrying the Quakers on his back during a remarkable comeback from a 19-point deficit.
PRACTICE STAR
While fans were treated to all of his skills (and I'm sure some have their own great memories I'm leaving out), his teammates were probably wowed by him even more. Danley recalls a few good behind-the-stories from practice I'll leave with you here:
"Freshman year in practice, EB once stopped Eric Osmundson twice in a row. While Dunph was ripping into Oz, Senior starting point guard Charlie Copp told me he had a rule that he just never crossed over when EB was guarding him, because EB took it away every time.
"EB once told me he was so good at stealing the ball because he played lots of ping-pong as a kid and stealing a crossover was 'the same motion.' I asked why he was so good at stealing the ball with his left hand, and he deadpanned, 'I played a lot of ping-pong left-handed too.'
"Sophomore/junior year EB and I would play 1-1 almost every day in the preseason. One time he was just kicking my butt, finishing everything. I was in the right position, and challenged him at the rim each time, but he'd hit the layup anyway. I asked him how he did it, and he told me he jumped in the air, looked to see where my arm was, then laid the ball in around it. That type of body control always mystified me."
OFFENSIVE EXPLOSION(S)
While his defense may have been what set him apart the most, Jaaber certainly had the ability to score in bunches. Late in his freshman season he had a breakout weekend with 16 points vs. Columbia and 17 vs. Cornell — while still coming off the bench. And as a junior, he poured in 31 points twice — the first time against Navy in an 86-73 win on Dec. 2, 2005 (at the time, the first 30-point effort since Ugonna Onyewke W'03 did in the 2003 NCAA Tournament) and again vs. Harvard in a 74-71 OT victory on Feb. 4, 2006.
He had plenty of big-time offensive performances during his senior year too, winning Ivy League Player of the Year for a second straight season and scoring 16 points in his final college game — an NCAA Tournament loss to Texas A&M. It was a disappointing ending but also a fitting farewell to a player who always shined on the big stage and could have probably starred for just about any college basketball team in the nation.
— Dave Zeitlin C'03