'A Sea of People'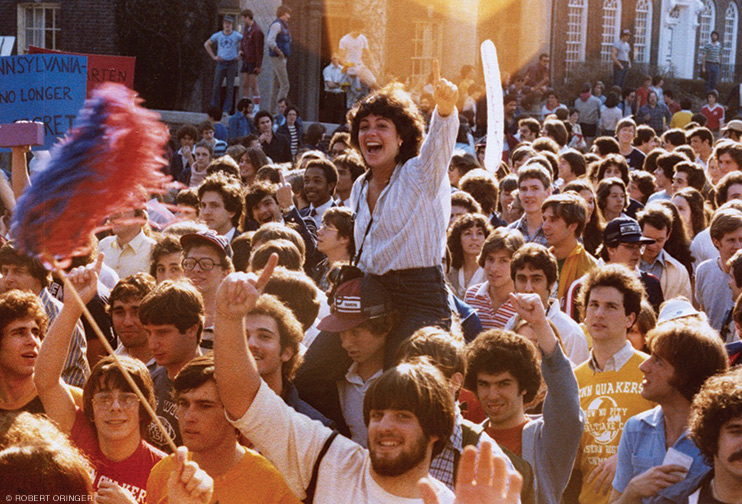 Of all the best moments in the 125-year history of Franklin Field, one of the most memorable didn't involve a football game or a relay race. It happened 40 years ago when, leading up to the Penn men's basketball team's trip to Salt Lake City for the 1979 NCAA Final Four ["The Outsiders," this issue], a wild pep rally was held for the Quakers inside the stadium.
Just before that, there was something equally as wild: a march of students slowly progressing down Locust Walk to get to the Franklin Field rally. "It was like a sea of people the whole way," recalls Sharon Harmelin Alpert W'82, a freshman at the time. "It almost felt like the whole school was there."
Alpert is featured prominently in the photo above, happily sitting atop a classmate's shoulders, a camera dangling from her neck. "But I don't have any pictures," she laughs. Luckily, her classmate Robert Oringer W'82 was there to capture the moment and provide this photo to the Gazette.
Oringer—who has an album of Final Four celebration photos stored on his phone—also created a collage of newspaper headlines and photos from Penn's run ["Final Four, Plus 20," Mar|April 1999] that he's distributed to members of the team. And he designed the "Show No Pity in Salt Lake City" T-shirts you can see at least one student wearing in the photo—and that he sold to others on Locust Walk. "For an Ivy League campus to be into a sports team [that] way, it was unheard of," Oringer says. "It was amazing."
While support naturally intensified during the NCAA Tournament, with watch parties organized throughout campus, Oringer and Alpert were among the many students to start going to basketball games at the beginning of their freshman year after camping out at the Palestra for season tickets, an annual ritual at the time. "And lo and behold, the team was just unbelievable," Alpert says. "They were like celebrities, those guys."
"It was just a great, really memorable day," she adds of the rally that galvanized Penn's campus, "and a great, really memorable time."—DZ