A Penn Quaker For Life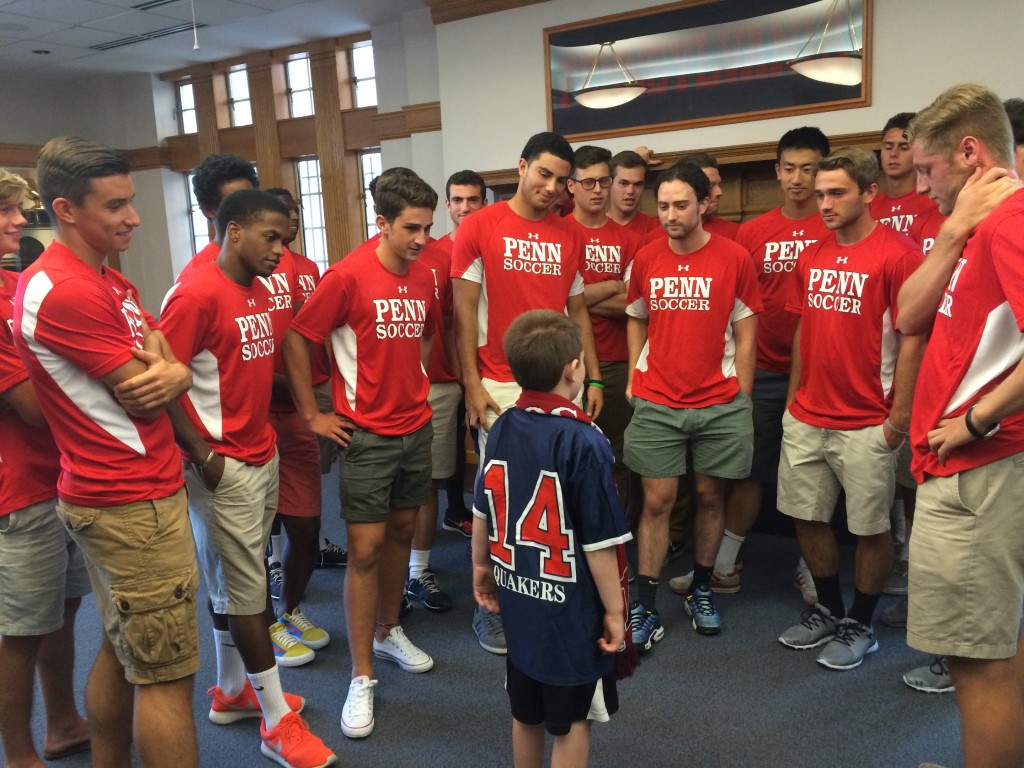 A few days before heading to Rhodes Field for tonight's 2015 season opener against the University of Washington, Penn men's soccer coach Rudy Fuller looked out onto Shoemaker Green and watched his players in action. But instead of preparing for a high-powered Washington team, they were goofing around and playing kickball.
And Fuller couldn't be more proud.
That's because they were joined by a 7-year-old named Tanner Falato, who was running around the basepaths and laughing like nothing was wrong, already reaping the benefits of joining the Penn men's soccer team as an honorary captain just moments after his introductory "press conference."
"He's been with us less than an hour and you can already see the joy and the smile and how much he's enjoying this moment with our guys," Fuller said. "I hope there's a lot of these moments over the next few years with our program and Tanner."
Tanner could certainly use some joy in his life. Every Tuesday, he visits CHOP to get treatment for a brain tumor that was discovered roughly two years ago when he was getting ready to start Kindergarten. Doctors were able to remove 90 percent of the tumor with the hope that the rest can be taken out in the future. In the meantime, Tanner's trying to get back to playing sports like he did before his world was turned upside down by what Fuller knows is any parent's worst nightmare.
That's where Penn soccer comes in.
Fuller's team learned about Tanner through the Friends of Jaclyn Foundation — whose self-declared mission is to "improve the quality of life for children battling pediatric brain tumors and other childhood cancers by pairing them with local high school and college sports teams" — after Penn football named four-year-old cancer patient Vhito DeCapria its team captain back in April. (That connection was made because first-year head coach Ray Priore played college football with Friends of Jaclyn founder Denis Murphy). And the soccer players wanted to get involved, too.
"It was [senior captain James Rushton] that said to me that we really need to get involved in something as a team and that our team needs to think about giving back more to the community," Fuller said. "It was a very proud moment for me to have a player, particularly a leader of James' quality, come forward and say we want to do more."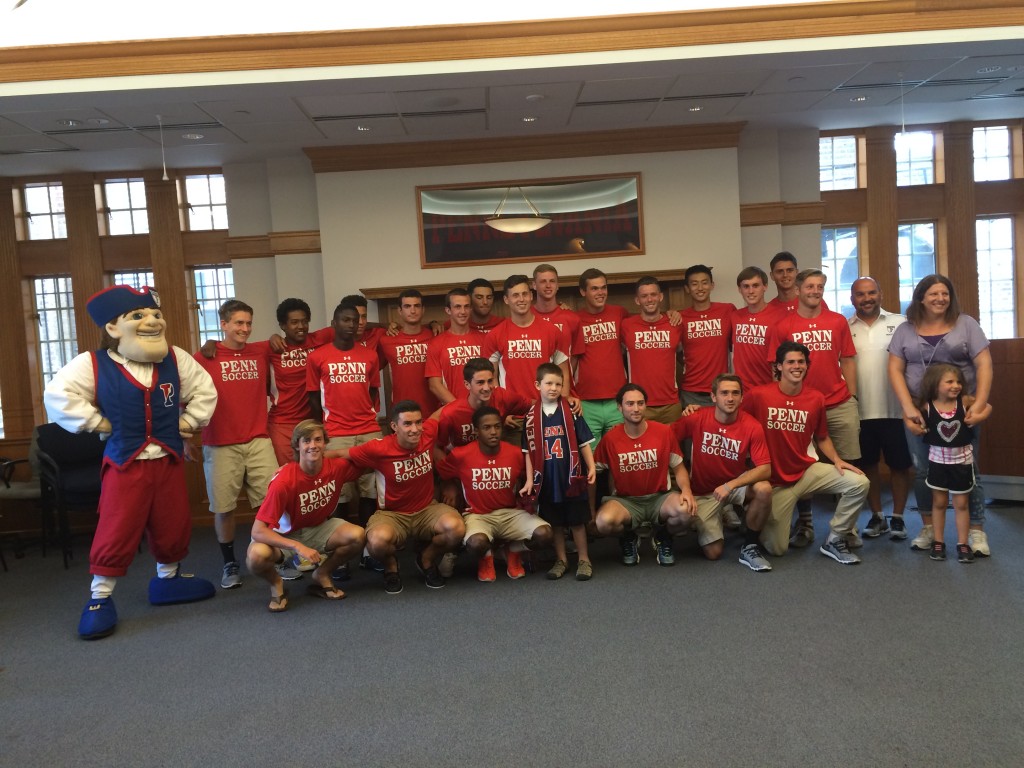 Bringing a child cancer patient onto the team is definitely a big commitment. Murphy, who started the program after his own daughter Jaclyn formed a lifelong bond with the Northwestern women's lacrosse team while battling a brain tumor, made sure to point out that these kids aren't mascots.
They are a part of the team. Forever.
"This isn't a one-game or one-season program; this is for the rest of your life," Murphy said. "Tanner is going to be a Quaker for the rest of his life. And my dream is that these children have the opportunity to go to school they're adopted by."
Murphy said Tanner is the 620th kid to be adopted by a team since he launched Friends of Jaclyn. Tragically, he said, 118 of those children have passed away, most recently Sean Callahan of Army football. But even in those horrible cases, the parents have found some solace in the exciting opportunities their children got to run onto a field and be a part of a team before dying, as detailed in the touching Real Sports feature about the program.
As for Tanner, he seemed pretty shy at first when Fuller presented him with a team jersey and scarf Monday inside the Dunning Center, as is the custom for big soccer signings. But that didn't stop members of the Penn's soccer team from peppering their new teammate with hard-hitting questions like "What's your favorite movie?" and "How will the Eagles do this season?" Tanner's best answer came to the question, "What's your favorite subject in school?" to which he replied, "Going outside" to a lot of laughs.
The Quakers then took him up on that and brought him out to Shoemaker Green for a spirited game of kickball (after asking permission from his mom, of course). And for Fuller, who called it "one of the most exciting days of my career at Penn," it was a fitting end to a special ceremony.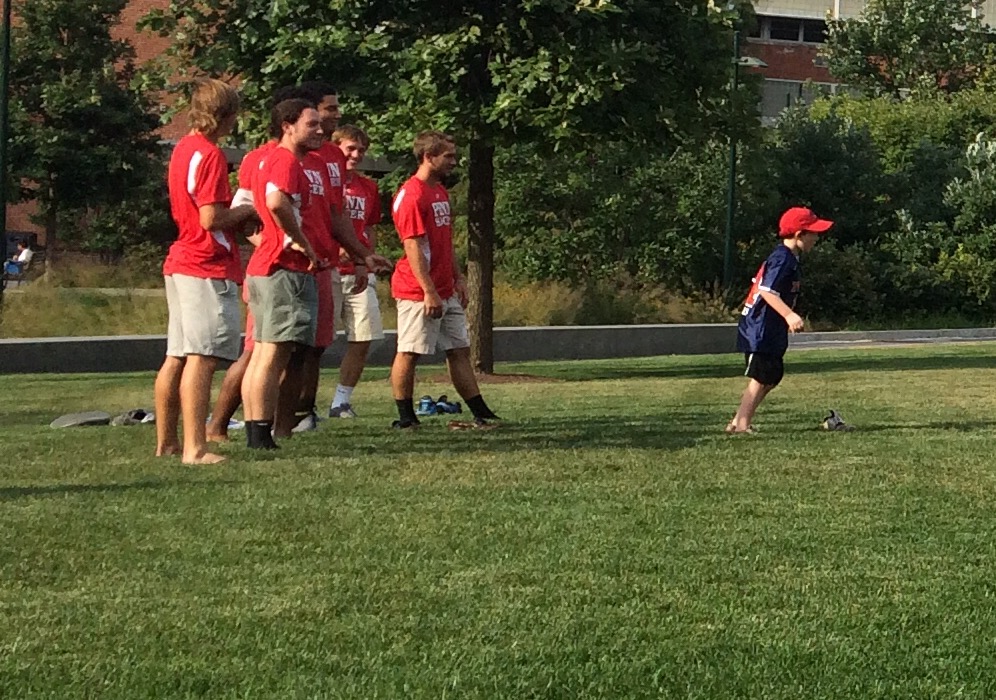 Before the impromptu kickball game broke out, the father of three admitted to getting choked up while listening to Tanner's mom and Denis Murphy talk about the heartache involved in discovering their children's terrifying diseases. He, too, once had a big scare when he spent five days at CHOP when his middle child was first diagnosed with Type 1 Diabetes. So he found himself nodding in agreement when Murphy called the pediatric wing of a hospital the "saddest place on Earth."  And he's now determined to help ease the Falato family's sadness, even if it's just with a few kicks of a soccer ball and a few small smiles.
"When you're going through something like this, you lose a lot of what made you who you are prior to the diagnosis," Fuller said. "So to give kids like Tanner a network of people that are friends, that care about him, that are communicating with him on a regular basis, it hopefully normalizes life again. It allows him to grow up and enjoy life just like every other 7-year-old 2nd-grade boy in the country."
And the Penn players will almost certainly grow from the experience too — and not only because it adds a big dose of perspective to their maybe-not-so-complicated college lives.
"After 10 years of doing this, I can't tell you how many student-athletes have told me that, because of their relationship to the adoptee, they've chosen to go into med school," Murphy said. "I could never have dreamed of that. That's where the cure is going to come from."
— Dave Zeitlin C'03