"Naked Knotted Neurons": Penn Theatre Arts at the Edinburgh Fringe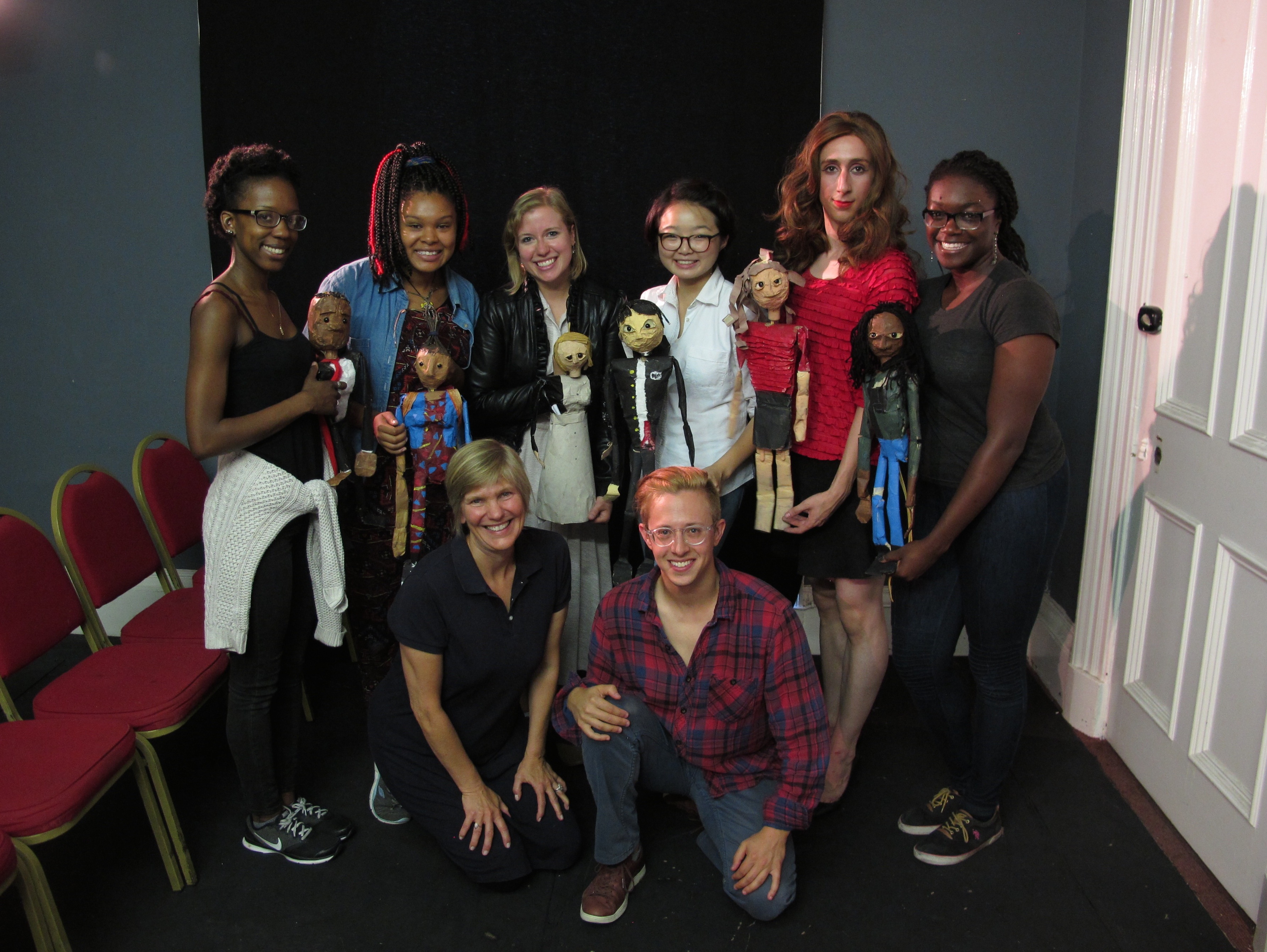 Theatre Arts Director Marcia Ferguson, six of her students, and several puppets flew from Philadelphia to Scotland last month to perform in the Edinburgh Festival Fringe.
The students put on "Naked Knotted Neurons," a show they created themselves. Ferguson performed in her own piece, "Ursula Invents Old Woman"—now re-titled "Gwendolyn Castle Makes Old Woman." It was cited as one of 15 feminist works to see at the festival.
The students' show "filled the house almost every performance, which was really gratifying," Ferguson says. "They got a good review and a lot of buzz in Scotland."
"Naked Neurons" started with a free-wheeling rehearsal and devising process in May. Ferguson offered writing prompts and the students improvised and created. She also brought in experts who showed them how to construct and perform with puppets.
"I told the students, 'This is your opportunity to say something,'" Ferguson says. "I thought it would be really impactful for them, since they are usually interpreting existing text."
The end result was a "protest play" that fused puppetry with live action. The deities Chance, Fate and Destiny snatch protesters from imminent death in various places and times, then throw the them together in a room, where they must create a new hero. One reviewer described the piece as "rich in theatricality and invention."
This video has excerpts from the performance, starting at 3:10:
As for her own show, Ferguson received a Research Opportunity Grant from Penn and teamed up with actor Mason Rosenthal and playwright MJ Kaufman to develop "Gwendolyn Castle Makes Old Woman." It's about a science-fiction writer visited by her biggest fan—who happens to be an alien.
They each inhabit the other's experience, and the writer "increasingly becomes interested in the alien's experience of what it means to not have a gender, to not have an age," Ferguson says. Rosenthal played the alien and Ferguson the writer.
She says the work grew from her own questions about gender and age, specifically in performance terms. "When you see a woman in her 50s and a younger male actor, usually it's a relationship around sexuality—the cougar, a May-December romance—or a mother-son," she says. "I wanted to push beyond those boundaries to find another iteration for those two performers."
Here is The Scotsman's review.
—Molly Petrilla C'06