A Change in the Weather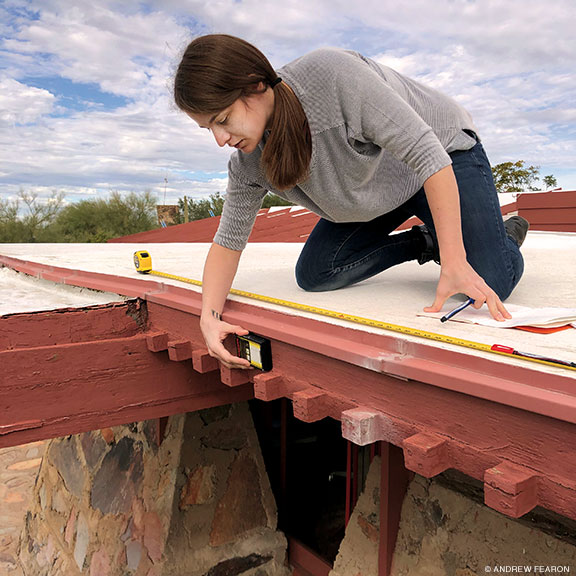 Historic preservation in the climate change era.
---
Earlier this winter, Frank Matero, who chairs Penn's graduate program in historic preservation, took a small team of faculty and students to Taliesin West, Frank Lloyd Wright's famous studio, school, and home in Scottsdale, Arizona. The iconic architect dubbed the complex, built in 1937, an "experiment in the desert." Matero's group, co-led by John Hinchman GFA'02, had been summoned to determine how that experiment is holding up.
While examining the condition of the wood used in the dining room, they took paint samples and pored over meticulous drawings and faded photographs—standard procedure for any preservation job. But they also deployed an arsenal of new digital tools and sensors to assess the effect of weather conditions like extreme sunlight, heat, and humidity, and to help them understand what steps might be necessary to prevent further deterioration.
This project and similar work—done under the auspices of the Center for Architectural Conservation (CAC)—has thrust its participants into a realm where architectural preservationists have not typically tread. "We go to meetings on these issues and are more likely to find ourselves surrounded by folks from the natural resources world," Hinchman laughs. "Experts in the environmental sciences have been studying issues of vulnerability and resilience for a long time."
Those fields have also been on the front lines of climate change science, which Matero says is increasingly relevant to architectural preservation. Conservation architects, who have traditionally trained their focus on particular buildings, now find themselves expanding their inquiries to include broader examinations of surrounding environments—which are in flux.
For instance, Arizona's daily average temperatures have increased by 2 degrees Fahrenheit over the last century, while annual precipitation has decreased. Heat waves have grown more common—leading humidity levels to creep up, too, as hotter air can carry more moisture. Meanwhile, the state's periodic monsoons have intensified.
The impacts have been felt at places like Tumacácori National Historic Park, where the CAC has also undertaken conservation studies. There, says Hinchman, park managers report "that they've never seen collapsing walls [due to heavy rain damage] like this before."
In the case of Taliesin West, the low-slung landmark's heavy reliance on wood has proven a questionable choice in a setting where the sun beats down relentlessly— except when it doesn't. "When you think of Scottsdale, you might not think of rain," says Hinchman. "But [moisture] is a very apparent problem once you stay there for a while. When we woke up in the morning or after the sun went down in the evening, there'd be massive amounts of humidity—leading to condensation on the wood. There's a distinct microclimate on that site."
In taking on projects like these, or partnering with National Parks programs like "Vanishing Treasures," which is dedicated to preserving the traditional architecture of the American West, the CAC finds itself using tools and terminology more commonly associated with the study of global warming.
Cutting-edge temperature and moisture sensors, for instance, measure micro-level changes in a building's surface layer for a better understanding of how its material composition is decaying. Thermography provides a sense of the overall temperature and moisture condition, while laser scans and photogrammetry (an old technique of taking measurements from photos) can be helpful in determining if movement has occurred over the years. And on the macro scale, weather stations outfitted with gauges to measure humidity, wind speed and direction, precipitation, solar gain, and temperature produce data that can be combined with site information gathered by drones outfitted with infrared or regular digital cameras.
"Identifying the issues and needs of these particular vernacular and archaeological subsets," says Matero, referring to materials like adobe, "is not the same as working on Independence Hall or a historic house.
"The goal is to find a way to correlate weather events with big shifts within the structures and the sites," he says. "But climate change is just a piece of a larger puzzle. It's become a window that allows us to show the whole range of risks and threats facing heritage sites like Taliesin West."
As they pursue this relatively new facet of conservation focusing on the environmental vulnerability and resilience of heritage buildings, they're also attempting to answer the questions that their work engenders. "Part of our mandate is to change the field of historic preservation by making conservation a component of the mix," Matero says, "and this line of examination is a good way to call attention to that."
—JoAnn Greco