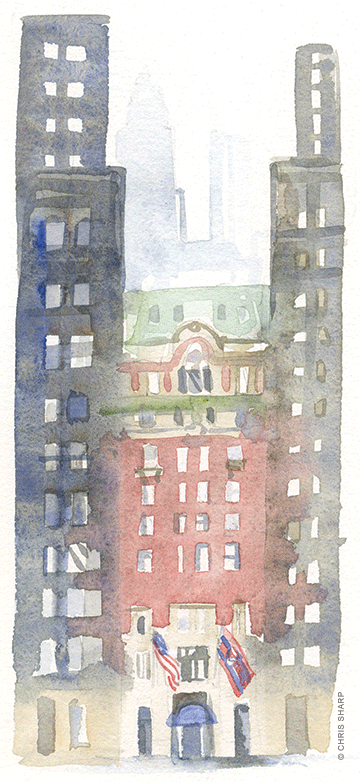 An inexperienced alum heading to the Penn Club of New York's 20th Anniversary celebration on June 10 scarcely needed to check Google Maps to pick out the right building. Outside 30 W. 44th Street, a sea of red and blue balloons engulfed the clubhouse's entrance. Doormen hailed guests with a bright "Happy Anniversary!" and servers distributed wine and gin-and-tonics wrapped with Penn napkins, while directing guests—Penn President Amy Gutmann, President Emerita Judith Rodin CW'66 Hon'04, and every living Penn Club president among them—toward lavish displays of food.
The festivities continued with a sort of determined conviction, lasting beyond their scheduled conclusion with an upbeat mix of music, toasts, and mingling. Even before a rallying speech by current Club President Susan Marx CW'66, the intended message of the evening was obvious: The Penn Club is still relevant and thriving.
Twenty years may not seem that old at a place like Penn, where 50th and 100th anniversaries come thick and fast, but while the Penn Club traces its roots back to 1886, the organization only got its proper brick-and-mortar home in 1994. By comparison, the Harvard Club, just across the street at 27 W. 44th, has been in its location since the early 1890s. (On the bright side, their building is shorter, and Penn Club members can look down on it from the balcony on the gym floor.) And the Yale Club moved into its current quarters at 50 Vanderbilt Avenue a couple of blocks to the east in 1915. Even the Princeton Club—where Penn alumni shared space in the decades before the Penn Club found its own home—has been in its current location around the corner at 15 W. 43rd since the early 1960s.
In fact, says Emeritus Trustee Alvin Shoemaker W'60 Hon'95—who was one of the key Penn Club founders while serving as trustee chair from 1986 to 1994—the original committee was so conscious of the club's late beginnings that it instructed architects to make "the clubhouse look like it had been there for a while and not something that we finally got enough money to put together."
A sweeping marble staircase, grand chandeliers, wood paneling, and portraits of provosts and presidents looking stoic do the trick. The building itself helps, too. The Beaux Arts edifice was named a historic landmark in 2010 ["Gazetteer," May|June 2010]. (Actually, it had been the original home of the Yale Club—a member was quoted in The New York Tribune making that same joke about looking down on Harvard in 1901, the year it was built—but had gone through several other uses before Penn purchased it in 1989.)
It's been a busy two decades for the Penn Club. There are monthly wine tastings, business gatherings, happy hours, and speaker series; and parties for occasions ranging from Homecoming to Mother's Day to the birth of Scottish poet Robert Burns. When Penn sports teams are playing, members gather in the lower-level Grill Room to watch on TV.
Some members hold meetings or personal events in the clubhouse's private rooms. Donald Trump W'68 staged an episode of The Apprenticein the Chestnut Room, which "features Georgian conference table, coffered ceilings with acoustical fabric covering, and leather seats for up to 22 people." Marx herself had her wedding at the Penn Club 13 years ago, making use of the Franklin Living Room and library on the ground floor and the main dining room. Members may also stay overnight in one of the 39 guest rooms.
The Penn spirit permeates the 13-story building. There is the Kite and Key Bar, the Palestra Fitness Center, and the Chestnut and Walnut boardrooms. Ben Franklin is a conspicuous presence in almost every drawing room, and the guest rooms feature Penn-branded shampoo and conditioner and shower curtains. ("We actually started to sell them because so many people loved them," says Regina Jaslow W'97, the club's director of member marketing.)
But 20 years is also a long time, and the Penn Club today operates in a very different world than when it opened. Shoemaker warns that if the club doesn't react it will lose the audience it is meant to serve. "I would say the club today reflects a lot of what clubs used to be back in the '80s," he says. "I don't think members use it in quite the same way."
Among other challenges, the Penn Club faces marked shifts in the hospitality world. When it first opened, members would stop in for a glass of wine after work or enjoy a heavy steak dinner in the formal dinning room while catching up with friends or conducting business. Overnight guests didn't seem to mind the cramped rooms or the flowered "Grandma" curtains on the windows. These days alumni—especially younger ones—are more apt to spend their evenings out in trendy downtown cocktail bars and tapas restaurants, and the club's accommodations compete with upscale brands like the W hotels and midtown boutique hotels.
Not to worry, says Marx. The club is responding. It just brought in a new general manager, formerly of the New York Yacht Club, who is overseeing a $750,000 renovation to modernize the hotel rooms. (The shower curtains are staying, but the Penn shampoo and conditioner bottles are being replaced by locally sourced, eco-friendly products.) The club now serves meals in the more casual grill room rather than the double-story grand dining room, offering small plates like cheese-steak spring rolls and sea bass tacos.
The next task is engaging a membership that has more options than ever for socializing, whether face-to-face or in the digital realm. To keep existing members enthused, the club recently introduced networking opportunities for new groups such as Penn Women in Business and Hedge Fund Investors. It added more workspace to attract entrepreneurs or people in-between jobs who need a command center.
The biggest push, however, is to secure new members. When the club first opened, more than 7,000 alumni and family members joined. For the past decade this number has hovered a little above 5,000. Young alumni participation is especially weak. Although the University estimates that 40 percent of each graduating class ends up in New York, only 208 members from the Class of 2014 have joined—though it's worth noting that that number is up from the 74 who joined in 2007, when this writer graduated.
The club is attempting to counter the general trend by incentivizing members to sign up family and friends. It also extended the circle of family members of Penn alumni eligible to join. And Peter Minton C'02, chair of the Young Alumni Committee, is looking to win over recent graduates with more fun events. For example, " We had a really great Spring Fling party that was prom-themed," he says. "We had well over 100 members, and guests came out fully bedecked in prom attire, including boutonnieres and corsages."
As Shoemaker sees its, attracting the young folks and delivering the club they want should be the number-one priority. "They are the ones who have to pick it up and carry it in the future," he says, "and decide what is important and what isn't."
—Alyson Krueger C'07