The New Pre-Existing Condition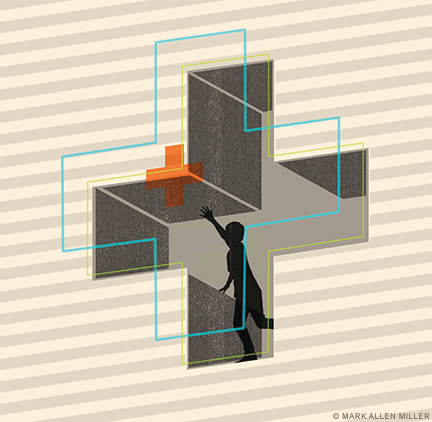 "When we look back upon the Affordable Care Act 10 or 15 years from now," David Rubin C'92 GM'02 reflected during Alumni Weekend, "the fact that we did away with policies that rescinded coverage for people with preexisting health conditions—or people who lost their jobs because they had cancer and would be denied coverage—we will remember that as the singular major policy achievement of the ACA, regardless of all the wrinkles and warts."
But that's not a case for ignoring the wrinkles and warts, as Rubin, an associate professor of pediatrics at the Perelman School of Medicine and co-director of the Children's Hospital of Philadelphia's PolicyLab, made clear in a faculty-alumni panel discussion hosted by the Leonard Davis Institute of Health Economics.
Partly because the ACA's main objective was to expand health-insurance coverage to childless adults, and partly because insurance-industry reforms have largely been keyed to the adult healthcare market (which dwarfs spending on pediatric care), there have been a variety of indirect, and perhaps unintended, consequences for families with children. Some are positive. Take the law's provision allowing children to remain on a parent's insurance plan until they turn 26. Many of these young adults, Rubin noted, "are the parents of the children I take care of, and there's an emerging literature today that in terms of impacting health outcomes of children, one of the best strategies is to impact health issues in their parents—particularly behavioral health."
But some aspects of the ACA—or, to be more precise, the way health insurers have responded to the law—need fixing. Rubin drew attention to several during the discussion, including one that has troubling implications for children with special healthcare needs.
---
The insurance industry, which has a little more power as a result of the ACA, is rolling out new practices. And one of the things they're doing, as they create these exchange plans, is they're tiering coverage. They're looking at who their high-cost providers are, and they're saying: If I can direct people toward in-network—towards lower-cost settings—then I can create value. And these other institutions are going to have to create value themselves in order to be in-network.
In October, Seattle Children's Hospital sued the state of Washington because five of their initial exchange plans deemed Seattle Children's Hospital as out-of-network for the families who were enrolled in those plans. [Now I'm not suggesting we give] a free pass to children's hospitals … For conditions like asthma, or orthopedic injuries, they should have skin in the game—because you can get a lot of those services in community settings. But imagine if your child had cancer. Imagine if your child had cystic fibrosis, or an orphan disease. These children's hospitals are often the only provider for your child.
So really this was a pass-through: that if you're going to take your child to that provider, we're going to pass off all that cost to you [by deeming it] out-of-network. And to me, this is a sort of second-generation version of the preexisting condition stuff, but being played out in pediatrics, and very quietly, without anyone paying attention. I don't think that's the [fault of the] ACA. I think it's going to require regulatory reform. I think a lot of these things are fixable. But there's a lot of work for us in the children's public-health community to illustrate—once there's an appetite [to refine healthcare legislation]—how we would amend this law to make sure it's working well for children and families.