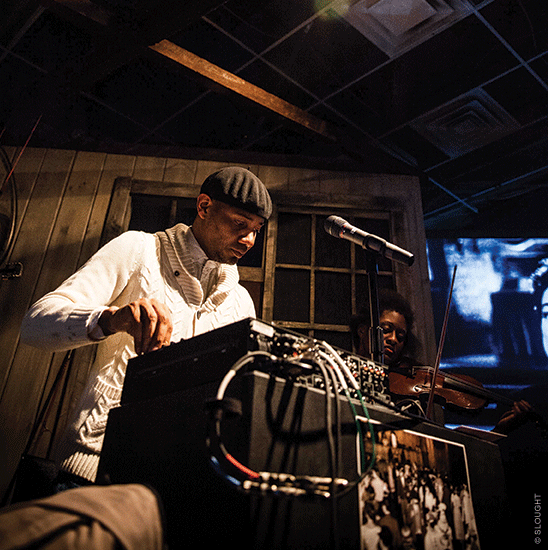 DJ Spooky was at the podium, moving sinuously to Bach's Toccata and Fugue in D minor, the dramatic Baroque organ cadences looping like an aural Mobius strip in an electronic-percussion frame. Piercing violin spirals at the upper ranges of the scale soared from the strings of Melanie R. Hill Gr'17, a PhD candidate in English. On a large screen beside them, a series of fighter jets took off from an aircraft carrier.
Hill and DJ Spooky (aka Paul D. Miller, a composer, multimedia artist, and writer) had only met that morning, and their spontaneous collaboration seemed to set the tone for the Slought Foundation's reopening in April. On the gallery walls hung paintings, collages, and other works by the late James E. Brewton—a practitioner of pataphysics, the "science of imaginary solutions" created by Alfred Jarry, the 19th-century French writer. UBU, Geoff Dunbar's 1978 animated film based on Jarry's play Ubu Roi, was playing on a monitor nearby. Wine and beer (all of whose names featured the letter S)began to flow, and slowly the strikingly heterogeneous crowd on hand began to loosen up and move to the music.
It was a rebirth of sorts for Slought, which opened more than a decade ago ["Arts," Nov|Dec 2004] and recently underwent a period of reevaluation and re-imagining. If Slought has sometimes been a little hard for outsiders to get a handle on, no one ever accused it of playing it safe.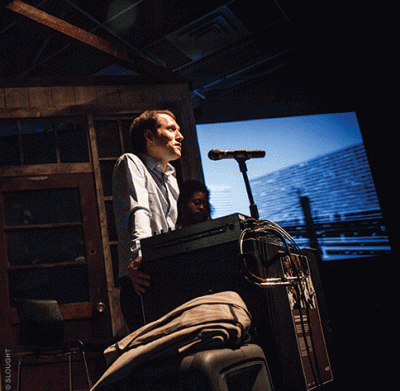 "We have always been marked by a certain degree of precariousness," said Aaron Levy C'99 GGS'03 CGS'05, Slought's executive director, at the opening. "The upside of having no real funders nor the necessity to please anyone in particular is that we have always been marked by a sense of curatorial freedom. The downside is that, much like the artists and communities we have long engaged, we have always struggled with vulnerability and fragility, facing an uncertain and unfunded future."
A few projects over the years may give a hint of Slought's range: "The Wolf Man Paints!" (an exhibition of paintings by Sigmund Freud's patient Sergius Pankejeff, with a multi-disciplinary panel discussion). "Sun Ra Meets Napoleon" (a playful look at Egyptology from the time of Bonaparte to that of Sun Ra). "Screen Words: Poems and Poets on Video & Film" (an investigation into the ways that language can be presented off the page). But since that doesn't begin to convey the depth and intellectual rigor of the enterprise, you're better off visiting its revamped website, Slought.org.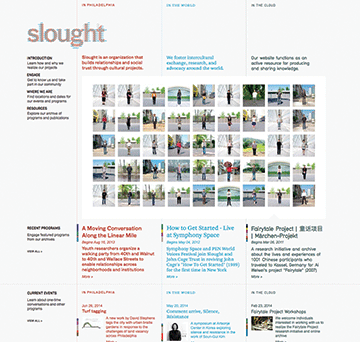 The outgrowth of an "intergenerational conversation" among Levy, English and comparative-literature professor Jean-Michel Rabaté, and artist Osvaldo Romberg, Slought describes itself as a "new form of institution that builds relationships and social trust through collaboration and the exchange of ideas." Its mission is to "engage publics in dialogue about cultural and socio-political change in Philadelphia, the world, and the cloud."
At the heart of Slought's new identity is the "recognition that you all enable our resilience," Levy told the crowd. "It was important to everyone that the organization exist not within one community, but on the edge of many." —S.H.