Your Handy Homecoming Athletics Guide
A championship game. A showdown at Franklin Field. Lots of seniors being honored. And lots of opportunities to beat Princeton.
All across campus Saturday, it should be an exciting Homecoming weekend for Penn's athletic teams. For alumni returning to their alma mater, here's a closer look at what's on tap: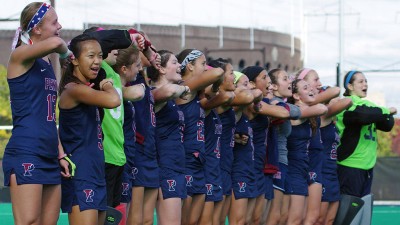 Field Hockey vs. Princeton
Ellen Vagelos Field, noon
The lowdown: With all due respect to football, the biggest game of the day is over at Ellen Vagelos Field as the surging Quakers take on perennial powerhouse Princeton for the Ivy League crown. Penn was in a similar position for Homecoming two years ago but dropped a 5-1 decision as Princeton secured the Ivy title and automatic NCAA bid.
Why you should go: Aside from the title ramifications, you might also see a huge upset (who doesn't like that?) as Princeton has beaten Penn in 20 of the last 21 matchups. You'll also want to check out star goal-scorer Alexa Hoover, who's the biggest reason why the Quakers are a blistering 13-2 heading into the regular-season finale.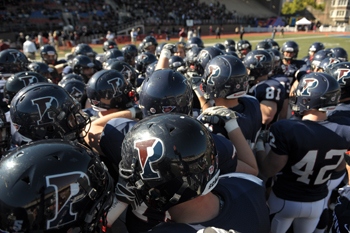 Football vs. Princeton
Franklin Field, noon
The lowdown: The two rivals collide at Franklin Field for another game with Ivy title implications. If the Quakers (3-1 Ivy) pull out the win, they'll set up a showdown with undefeated Harvard next week while effectively eliminating Princeton (2-2 Ivy) from the race.
Why you should go: Have you been following Penn's offense recently? Led by quarterback Alek Torgersen, running back Tre Solomon and receiver Justin Watson, the Quakers have averaged 42.25 points per game over their last four contests. That's six touchdowns every game. That's fun to watch.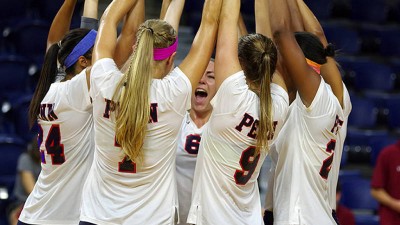 Volleyball vs. Yale
The Palestra, 5 p.m.
The lowdown: After playing Brown tonight, the Quakers will finish the weekend with their last home game of the season, honoring their seniors before taking on the Bulldogs. The Quakers are hovering around the .500 mark in both the Ivies and overall but are coming off an impressive 3-0 sweep of Dartmouth last Saturday.
Why you should go: It will be your last chance to see senior Ronnie Bither, who's waging war on the Penn record books. Coming into the weekend, she ranked fourth in program history in career assists (2,383), eighth in service attempts (1,246) and 10th in digs (893).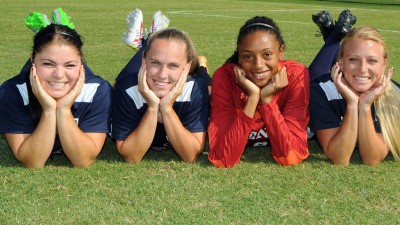 Women's soccer vs. Princeton
Rhodes Field, 5 p.m.
The lowdown: In the front end of a soccer doubleheader, the Quaker women host Princeton, which has already secured the Ivy League title. Still, Penn has a chance to spoil the Tigers' undefeated Ivy League record, finish head coach Nicole Van Dyke's first season strong and send their seniors (pictures above) off on a high note in the final game of 2015.
Why you should go: Although the Tigers have won 11 games in a row and is nationally ranked, don't expect them to cruise by Penn. The Quakers have gone 13-1-2 over their last 16 Ivy League matches at Rhodes Field and have won two straight over Princeton — by 3-2 and 4-2 scores. So you could very well see a lot of goals AND a Princeton loss to Penn. Good combo.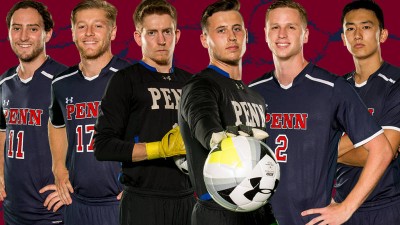 Men's soccer vs. Princeton
Rhodes Field, 7:30 p.m.
The lowdown: Despite being at the end of a rough season, the Quakers (2-9-2, 1-3-1) head into their final home game fresh off a thrilling double-overtime win over West Virginia. Before taking on the Tigers (7-5-2, 1-3-1), Penn will also honor its six seniors (Aaron Chen, Forrest Clancy, Griffin Heffner, Max Polkinhorne, James Rushton and Nick Savino), a group that was part of the 2013 squad that won the outright Ivy title and advanced to the NCAA tournament.
Why you should go: Alec Neumann, whose brother Steve is in MLS, has come on strong for the Quakers, scoring two goals in the last two games. Neumann also scored twice vs. Princeton last year. It will be fun to see if the striker can stay hot and do it again.
— Dave Zeitlin C'03