'Special Player' Enjoying Record-Breaking Season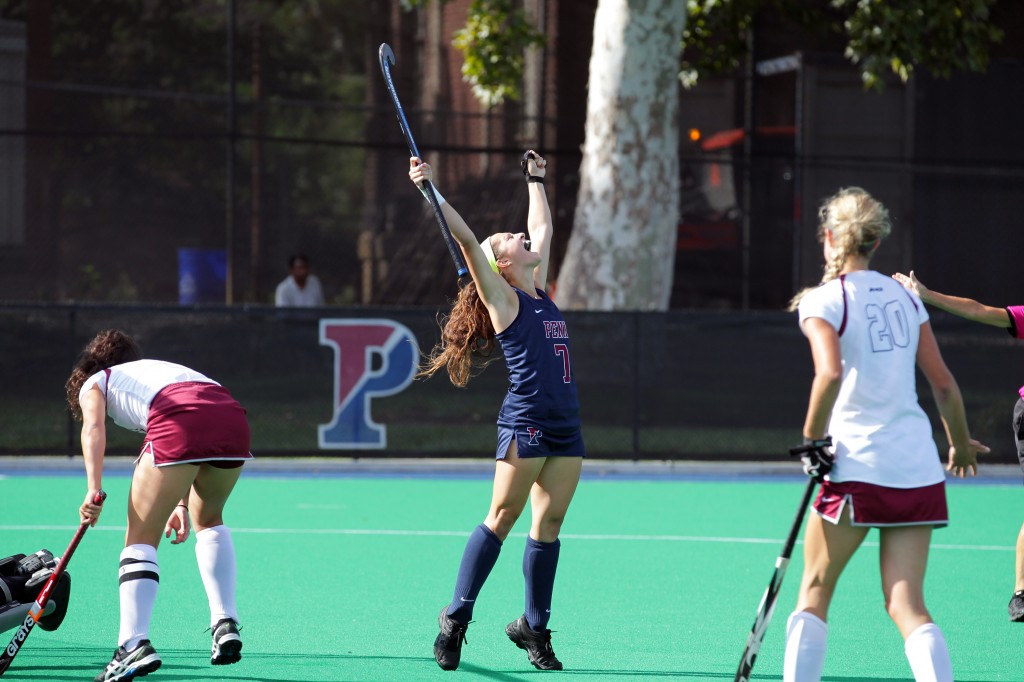 Alexa Hoover didn't know she was in Sports Illustrated until her phone started buzzing with texts. One by one, her friends and teammates on the Penn field hockey team congratulated her for being featured in the "Faces in the Crowd" section of the iconic sports magazine. Even then, she had a hard time believing it.
"I was just in shock," said Hoover, a sophomore who's enjoying a record-breaking campaign for the Quakers. "I had no idea. Everyone was texting me and saying, 'I can't believe you're in Sports Illustrated. That's amazing. I know a celebrity.'"
Does Hoover, who currently ranks first in the nation in goals per game (1.92), feel like a celebrity? Are people around campus recognizing perhaps the best athlete at Penn right now?
"I don't know," she said. "It would be cool if they did so we could get more people to come to the games."
It shouldn't be surprising that Hoover wants to use her newfound fame to benefit the team. Despite being in the midst of an incredible individual season in which she's already shattered the program's single-season record for goals (23) and points (52), her coach and teammates insist you wouldn't know it from how humble she is and how much she tries to blend in with the group.
And that's been a big reason why the Quakers are a blistering 10-2 heading into their final four games of the season, starting with tonight's contest against crosstown rival Drexel.
"She is the easiest person to play with," said junior captain Elise Tilton, who scored the game-winning goal in double overtime to lift Penn to its record ninth straight win earlier this month. "You know where she wants to pass it. You know where she'd going to be. She's such a smart player it makes it so easy on everyone else. … And she's such a sweetheart that you would never know in talking to her or meeting her that she gets all of the press. She's just a great person who will always bring other people up too."
"If you just watched from the sidelines during practice and things like that, she just kind of puts her head down and works," head coach Colleen Fink added. "And the thing I've liked the most this year that I didn't see as much last year because she was a rookie is her ability to take people under her wing. If you're a freshman on this squad and you have Alexa Hoover helping you out and telling you what to do, you're gonna listen."
In addition to helping the team's current players, Fink also said that Hoover is helping her lure recruits to Penn because "people want to play with her." Meanwhile, it wasn't that long ago when Fink and her staff worked tirelessly to use their own recruiting tricks to bring Hoover to Penn, including the allure of playing on the new Ellen Vagelos field, to snag a dynamic player who was being courted by bigger programs.
And it immediately paid huge dividends with Hoover winning Ivy League Rookie of the Year honors last year before being named Ivy League Player of the Week four times this season (a Penn record) and scoring five goals in a game vs. Saint Joseph's last month (another Penn record).
Most recently, she had two goals and an assist, including a great game-winning goal in overtime, to lead Penn to a 3-2 win over Bucknell on Sunday just two days after a rare setback to Columbia.
"I was definitely worried about the sophomore slump," Hoover admitted. "But I just tried to take things one game at a time, one practice at a time, and focus on the little things."
Fink said that over the past few weeks many people have asked her if she saw this coming. And while she couldn't have predicted that Hoover would become one of the top offensive players in the nation, she has known for a while that she was a great player — ever since she and her current assistant Katelyn O'Brien watched her dominate a Pennsylvania tournament as a 12-year-old.
"Rec specs, four-foot-nothing, and she just had impeccable timing and a knack for scoring then," Fink recalled. "It was to the point where we were at an indoor tournament and Katelyn came to me and said, 'Col, you gotta come see this little kid. I mean, she's unbelievable.' She was just scoring five or six goals at this little tournament and you would have to get her out of the game because it was supposed to be a developmental program."
Hoover's scoring rate has since slowed down — but not by much. And her coaches aren't about to take her out of any games as they hope to challenge perennial powerhouse Princeton for the Ivy League title and earn a spot in the NCAA tournament for the first time since 1993.
"She's just always been a special player," Fink said. "But when you partner that innate ability she has with her work ethic and her love of the game, you get this result."
— Dave Zeitlin C'03