Virtual Reality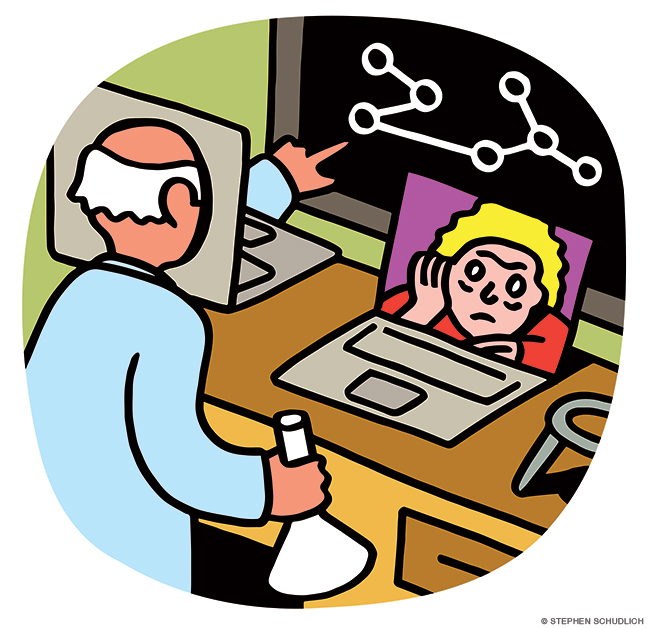 As students and professors transitioned to remote learning,
many discovered what was lost—and gained—in translation.
---
During her first clinical rotation of the spring semester, Jenny Chang Nu'21 faced a challenge: think fast or let a deaf patient go misunderstood. She immediately grabbed a pen and paper to begin translating medical jargon into simpler terms, gratified by the opportunity to make a difference at a moment's notice.
Starting in mid-March, however, Chang had to learn practical skills from behind a computer screen. Some days, she watched her professors perform physicals on mannequins. On others, she grappled with the Kaplan software meant to simulate the experience of nursing in a hospital unit. For Chang, the lessons didn't compare.
"I miss my clinical experience because I learned a lot from professors who were actively working on the floor," she said. "There's a difference between people who have to think on their feet every single minute of the day versus professors who have done it in the past. They can't really give us the same insight as actual nurses and physicians can about learning how to use specific machinery or where to get ice—just little things I would've never learned otherwise."
Chang's experience illustrated the new normal for Penn students and professors after the University depopulated campus and announced the implementation of remote instruction on March 11 in response to the novel coronavirus outbreak ["Gazetteer," May|Jun 2020]. For some students, the transition from in-person instruction to Zoom lectures and prerecorded demos led to deeper engagement. For others, it created questions about the college experience.
"It's hard to remember I'm a student sometimes. I feel like college is already over," said Sam Friskey C'20, near the end of the semester. She particularly missed the sense of family that Penn's theater community provided. Though she felt fortunate that professors like Brooke O'Harra conducted check-ins with each of the students in her self-scripting class, Friskey admitted it was difficult to balance coursework with the gravity of the global pandemic.
"I would say my productivity in comparison to normal is probably quite low," she said. "But I like to remind myself that it would be strange if we were all operating at the same level of productivity."
Friskey spent much of her quarantine working on her senior Honors thesis, a play interpolating the effects of climate change with the 10 biblical plagues. Though she initially received funding from the Sachs Program for Arts Innovation to stage it, the performance instead had to be a Zoom reading for friends and family. "The element of theater that I miss the most is that there's always the potential for things to change, which is exciting," Friskey said. "And that spontaneity is very hard to create when you're not there, in person."
Other Penn students also missed not interacting with others in the campus community. "I learn best from hands-on experience, which is why I also work in a professional lab and why I'm interested in becoming an MD-PhD," said Sukhmani Kaur C'22, a pre-med student majoring in biology with a focus on neuroscience. Many of Kaur's lab-based science courses have been difficult to replicate remotely. In one physics class, which became a mandatory pass-fail, she said that students watched teaching assistants perform experiments before reporting on results that weren't theirs.
"I was kind of surprised that we were continuing lab," Kaur admitted, adding that she's nervous how pass-fail courses might be viewed by medical school admissions officers, even in these unprecedented times. "While I do understand why it's better for people to have the [pass-fail] option" if they need or want to take advantage of it," she said, "it creates a certain stigma."
Despite all of the difficulties and concerns, silver linings could be found. Charlie Aresty W'22 admitted that in the past he was "always afraid of missing things" while furiously taking notes in class. But having the ability to rewind and pause lectures increased his productivity and comprehension. "It's been really helpful," he said, "and I wish they recorded more lectures at Penn so we could do that."
Professors also tried to make the most of their situations.
Urban Studies professor Michael Nairn GLA'85 reworked one of his spring-semester courses to reflect the experiences of his students and the demands the pandemic has placed on public, urban spaces. The course—Public Environment of Cities: An Introduction to Urban Landscapes—typically involves gathering students together and touring different neighborhoods in Philadelphia. When that became impossible, Nairn initially thought he could film the walks himself. "But that's not the same as experiencing them," he said. "So I had to make a huge pivot at that point."
After polling his students for input, he drafted a new curriculum that centered on how COVID-19 is straining and changing cities. A new pandemic reading list was created, and students were encouraged to talk freely about how the virus was altering their own lives.
"I actually think that listening to them about … their fears and what they were observing and how they were making this transition gave me more insight and more empathy," Nairn said. "I think I grew much more aware of their struggles over the last eight weeks."
While Nairn admits the class was far from perfect—students faced more distractions at home and, in the beginning, there were some drawn-out, awkward silences—he was surprised that the level of engagement didn't waver. If anything, it got more intense.
"What's interesting is that we were talking about and discussing what many of their lives were like, so many of my students led discussions," Nairn said. "I didn't notice that as much in previous years." —Beatrice Forman C'22