Venerating Venturi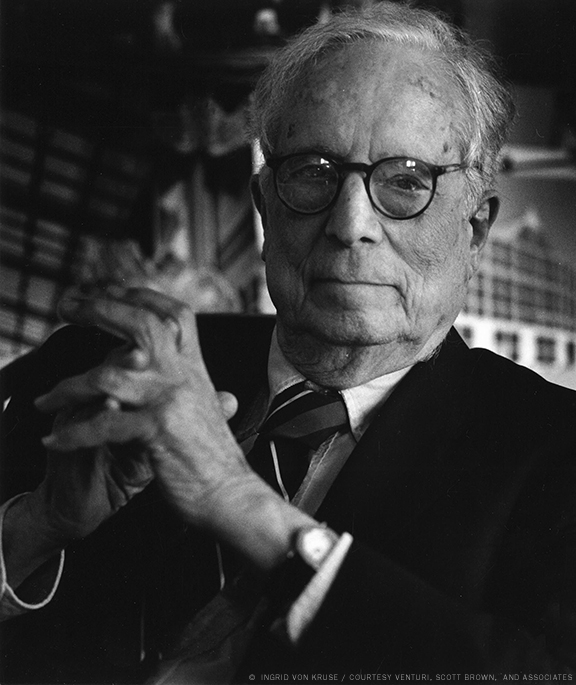 As two buses bumped merrily over the cobblestone streets of Germantown Avenue toward Chestnut Hill, about 100 practitioners, students, and scholars of architecture—many of them from out of town—oohed and ahhed at the neighborhood's lively blend of charm and history. Then someone shouted out an especially pointed comment.
"Main Street is almost all right!" he exclaimed, preening with glee at the appreciative laughter that followed.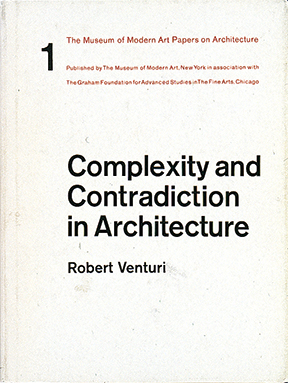 He was playing to an easy crowd, one that had gathered on this blustery Veteran's Day weekend to celebrate the 50th anniversary of Robert Venturi Hon'80's classic book Complexity and Contradiction in Architecture, in which that observation first appeared. Robert Venturi wrote it while teaching at Penn; it was published by the Museum of Modern Art in 1966. Now the two organizations—under the guidance of David Brownlee, the Frances Shapiro-Weitzenhoffer Professor of 19th Century European Art, and Martino Stierli, the Philip Johnson Chief Curator of Architecture and Design at MoMA—had convened a three-day symposium.
The event had kicked off at MoMA two nights earlier, as David De Long GAr'63, professor emeritus of architecture, moderated a discussion of the book's influence on succeeding generations. The first speaker was Stephen Kieran GAr'76, who studied under Venturi and then joined his practice before founding an eponymous firm with fellow student James Timberlake GAr'77 ["A Passion For Putting Things Together," Nov|Dec 2003]. The key precepts of the book, he said "became huge for how we thought of architecture, and continue to think about it."
In contrast, before London-based Sam Jacob discovered the book in a remainder bin, he had never been exposed to Venturi. "There was modern British architecture on one side and Prince Charles on the other, that was it," he said, referring to the royal's celebrated penchant for ye olde buildings. Jacob immediately fell under the spell of postmodernism, "a belief that architecture could be awkward, redundant, and borrow from all aspects of the culture."
While Brussels-based Kersten Geers did encounter Complexity and Contradiction at school, he found it to be "just a beautiful book with beautiful pictures and a strange text. I didn't understand then what it would mean to me as an architect," he continued. "It became kind of a hidden partner in my office."
Michael Meredith of MOS Architects in New York concluded by questioning whether the book would be as impactful today. There are no "orthodoxies or gatekeepers left," he said.
That wasn't the case then. Five years after Jane Jacobs lambasted the new norms of urban planning with her attention-grabbing classic The Death and Life of Great American Cities, Venturi issued his smartly written, less tartly voiced rejoinder to the prevailing architectural style of the time, modernism. He praised buildings that were messy, ordinary, contextual, and ornamented. "Less is a bore," he famously wrote, turning Le Corbusier's minimalist creed, "Less is more," on its head.
It was the 1960s, anti-establishmentarianism was in the air, and Venturi's manifesto hit a nerve. On Friday, eight scholars presented papers that examined elements of that zeitgeist. Stanislaus von Moos, of the University of Zurich, looked at the art of the time, drilling down to note that the small-to-medium-to-large pattern of the windows on Venturi's Guild House (1963) present an "almost identical principle of reverse perspective" to that of Jasper Johns' Three Flags (1958). Joan Ockman, senior lecturer at Penn Design, placed Venturi's book in the context of ideas then coursing through the intellectual world, including Jacobs' Death and Life (1961) and Christopher Alexander's Notes on the Synthesis of Form (1964)—both of which, she observed, "address cities as complex organisms" and share with Venturi's manifesto a "striking substrate of [then-new] references," which include everything from Gestalt psychology to systems theory.
As attendees broke for lunch, Calvin Vannoy, a first-year student in Ockman's class, tried to wrap his head around everything that had been said. "I haven't read the book," he laughed, "and I'm still trying to understand complexity as it relates to architecture. But a lot of it seems to have relevance to some of the modeling programs we use at Penn, and the ideas of aggregation and nuanced facade systems. It's interesting to see the history of that—here's that word, again—complexity."
On Saturday, the symposium moved on to the Philadelphia Museum of Art, whose modern-art curator, Kathryn Hiesinger, moderated a panel that examined more closely the book's genesis. Lee Ann Custer, a PhD candidate at Penn in the history of art, set the stage by summarizing her meticulous research on how Venturi's Penn lecture notes for his early '60s course Theories of Architecture laid the groundwork for Complexity and Contradiction. (Those notes are a key component of a concurrent exhibit at the University's Architectural Archives: Back Matter: The Making of Robert Venturi's Complexity and Contradiction in Architecture, which runs through March 3.) Christine Gorby of Penn State University also cited materials from the archives during her presentation on Venturi's early manuscripts for the book.
While this audience included architects, speakers, and scholars who had made the trip down from New York, as well as a contingent of architectural media, the event also drew laypeople from the museum's membership. Among them was Judith Tanzer, who said that Venturi's call for "breaking down the barriers between high and low art, and his notion of the 'decorated shed' made me think of Warhol and his soup cans." She added, "I love looking at architecture, and I'll be thinking about some of this stuff now as I walk around town."
For the lucky lookers who had scored tickets to the bus tour, that chance came immediately after the PMA session. The three-hour jaunt offered a rare opportunity to get inside one of Venturi's most seminal projects, the home he designed for his mother in 1964. Its facade may call to mind a child's drawing of "house," but inside, as Venturi rather grandly noted in the book, it is "both complex and simple, open and closed, big and little." Surprises abounded. While visitors jostled to snap photos of the stuffed animals that crammed one window sill, others homed in on perceived mistakes. "What was he thinking?" asked architect Kirsten Geers, adopting a tsk-tsk tone while indicating an awkward light well at the back of the house. "Not his best moment …"
After the tour, William Whitaker GAr'96 CGS'99 CGS'05, curator and collections manager of the School of Design's Architectural Archives, sat down for a chat with Denise Scott Brown GCP'60 GAr'65 Hon'94, Venturi's wife and partner. He began by asking for her first impressions of the so-called "Mother's House."
"The light," she offered immediately. "It came in from unusual places."
The conversation meandered into a brief discussion of process, and lit upon Scott Brown's influence on her husband, before settling on the state of the 91-year-old Venturi. "He's very amusing, very calm," Scott Brown said.
Before sending everyone off to enjoy the closing party and exhibit preview, Whitaker put into words the warmth radiating from the audience.
"For the past few days," he told Scott Brown, "we've all been thinking about Bob and you with love and admiration for all the work you've done."
—JoAnn Greco