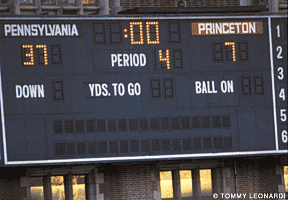 By David Porter
---
In the days before his undefeated football team faced Princeton at Franklin Field in November, Penn coach Al Bagnoli admitted that in some ways the team was still a mystery to him and that its personality had yet to fully reveal itself. At first it seemed an odd characterization—the Quakers had already played seven games, after all—but on reflection it doesn't seem so farfetched. There are only 10 football games in a season, which means there are only 10 chances to see how your players react under the extreme stress of competition.
Looking back on another season that leaves one grasping for superlatives, it becomes clear that Penn's personality was like that of an illusionist who teases you into thinking you've figured out his tricks, then leaves you more confused than you were before he started. None of the 10 teams was able to solve the Quakers this season, though several came close. They should all get As for effort, but the undisputed truth is that Penn is still in a class by itself in Ivy football, even though the undefeated season of 2003 featured more coronary-inducing finishes than the past several years combined.
Improving on last year's 9-1 finish was a tall order for the team that assembled in August, and it took on Herculean pro-portions when several players became unavailable, either due to academic difficulties, injuries, or personal issues. The defensive line in particular was decimated, forcing Bagnoli to use three freshmen. Linebacker Steve Lhotak and defensive back Kevin Stefanski, both seniors and defensive leaders, missed games with injuries, as did senior quarterback Mike Mitchell.
"Before the season we felt we had a pretty good football team," Bagnoli said. "But it's hard to develop a personality when you have so many inter-changeable parts. It was not what we envisioned when the season started."
Unlike in 2002, when the Quakers simply overwhelmed other teams with sheer talent, the gap narrowed a bit this season. A 10-24 deficit at Lehigh turned into a 31-24 win after an hour-long lightning delay. In games against Yale (34-31), Brown (24-21), and Harvard (32-24), Penn let big leads slip away before righting themselves and finishing the job.
Bagnoli allowed that the Yale game probably revealed more about his team than any other, and it is hard to argue the point. Ahead 31-10, Penn allowed Yale to tie the game in the final minutes, lost a chance to win when senior kicker Peter Veldman missed a 45-yard field goal, then won in overtime when sophomore defensive back Casey Edgar blocked a short field-goal attempt and Veldman connected from 23 yards.
Against Brown, they led 24-7 in the fourth quarter but needed a late interception by senior cornerback Pat McManus to leave Providence with a win. Harvard was on the Quakers' 6-yard line on the final play of the game and within reach of tying the game, after rallying from a 29-7 deficit. "I think it's a by-product of kids being used to winning," Bagnoli said. "They know what to do. And there's a certain element of luck, too. Last year, we just overwhelmed people. This year, that wasn't the case."
Winning certainly was a habit for the seniors on the 2003 team: they finished 26-2 in Ivy League games over a four-year span and were undefeated at Franklin Field (19-0). The former number is the best four-year mark in Ivy history.
The troika of Mitchell, sophomore running back Sam Mathews, and junior wide receiver Dan Castles helped the offense average 35 points a game and rewrite the record books. Mitchell's 26 touchdown passes set a new single-season mark, and Castles' 13 touchdown receptions tied Miles Macik C'96's mark from 10 years earlier. Mathews, a transfer from Navy, ran for 1,266 yards, the fourth-best one-season total in school history, which included 204 yards against Yale. On defense, Lhotak had seven sacks despite missing three games and part of a fourth.
The most impressive accomplishment may have come off the field, when the All-Ivy teams were announced. Twelve Quakers made the first team, more than any team in Ivy history (Yale put 10 on the team in 1974). In addition to Mitchell, Mathews, Castles, Lhotak, and Veldman, the following players were honored: senior offensive linemen Chris Clark, Matt Dukes, and Ben Noll; senior defensive lineman Ryan Strahlendorff; cornerbacks Duvol Thompson (junior) and Rudy Brown (senior); and junior linebacker Ric San Doval.
---
BASKETBALL | All basketball coaches should have the problems faced by Penn's Fran Dunphy this winter. Judging by the first several games of the season, one of Dunphy's most daunting tasks will be spreading around enough playing time to one of his deepest teams in years. The wealth of talent will be needed to make up for the loss of three starters from the team that went 14-0 in the Ivy League last season.
Not that this year's starting unit contains any slouches. Senior guard Jeff Schiffner is the obvious leader, and he scored 20 points in each of the Quakers' first two games, a 64-53 loss to Wisconsin and a 79-73 win over Drexel. Senior center Adam Chubb, who looks to be finally fulfilling some of the potential his physical gifts have bestowed on him, scored a career-high 19 points against Drexel, and senior guard Charlie Copp had career-high 18 points in the first half of an 86-48 win over Indiana State. Junior guard Tim Begley and 6-10 junior forward Jan Fikiel are seasoned competitors with two Ivy League titles under their belts.
Palestra denizens had to consult their programs early and often as Dunphy used 10 and 11 players, respectively, against Wisconsin and Drexel in games that had nothing resembling garbage time. Freshmen Ibby Jaaber and Steve Danley showed poise and athleticism—Danley with a rim-rattling dunk against Drexel—and transfers Eric Osmundson (Utah) and Eric Heil (Lehigh) appear to have blended into the lineup seamlessly.
"It's good to see guys coming off the bench and contributing like that," Schiffner said after the Drexel game. "We're going to need that night in and night out this season."
---
David Porter C'82 writes for the Associated Press.
---
Senior Sweep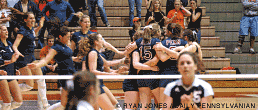 VOLLEYBALL | It was déjà vu all over again for Elisabeth Kwak-Hefferan, Heather Janssen, Lauren "Wylie" Carter, and Meghan Schloat—senior stalwarts on Penn's volleyball team. With a 3-1 skewering of the Princeton Tigers on November 19, the Quakers secured the Ivy title (13-1) and a solid 20-7 overall season record, not to mention its third trip to the Nationals in as many years. Though the team fell to Pitt 3-1 in the first round on December 5, Head Coach Kerry Major Carr had high praise for their efforts:"I am so proud of my team and the fact that they never gave up."
Carr has certainly had ample reason to take pride in her brilliant group of upperclassmen. Three of the four earned spots on All-Ivy teams, led most notably by a unanimous Ivy League Player of the Year selection for senior outside hitter Kwak-Hefferan.
"I'm not sure we'll see another player like her very soon," said Carr, noting specifically Kwak-Hefferan's incredible performance at Penn in the classroom with a nearly 4.0 GPA, which has consistently placed her on All-Academic lists from the Ivy League to the NCAA. Add to that her all-time team-leading 1,287 career kills, and you get a premier student-athlete.
Joining her on the All-Ivy first team is 6-2 senior blocker Heather Janssen (909 career kills), who is said to lead the team in on-court poise and inspiration. "You think she is a quiet girl, until she gets on the court. The other team always knows she is there and that she came to play. Her talk always gives our team that extra drive," said fellow senior and team-leading attacker Wylie Carter.
Second-team All-Ivy selection Meghan Schloat did her share of inspiring as well. The 5-7 senior setter led the team with an astounding 1,224 assists and saw time in every game during the season. "Nothing feels better than to win a championship your senior year," she said.
But what Carr and her star seniors find most salient about this year is not the wins but the team dynamic. "I think what's impressive is their work ethic and team unity. These girls really care more about each other than themselves," Carr said of the team.
The seniors echoed her comments. "I really believe that it is the incredible group of athletes, the strong leadership and chemistry among the team that has led us to our three straight Ivy Titles. Without each other and our devotion, I doubt we would have made it very far," e-mailed Carter after the Princeton win; Kwak-Hefferan agreed. "They are more than teammates, more than friends," she noted. "These girls are honestly part of my family."
—Patrick Brugh C'05