Ultimate Champions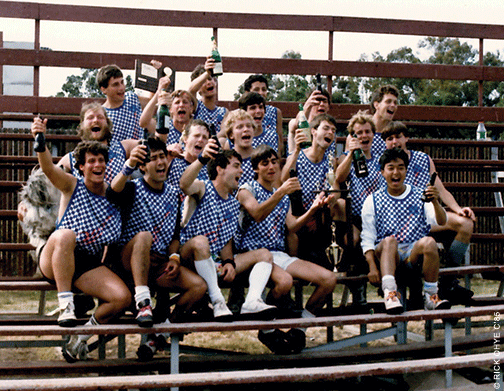 While many of his former classmates tossed a Frisbee around Penn Park during Alumni Weekend, Bruce Jacobson EE'85 dug through a pile of memorabilia off to the side of the field.
Soon, he pulled out another Frisbee. Well, sort of. It was a thick, scuffed slab of wood in the shape of a Frisbee. Nothing was written on it, and probably only a few people in the world would recognize it as an official trophy of a collegiate sporting event. But that's what it was: Jacobson and his Penn teammates had received it after winning the 1985 Ultimate Frisbee collegiate national championship.
"It was still a sport under development," Jacobson deadpanned.
In many ways, the "trophy" is the perfect representation of the team's unlikely and under-recognized 1985 title, which they returned to Penn to celebrate this May.
Although the Penn team legitimately proved to be the best college Ultimate squad in the country, the sport was still indeed new at the time; Penn's title came in only the second national tournament created by the sport's governing body, first known as the Ultimate Players Association (UPA) and now called USA Ultimate. And, since it was a club sport and not varsity competition, Penn's championship mostly flew under the radar when the players triumphantly returned to campus following their 21-12 win over the University of Massachusetts in the title game held at Stanford.
"No one knew," Jacobson said.
And, to this day, most Penn people still don't.
"I think it would have been nice if people had known about it," added Karim Basta C'84 W'84 G'84, Jacobson's fellow captain of the '85 team. "We won a national championship for Penn. How many people can say that?"
For the most part, though, the lack of recognition did little to dampen their enthusiasm, even 30 years later. And while it may not have been chronicled in newspapers or magazines, Penn's run to a national championship followed many familiar sporting themes—hard work, overcoming adversity, unbridled joy, and the creation of lifelong bonds.
That's why so many teammates returned to Penn this past Alumni Weekend to play in a reunion game and share stories of a sport, a team, and a championship they say meant more to them than any of their other college experiences.
"It was an incredible moment," Jacobson said of the national championship. "I'd have to say it was life-changing."
One of his teammates, Bobby Riddell ME'85, offered a similar sentiment.
"Frisbee saved my life at Penn," he said. "I didn't feel like I found my crew. I was adrift. I found the Frisbee team and it was so great."
Jacobson and Riddell had never played Ultimate when they saw a sign on campus promoting the club team. In fact, they hardly knew anything about the sport, which involves passing a Frisbee to your teammates and trying to get it into the opposing end zone. But being athletic and eager to try something new, they both signed up for the team, which was named "Void."
After forming in 1983, the UPA mandated that non-college students couldn't be a part of college teams (which had been the case before there was an official governing body). "So the guys not at Penn left and formed their own team," Basta explained. "And what was left was a void, which became the name of the Penn team—which exists to this day."
Losing some good players right off the bat gave the remaining members an underdog mentality that they harnessed and honed. Sure, they were just a club team. But they wanted to win, so they worked hard. They practiced in the mud and snow at Hill Field. They played in UPA tournaments across the country without any kind of financial support from Penn. ("That's what parents are for," Jacobson said.) Once, caught in a rainstorm on a trip to Virginia, they fastened shoelaces to the windshield wipers on a Toyota Celica to get them working again. Another time, rather than stay on campus for Spring Fling in '85, they drove to Cornell and slept on benches the night before a tournament.
"The sleeping conditions would have been exactly the same that Friday night if we weren't in Ithaca," Jacobson laughed, referring to the inebriated state many students would up in during Fling weekend. "But we ended up beating UMass, one of the club teams we hadn't beaten before. And we didn't lose again after that weekend for the rest of the season."
The Void players had always said they wanted to be the best, especially after bowing out of the inaugural 1984 UPA College Championships in the semifinals and realizing how close they were to winning it all. But as they reached the finals of tournament after tournament the following season, it still caught some of them by surprise.
"In two years, we became utterly dominant," Marc Stuart C'86 said. "It's hard to explain how that happened."
According to Jacobson, Void compiled an impressive 63-6 record during the spring of 1985 (playing in multi-game weekend tournaments). And they saved their best for last, going undefeated during the preliminary and elimination rounds of the national tournament before breezing past UMass to win it all. They even made their own shirts for the finals, putting everyone's nicknames on the back and handing them out just before the start of the game to huge cheers.
"And we never wore those shirts again," Jacobson said. "They were worn once, and in those shirts we won a championship."
Jacobson brought back the shirts and lined them up along the sideline for the anniversary celebration, explaining to today's Void members what they were all about. Sharing that connection with current students, after all, was an important part of the reunion, which they hoped would raise money for a Void program that's not at the level it was in the 1980s. (The sport itself, though, continues to grow, with college memberships increasing and professional leagues forming in recent years.)
"We're trying to turn the program into a big program," said David Shields, a rising senior and the current Void captain. "This event is a big step in trying to recruit the alumni more and get in touch with local schools. All the guys are loving meeting all these guys from back then on the championship team."
While many of the current Void players used Alumni Weekend to talk Ultimate with past players, Shields already knew just about everything there is to know about the '85 team. In fact, you could argue that no one has as big of a connection to Penn Ultimate than Shields, who even wrote about Ultimate in his college admission essay. That's because his mother, Roberta Neidle Shields C'84, played with the guys and ended up starting the women's Ultimate program at Penn. And his father, Paul Shields Gr'88, was the MVP of the 1985 national title game.
You can probably guess where Paul and Roberta met: at Hill Field, while playing Ultimate Frisbee.
"It sounds kind of corny, but it was a real life-changer," Paul said. "I met my wife that season. In addition to that, to work really hard at something and then to win, it brings everyone close. That's why 30 years later, we're all still great buddies."
Then, with his wife and son looking on, he ran out onto the turf, caught a Frisbee, and hucked it downfield.
—Dave Zeitlin C'03