Football and Family Ties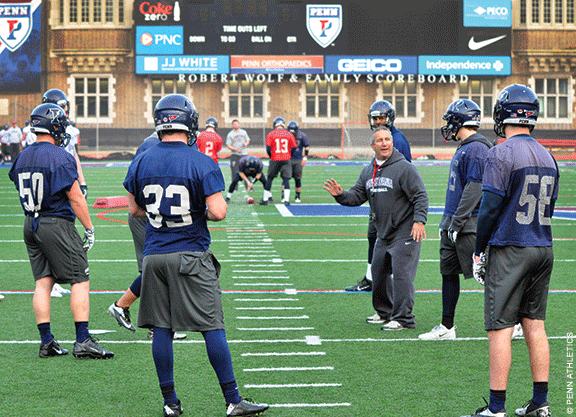 By Dave Zeitlin | Jenna Priore went to her first Penn football game when she was seven months old. She sat in the stands at Cornell during a snowstorm when she was about seven, upset that her mom had bundled her up, because she didn't think she looked cool enough in front of the players. She was the Quakers' water girl from the time she was eight until she got to high school. And over the past few years, she's been responsible for bringing a headset to Penn's defensive coordinator right before every game begins.
When Penn football kicks off another season on September 19 at Lehigh, Jenna Priore will once again be on the sideline. But when she delivers the headset to the coach, bumps his fist, wishes him good luck, and says, "I love you," it won't be the same.
That's because, after 28 years as an assistant and the last 16 as the defensive coordinator, her father, Ray Priore, is now in charge of the program.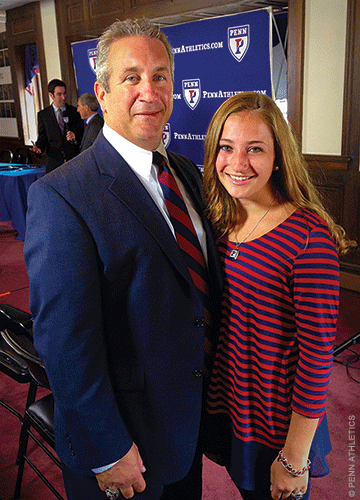 "It will definitely be a little different," says Jenna, now a College sophomore. "I'll be a little nervous. I'll have to close my eyes sometimes. But I'm excited to be out there and to see him run out first from the tunnel."
When Penn announced almost a year-and-a-half ago that Priore would succeed Al Bagnoli as the football program's head coach, Jenna was at the press conference, smiling the whole time. And Ray Priore pointed to his only child as one of the big reasons he'd passed up opportunities to leave Penn over the years.
"She didn't know any other place but Penn," Priore reflected in July, shortly before 2015 practices began. "It's very rare that coaches go to a place and are able to lock in there for a good period of time. I'm the exception to the rule … Most football coaches are moving every two, three years. To do that to your family I think is real, real tough. That was a major reason why I loved the stability of Penn."
Sure, there were times when Priore thought about leaving. After all, being an assistant for nearly three decades isn't easy for someone with aspirations to lead. But when he considered his family's love for Penn along with all the championships he helped the Quakers win in one of the country's most historic stadiums—"Who doesn't want to be a part of a winning tradition and be in that environment?"—he always decided to stay put.
Since his promotion, life has been a whirlwind for Priore, who remained the team's defensive coordinator during a disappointing 2-8 season last fall before officially taking the helm. Then, things took an even more interesting twist in February, when Bagnoli quickly left his post-football job in Penn's athletic office to take the head coaching position at Columbia.
How did Priore react to seeing his longtime friend and mentor—a man he still endearingly refers to as "Coach"—leave for another Ivy League school?
"Coach is a very competitive person," Priore says. "Perhaps going into that world of administration wasn't really satisfying those competitive juices."
Before Bagnoli left for Columbia, Priore had said his "biggest challenge is coming behind the most successful Penn coach in Penn history." That task won't change. But when asked if having to coach against the man who led Penn to nine outright championships in 23 years will magnify the challenge, Priore shakes his head.
"The challenge is more the program, more the kids, having success here," he says. "It's just about getting this program back to the level of success."
To that end, Priore has tried to make some changes. He encouraged players to stay in Philly over summer so they could train together on campus. He shifted spring practices from evenings to mornings. He made a big push on nutrition. And, along with new men's basketball coach Steve Donahue, he toured the country to meet with alums while discussing ways to boost attendance for both of the University's marquee programs.
He also named four-year-old cancer patient Vhito DeCapria as his first captain, through the Friends of Jaclyn Foundation, which pairs children battling pediatric brain tumors and other childhood cancers with high school and college sports teams. Priore knows the foundation's president, Denis Murphy, from college and always knew he wanted to be a part of the program as soon as he became a head coach.
"Any time we as coaches can impact someone's life, or as a player we can lend a hand, however it may be, I think that's a phenomenal thing," Priore says. "Football is just a part of life. It leads to a lot of great things."
Not surprisingly, Jenna Priore has taken the reins of the team's involvement with Friends of Jaclyn—yet another role for the young woman Priore jokingly refers to as his "head of operations." And he never wants that to change. Priore may be a ferocious competitor who blasts AC/DC's "Hells Bells" on his iPod before games, but he always stops the music when his daughter delivers his headset and a hug.
Jenna, who's only missed a handful of Penn games in her life and has a ring for every Penn championship she's been alive for, relishes that on-field relationship, too. And she's ready for a new chapter of it to begin this fall.
"Growing up, the best part of the year was always football season," she says. "It's always been a special family thing we've gotten to bond over.
"He's worked so hard for this," she adds. "It's always been a dream of his. And to finally have it come true, and for it to be able to be here, is amazing. I'm really proud of him."
New Women's Soccer Coach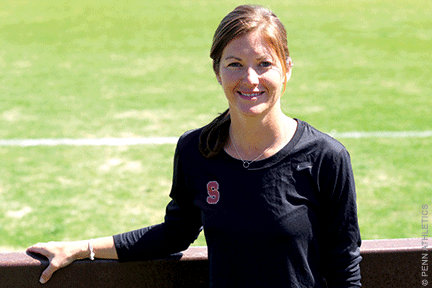 Nicole Van Dyke has had quite the year.
After becoming head coach of the Penn women's soccer program in March, Van Dyke not only moved across the country for the job but also gave birth to a baby boy in July.
It's been exhausting. But it's also been exhilarating.
"Making the decision to leave family and friends when you have a newborn, that was probably the hardest part," she says. "But from a soccer standpoint, I felt like this was the place I could come … and really build something. Penn women's soccer has done well—they've won a couple of Ivy League championships—but I do feel like they have so many things in place that can really kind of put them even more on the map."
Van Dyke has experience building soccer programs, first becoming a head coach at the age of 23 at Division II Cal State Stanislaus before becoming the first full-time women's soccer coach at her alma mater, Cal State Bakersfield, as it transitioned from Division II to Division I. From there, she became an assistant coach at national powerhouse Stanford, helping guide the Cardinal to its first-ever NCAA women's soccer title in 2011.
That made her an attractive replacement for Darren Ambrose, who left Penn for Vanderbilt after 15 years with the Quakers.
"Any time you take a new position, you obviously want to put your stamp on the program," she says. "I've always been a possession-oriented coach. I love attack-minded soccer, but one of the challenges for our team is that they were a little direct … We really want to be a team that dictates tempo and has something to fall back on when things aren't going well."
Despite the craziness of her summer—which included living in the Penn dorms while she searched for an apartment—Van Dyke is excited for the 2015 season, especially as it comes on the heels of the thrilling Women's World Cup.
"Every time you have a World Cup in the summer leading up to the fall, it just excites everybody," she says. "We want all of our campers to come to games. We want to create a community feel. And we hope with the help of the World Cup, we start to increase attendance at games.
"It's awesome to play in front of a big crowd—and it's also a great experience for our players to kind of think a little bit bigger than just playing college soccer, and know that there's kind of a mass following of young girls who hopefully want to be just like them."
Dave Zeitlin C'03 writes frequently for the Gazette.