Tiny Illustrations Make a Big Impression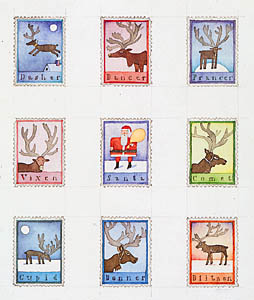 Many of John Segal's watercolor paintings would fit in the palm of your hand, but what they lack in size they make up in fanciful detail, from the beady eyes of a lobster to the gleam on a Comice pear.
   "I guess I always had a fondness or weakness for beautiful, small objects," says Segal, C'80, who lives in New York. In a studio art course at Penn, he recalls ignoring his professor's entreaties to fill up the entire page. "I kept making little drawings in the middle of the page, which drove him to distraction."
Studying to be an architect, Segal realized, "I liked drawing architecture more than I liked architecture itself. That led to my discovery that there were people called illustrators who made pictures for magazines and newspapers, and I could become one of them."
He graduated with a degree in European history and a sketchbook full of drawings that prompted his parents to send him to the Rhode Island School of Design for one year. "I knew in my heart I was a miniaturist despite everyone telling me to draw big," Segal says. One inspiration was the work of the late Donald Evans, who created numerous postage stamps for fictitious countries.
Segal has steadily built up a client base, and his diminutive illustrations now animate the pages of publications like Gourmet, The New Yorker, The Wall Street Journal and Business Week. And, much in the spirit of Evans, he has created a line of "postage stamp" cards for the Metropolitan Museum of Modern Art holiday-card collection.