The (Socially Conscious) Play's the Thing
It hasn't been easy. But Seth Rozin C'86 wouldn't have it any other way.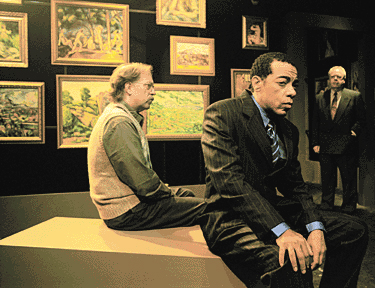 "To do theater at all in the last 15-20 years has been a risk, and particularly theater with a fairly specific mission like ours," says Rozin, the producing artistic director of the InterAct Theatre Company in Philadelphia, which he co-founded in 1988. The challenge is "two-pronged," he adds. "One is the social-political content. The other is the fact that we're doing new work. Put those two together, and you're talking about a fairly risky venture."
Despite the formidable odds, InterAct has survived to become a serious, albeit small, player in the Philadelphia theater scene—which was his idea all along.
"I never wanted to run a big, mainstream theater," he says. "That involves making certain necessary compromises, and it's not the direction I wanted to go to. We've been very vigilant about holding very closely to our mission and providing challenging, thought-provoking theater—which we could not have produced if we were trying to fill a 500-seat house and appeal to a more mainstream audience."
InterAct's most recent offering was Thomas Gibbons' Permanent Collection, a theatrical roman à clef about a small, prestigious art museum—very much like the Barnes Foundation in suburban Philadelphia. At the heart of the play is the conflict between the museum's African-American executive director and its white education director over a proposal to replace some of its famous Impressionist exhibits with African artworks that had been relegated to a storage area. A review in the Philadelphia City Paper by David Anthony Fox, a lecturer in theater arts at Penn, called it "thought-provoking and literate," and "well-served by Seth Rozin's fine production."
"Permanent Collection, like many of that playwright's works, deals with race and the racial divide that continues to inform a lot of what goes on in this country," says Rozin. "It addresses the inability and unwillingness to talk to each other across the racial divide in any meaningful way. At the end of shows every night, people leave talking about it."
Starting a dialogue is one of Rozin's goals, and the two upcoming productions are likely to do the same. Naomi Wallace's In the Heart of America (February 13-March 14), about two American GIs who fall in love serving in the first Gulf War, is, in Rozin's view, "incredibly relevant now," while Dick Goldberg's God of Desire (May 7-June 6), a "really passionate play" about a man whose religious faith conflicts with his sexual desire, is likely to "ruffle a few feathers."
That's fine with Rozin, whose interest in theater goes back a long way.
"My family was very encouraging of the arts, and I grew up in an environment that was very arts-oriented," says Rozin, whose father is Penn psychology professor Paul Rozin and whose mother is a writer. Having acted and directed in high school, he continued to do so at Penn (especially such extracurricular troupes as Penn Players), even though the theater program was "considerably less expansive then than it is now." He thrived under the mentorship of Catherine "Kaki" Marshall CW'45 and others, and because of the small, laissez-faire nature of the program, he learned a lot about the "entrepreneurial side of theater"—how to produce and publicize shows, raise money, and run production meetings. By the time he graduated, he "pretty much knew" that he wanted to start his own theater company.
The original idea for InterAct was to promote "cultural exchange at the global level" —taking American plays that highlighted or represented different aspects of American culture abroad, or bringing back similar kinds of plays from other countries to the United States. But financial realities—and the uncertainty of touring at a time when the Iron Curtain had just fallen —took the wind out of the company's sails.
To pay the rent, Rozin took a job at the University Museum —as arts director of a program for homeless children and mothers. That job awakened his "dormant social conscience."
"InterAct's work changed very strongly as a result of that work," he says, and cites two turning points. One came in 1993, when the company put on another Thomas Gibbons play: 6221: Prophecy and Tragedy, about the City of Philadelphia's lethal bombing of the MOVE house in 1985. "Opening night was such an electric evening," recalls Rozin. "The discussion afterwards went on for 45 minutes. People were standing up and really venting. It really put us on the map."
But despite the success of 6221—which earned Rozin a Best Director award from The Philadelphia Inquirer and another Inquirer citation for the production—the next five years were "still really a struggle, because political is still a dirty word in the arts," he says. "We had to fight and stick to our guns that we were doing valuable work."
It wasn't until 1999 that InterAct hit pay dirt with Israel Horovitz's Lebensraum, which won three of the city's prestigious Barrymore Awards—one for Rozin as Best Director, another for Best Production, and a third for Best Ensemble. Since Lebensraum was running during the American Theatre Critics Association's conference in Philadelphia, it ended up getting national press.
"Lebensraum got us a lot more critical notoriety, and seemed to get us over the hurdle of recognition—that we could be both political and highly entertaining at the same time," says Rozin. "Everything seemed to click into gear after Lebensraum. We haven't looked back since."
—S.H.