The Radical and the Restorer
As the international blockbuster King Tut exhibition comes to Philadelphia's Franklin Institute, the Penn Museum has unveiled an eye-opening companion show on the radical religious and political experiment imposed by the boy-king's predecessor (and putative father), the Pharoah Akhenaten.
By Beebe Bahrami
Photos | (Amarna) University of Pennsylvania Museum of Archaeology and Anthropology and Tom Jenkins; (Tutankhamun) © Andreas F. Voegelin, Antikenmuseum Basel and Sammlung Ludwig.
---
There is a handsome youth, dressed in a flax-colored, striped-linen headdress and robe, sitting in the back of the trolley, looking rather austere for his young countenance. Against his chest he holds a faux-gold-and-jewel-encrusted crook in one hand and a flail in the other, the two crossing at his heart. His brow bears the golden uraeus, the poised cobra associated with ancient Egyptian royalty. No one speaks to him, but I'm curious.
"Excuse me."
He looks at me, a bit shocked, and then regains his composure. "Yes?"
"Why are you sitting in the back? Wouldn't you be better placed up front for all to see?"
He grimaces. "I like to sit in back so that my people won't betray me." As he returns to his silent-as-a-tomb pose, the bus's motor revs and I return to my seat. I look back at the trolley-riding Pharaoh.
He has good reason to cover his back. He is Akhenaten, the radical pharaoh of the 18th Dynasty, who in the short period of his rule—1353-1336 BCE—built a new capital city in the middle of nowhere, between the cosmopolitan Nile cities of Thebes and Memphis, and along the way altered art styles, language, and the time-honored ideas of kingship. Practically overnight Akhenaten had some 20,000 to 50,000 people leave their homes, mostly in Thebes and Memphis, and relocate to the newly built city of Akhetaten, today known as Amarna. Most radical of all, he made it law throughout the land that people had to give up their gods, both the great national gods and the little domestic ones, the beings to whom they turned for everything. Amun, the prominent national creation-god of the Egyptian pantheon, was definitely out of favor, along with his perhaps too-powerful priesthood. In the new era, the only priest necessary would be the pharaoh himself and the only viable god would be his beloved Aten, the sun disk, the visible manifestation of the sun deity. Not only that, but Akhenaten told his subjects that they could not worship the Aten directly. Rather, they would worship the pharaoh and his family and he in turn would worship the Aten on their behalf.
It was within this new capital and surrounded by this new ideology that the pharaoh who would become known as Tutankhamun was born. Amarna and Egypt's vast empire were his inheritance, and so were its problems.
---
This modern-day manifestation of Akhenaten and I are onboard the Tut Trolley in front of Philadelphia's Franklin Institute, where Tutankhamun and the Golden Age of the Pharaohs will show from February 3 to the end of September as the last U.S. stop on its world tour. This blockbuster exhibition is organized by National Geographic, AEG Exhibitions, and Arts and Exhibitions International in cooperation with Egypt's Supreme Council of Antiquities, represented by its secretary general, Dr. Zahi Hawass G'83 Gr'87. Before its Philadelphia stop, Tutankhamun traveled to Fort Lauderdale, Los Angeles, and Chicago. From here, it will go on to London in November before returning to Egypt.
In our modern chariot the heretic pharaoh and I are heading to the city's other great Egyptian exhibit, Amarna: Ancient Egypt's Place in the Sun, which opened in November 2006 and runs through October at the University of Pennsylvania Museum of Archaeology and Anthropology.
Amarna offers a full context for Akhenaten's capital city—and the birthplace of King Tutankhamun. It also sets in place the everyday life of the average citizen, who was asked to move hearth and home and live in this strangely new city that was largely set up for pageantry. The old gods' annual days were replaced by the king and queen's daily appearance to worship the Aten, so that, essentially, every day was a festival. The city rose and set with the sun in more ways than one. The two exhibits offer rich and complementary portraits of the Amarna period (1353-1319 BCE) before, during, and after the city's brief existence, and also for the span of Egypt's Golden Age, particularly its 18th Dynasty, from 1539 BCE to 1292 BCE.
Hawass asked his former teacher, Dr. David Silverman, the Eckley Brinton Coxe, Jr. Professor of Egyptology in Penn's Department of Near Eastern Languages and Civilizations and curator of the museum's Egyptology Section, to be the national curator for Tutankhamun and the Golden Age of the Pharaohs.
Silverman says he was thrilled, especially since he had also been involved with the 1976-79 Treasures of Tutankhamunexhibition that toured four cities in the U.S. At the time, Silverman was a curator at the Field Museum, and created the curatorial content for the Chicago Tut show. For the new exhibition, he created the storyline and the content for all four U.S. shows while working closely with the design company Art and Entertainment International (and in Los Angeles, with the McMillan Group, Inc., who also designed Amarna). Mark Lach, senior vice president of Arts and Exhibitions International, has been overseeing the design for each Tut venue and travels and lives with the show. In November he was already in Philadelphia, settling in to start the work of transforming two main spaces at the Franklin Institute into a three-dimensional story told through the 11 galleries that detail the show.
Once the space configurations are established, Silverman and the designers don't rest. With the advances in exhibit design since the 1970s, making changes is less costly, so exhibitors and curators can be more flexible in meeting public interests. For instance, when several visitors asked Silverman the same question about what is a cartouche, he was able to rewrite and insert a display label in the exhibit to provide the answer (the oblong or oval shape enclosing the names of pharaohs and gods in hieroglyphs).
In addition to working on story, content, and design, Silverman has also been promoting the exhibit in television and radio interviews, and at special events around the country.
When it was decided that the new exhibit would make its only East Coast stop in Philadelphia rather than New York, Silverman, despite an already bursting schedule, decided to act quickly and proposed the Penn exhibit, Amarna.
"We have a very good collection [at Penn] and so that's when it seemed the right thing to do," says Silverman, "This exhibit [Tutankhamun] has created a lot of interest in ancient Egypt in this particular time period. It's generated a lot of questions that people have sent to me. I was so happy to have the opportunity to do the complementary exhibit because it allows us to expand on the story that we're telling."
In developing the show, he worked with two other Penn Egyptologists as co-curators—Jennifer R. Houser Wegner C'91 and her husband Josef Wegner C'89 Gr'96. Houser Wegner is a research scientist in Penn Museum's Egyptian Section and an adjunct assistant professor in the Department of Near Eastern Languages and Civilizations, while Wegner is associate curator of the section and professor and undergraduate chair in the department.
Like Zahi Hawass, Houser Wegner and Wegner were also Silverman's students at Penn. (After earning her undergraduate degree here, Houser Wegner went to Yale for her doctorate.) The three co-curators are also good friends, and were well suited to the intense challenge of pulling together Amarna within under a year so as to open before Tutankhamun got to town.
They selected more than 100 artifacts from Penn's collection for the four part exhibition. These pieces speak about the cherished gods that were banned during Akhenaten's reign, about Amarna's quick rise and fall, about the city's royal family and its everyday citizens, and about Tutankhamun's restoration of the old gods.
Among the most impressive pieces is a tall stone relief in the second section, called the Amarna Stella, which depicts Akhenaten and his eldest daughter Meritaten worshipping the Aten. Archaeologists found it in reuse by Ramses the Great, a pharoah of the 19th Dynasty; the carvings of the Aten were hidden and inscriptions added around the edges about Ramses and his son.
Evocative of pre-Aten Egypt are two life-size carved busts that stare across the space at each other in the first section of the exhibit depicting the lion-headed goddess Sekhmet. But perhaps the most arresting piece is a statue of the god Amun in the final section. He is carved in greywacke (a smoky-colored stone) and his face bears Tutankhamun's features, holding a solid, approachable, and reassuring gaze.
The Penn Museum possesses the third largest Egyptology collection in the U.S., after the Metropolitan Museum of Art and the Boston Museum of Fine Arts, a legacy going back more than a century to the museum's founding. Many of the pieces on display for Amarna come from excavations that occurred in the 1890s through the 1920s, particularly those headed by Sir William Flinders Petrie under the British Egypt Exploration Fund (later called the Egypt Exploration Society), to which the fledgling Penn Museum contributed support.
Throughout the process of curating Amarna, Silverman continually considered how the exhibit's story would complement the main show. "The story in both places has really to do with discovery, discovery of what the culture was like during this century of time," Silverman explains. "What I wanted to do in the big exhibition, before we even knew we were going to have one here, was to give context in time, in place, in family, and in life and in death, and to weave a story."
The result is two exhibits made for each other like the pharaoh's crook and flail; both give a solid portrayal of ancient Egypt before Akhenaten and Tutankhamun and of the 18th Dynasty. While Tutankhamun peaks with King Tutankhamun's story, Amarna's apex is its deeper context for the brief—and swift—decades that defined the city and the everyday life of Tutankhamun's boyhood and coming of age. Josef Wegner highlights the main mysteries that shroud the Amarna period. "There's a heretic pharaoh who outlaws the gods, there's Nefertiti who disappears in the middle [of the Amarna period], and there's a boy king."
Unlike the 1970s Tutankhamun show, for which he only curated the Chicago exhibition, Silverman has had creative input on the national tour, developing the storyline and working closely with the exhibit designer in each city toward executing the story in three dimensions. The most significant difference this time around is the scope and number of objects on loan from Egypt, which has greatly expanded the story that can be told, he says. While only 55 objects were included in Treasures of Tutankhamun, the current exhibition includes 50 objects from Tut's tomb along with more than 70 objects from other 18th Dynasty royal tombs as well as from some nonroyal people. Moreover, most of the pieces were never seen in the 1970s, and for many this is the first time they have ever been allowed outside Egypt.
This past September, with the Tut and Amarna exhibits in the offing, the Penn Museum declared a "Year of Egypt," during which it plans to offer weekly events, including themed gallery tours, belly-dance classes, workshops, a film series, and lectures. Greater Philadelphia is joining in with restaurants and bars, shops, spas, hotels, and other city museums and galleries offering Egypt-inspired foods, goods, tours, and services. In between exhibits, for example, visitors can indulge themselves with a "Cleopatra Rescue Treatment" at Rescue Rittenhouse Spa Lounge, enjoy traditional Egyptian cuisine at the family-run Aya's Café, or imbibe a King Tut-ini at McGillin's Olde Ale House. From one great river people to another, everyone is in on this revolution.
---
The subtitle of the current Tut show—The Golden Age of the Pharaohs—refers to the fact that by ancient Egypt's 18th Dynasty it was a huge empire, extending as far north as modern-day Syria and as far south as Nubia in today's northern Sudan. Gold poured in from Nubian mines, and wealth, alliances, and marriages were exchanged with neighboring kingdoms. (And Egyptian women generally enjoyed more freedoms and self-governance than their neighbors.)
Akhenaten's grandfather, Tuthmosis IV, who ruled from 1400-1390 BCE, had resolved the last standing hostility keeping Egypt from a peaceful existence with other major powers in the ancient world. The empire remained stable during the 37-year reign of Amenhotep III, Akhenaten's father. Towards the end of his kingship, Amenhotep III began to play around with the ideas of divinity and kingship, leaning toward the notion of the pharaoh becoming a living god—as opposed to becoming divine only after death and serving as intermediaries between people and gods in life.

Growing up in an environment that had already begun to depart from established religious ideas may have been an important influence in the radical extremes toward which Akhenaten progressed, once he took the throne of his vast peaceful kingdom in 1353 BCE and implemented his monotheistic revolution.
The verdict is still out on whether he was a prophet, a pragmatist, or a lunatic. One thing is clear, though: He was determined. "Akhenaten did everything in less than 17 years," Silverman explains. "He changed how things were built, moved capitals, changed the language, changed the religion, changed the whole structure of kingship, and he made this incredible change in a very, very short period of time. People think that rapid change is something that is only modern."
The rapidity of the changes may have stemmed from a desire to meet no opposition to his new ideas. But it still makes us wonder, why on earth did he do it? One possibility is that he may well have had serious visions, in which his god spoke to him. Or he might have been a political pragmatist and have seen that the priesthood of Amun, the most prominent national god, was getting too powerful and, moreover, requiring a lot of land and resources that competed with the king's desires.
It is also possible that Akhenaten's skepticism regarding the established religious system—and eagerness to establish a new city to live in—may have been motivated by a plague cycle that affected Egypt and its capital, Thebes, during his lifetime.
"There is some evidence that during the reign of Amenhotep III there was this big plague and all these people died," says Houser Wegner. "Amenhotep III set up statues to the goddess Sekhmet, who was the goddess who warded off plague, in an attempt to save the city." But it seems Sekhmet did not come to Thebes' aid. "Some people suggest that Akhenaten wanted to get out of town because it was a death trap."
She goes on to suggest that Akhenaten might have lost his faith in Sekhmet, a traditional god. Perhaps, he reasoned, a new, powerful, light-shedding, earth-warming god was the ticket. But in a world where religion was woven into the whole fabric of life, intimately connected with everyday practices and beliefs, asking a whole empire to forfeit the gods they talked to on a daily basis was asking them to change everything—which is probably why, though monotheism of the Aten was law, archaeologists still find amulets and molds for the traditional gods in people's homes and workshops, even in Amarna.
---
Another of the mysteries surrounding Akhenaten has to do with his wives. Of these, Kiya was the most likely mother of Tutankhamun, but the best known to us is his principal wife, Nefertiti. In 1912, German archaeologist Ludwig Borchardt found her bust at Amarna in the ancient sculptor Tutmosis's studio, tucked back in a storage cabinet. After a long, long slumber, she burst back on the scene as her face captured imaginations around the world. For all its modern fame, though, that bust was among other images of the royals left behind when people abandoned Amarna and returned to their original homes. Tutmosis took his tools and other things he needed and left behind all things obsolete.
Beyond how she looked, we know comparatively little about Nefertiti. She clearly enjoyed significant power as queen, as she is often depicted on wall carvings with her husband. She also disappears from the records in Year 12 at Amarna. She might have died, she might have been killed, or she might have become a co-regent with Akhenaten and taken on another name. Soon after her disappearance, a new king and co-regent with Akhenaten appeared under the name Ankhkheprure Neferneferuaten, which may have been Nefertiti.
After Akhenaten's death, Nefertiti may have also been one of two possible rulers who took over in the three or four years before Tut ascended the throne, and shared a throne name—Ankhkheprure—with another, most likely Smenkhkare, aka Ankhkheprure Smenkhkare, who in turn might have been Akhenaten's co-regent. "Co-regency," explains Josef Wegner, "happened from time to time in ancient Egypt, although the reasons differed from case to case. In the case of Akhenaten and Nefertiti, it's an open guess as to why a co-regency might have occurred. Motives could be the aging of the king, illness and fear of early death, etcetera. If Ankhkheprure is Nefertiti, then it does represent a natural extension of her already prominent religious and political role to [that of] co-king alongside Akhenaten."
Smenkhkare also might have been Tutankhamun's older brother, or even his father, since archaeologists are still not fully certain if Akhenaten was Tut's father because no definitive text or inscription has yet been found that names his parents.
By the time Tutankhamun was around nine years old, he ascended to the throne. By then, the Aten was already in the process of being abandoned in favor of Amun and the traditional pantheon. The new pharaoh carried through the restoration of the old beliefs and practices, moving the capital back to Thebes and also changing his name, from the original Tutankhaten to Tutankhamun, making his allegiance to Amun unquestionable. And he erected restorative and corrective inscriptions throughout Egypt, explaining that after a period of neglect, normal life was back.
Despite these efforts, Tutankhamun was too closely associated with the Amarna episode and Akhenaten to escape the connection, and his death at the young age of 19—perhaps from an infection in an unhealed injury to his left leg—didn't help. For three years after Tut's death, Egypt was ruled by his family's long time advisor, the elderly Aye. Like Tut, Aye left no heir. He was succeeded by another advisor, General Horemheb, a nonroyal but a skilled military man and diplomat. Probably acting both out of pragmatism and to cement his legitimacy as pharaoh, he led the voracious dismantling of Amarna's buildings to provide construction material elsewhere—stone blocks were turned face down to hide identifying carvings—and an empire-wide campaign to destroy any evidence of the Aten and of the names of the kings, from Akhenaten to Aye, who were affiliated with the experiment at Amarna. Subsequent kings' lists eliminated the Amarna rulers; their names fell into anonymity. Horemheb also appropriated Tutankhamun's restorative monuments for himself, plastering his own name over Tut's—revealed over time in some cases, as the ancient plaster has fallen away.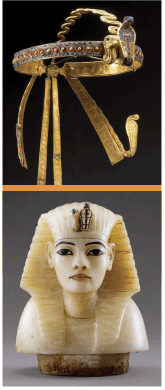 Horemheb ruled for about 27 years, working hard to maintain—and rebuild where necessary—Egypt's power by diplomatic, economic, and military means. Ironically, even his efforts to fully wipe out the Amarna royals' names from the record may have benefited his country in the long run, perhaps protecting Tutankhamun's tomb from plunderers both ancient and modern. Instead, Tut lay anonymous and undisturbed for more than 3,000 years until the British archaeologist Howard Carter found his tomb in the Valley of the Kings in 1922, sparking successive waves of "Egypt-mania" through the 20th century and now into the 21st.
---
Along with the fascination and gripping stories, Silverman hopes to convey some important lessons. One is that "this is a non-Western culture" from North Africa, he says. "It had a very early influence on Western culture and people forget that."
How sweeping social changes like the ones that spawned Amarna affected ordinary individuals is another factor to consider, says Houser Wegner. "Imagine that you are one of the common folk and you have just been told not only that you have to move to this new city from Memphis or Thebes but you also have to stop worshipping your gods and, moreover, the one god you are allowed to believe in you can't worship. Instead, you have to worship the king who will worship the god Aten for you," she says.
"Think about the everyday person. What did this time mean to them? Amulets of the traditional gods were still there—people didn't give them up, and they're gods that people turned to on a daily basis, gods that protected the home, women in childbirth, and the like, not the big national gods. Take a look at the everyday objects. Look at the comb [in the exhibit]. We know what house, from what room it was taken. It looks like combs of today. [And] think about a nine-year old boy. What was his experience?"
The Amarna episode is also a telling demonstration of the limits of even the greatest power, adds Josef Wegner. Here was the most powerful king of the ancient Near East at the time, and even his experiment failed—he took it too far away from the needs and desires of the people.
But there's another, very compelling lesson in all this. "For me," Wegner says, "the most exciting thing about Amarna is that it really nicely illustrates the fact that there are so many mysteries yet to be solved. Amarna is the most discussed and well-understood period in Egyptian history, and yet for every topic you look at, it turns out we actually know very little."
The three curators hold similar hopes for what the visitor will take away from exploring Amarna, Tutankhamun, and the 18th Dynasty: that this remarkable ancient experiment in change will be appreciated for how radical it was, that people will feel how dramatic it must have been for the average Egyptian, and that they will connect with these people across time and space—and recognize how much like ancient Egyptians we are.
"These were people that, even though they were living thousands of miles away from us, thousands of years ago, they had the same basic human emotions, feelings, hopes, dreams, that we all have," says Houser Wegner. "They fell in love, they had families, they did their jobs, and they just happened to be living at this rather tumultuous time in history."
---
Beebe Bahrami Gr'95, a regular contributor to the Gazette, has also written for Michelin Green Guides, National Geographic books, and for Archaeology, Expedition, Bark, and Wag magazines.