Journey to Estonia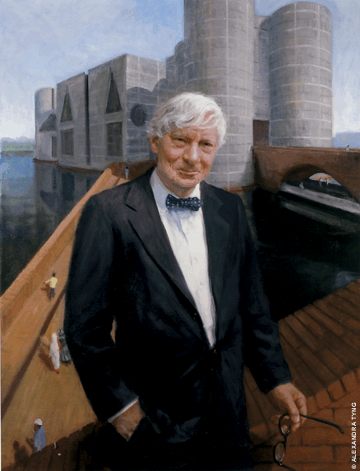 Louis Kahn Ar'24 Hon'71 left Estonia as a little boy in 1906. A century later, some members of the great architect's "family through choice" went back to explore his tangled roots and legacy.
By Samuel Hughes | Portrait by Alexandra Tyng GED'77
Photos courtesy of the Anne Griswold Tyng Collection and the Architectural Archives of the University of Pennsylvania
---
When Alexandra Tyng GEd'77 set out to paint the portrait of her father that she would take to Estonia,she knew she had her work cut out for her. Louis Kahn Ar'24 Hon'71 had been dead for more than 30 years, and she couldn't even remember exactly when she had last seen him. For complicated reasons—a wife who was not Alex's mother, a lover who was the mother of her brother, and a demanding mistress known as work—he had been a mostly absent father, though by no means an uncaring one.
To focus her image of him, she pored over old photographs, eventually selecting two. One was of Lou standing among trees, his hands in his pockets. The other was a close-up, full of clearly defined light and shadow patterns, which she used for his face.
"Any posthumous portrait is much more of a challenge than a portrait of a living person, because you're piecing together old reference material that is far from ideal," she says now, sitting in her studio in the leafy Philadelphia suburb of Narberth, the north-facing light picking up her father's coloring in her skin and hair. "Plus, you're really invested in making the person come alive.
"I always try to depict the spark of life in my subjects," she adds. "And, of course, painting my father made that feeling more intense."
---
As many people now know, Lou Kahn's legacy was not confined to his architectural masterpieces. He also had three children by three different women. The first was Sue Ann Kahn CW'61, by his wife, the late Esther Israeli Kahn Ed'27 G'33 (see "Growing Up Kahn," p. 41). Eight years later came Alex, whose mother is Anne Griswold Tyng Gr'75, a brilliant architect who worked with Kahn and became his lover in the late 1940s and '50s. The youngest was Nathaniel Kahn, who was borne by Harriet Pattison GLA'75, a talented landscape architect who also collaborated with Kahn and also became romantically involved with him.
Four years ago Nathaniel explored the family's tangled skein of love and loss, DNA and design, in his poignant documentary, My Architect: A Son's Journey ["All Things Ornamental," Jan/Feb 2004]. The film appears to have been, on the whole, a therapeutic one for the family, and it sparked a renewed interest in Lou Kahn's work.
But My Architect was Nathaniel's movie. And while Alex spent hours on the phone with him while he was making it, makes a brief appearance in it with her mother and siblings, and admires it, she had her own journey to make. She had already written a book about her father—Beginnings: Louis I. Kahn's Philosophy of Architecture, in which she noted that during their infrequent meetings, "a deep understanding passed between us," one whose intensity may have prevented them from ever developing a "relaxed relationship."
Her last memory of him is one in which she, then in her late teens, was attempting to reconcile the various sides of her brilliant, errant father.
"I remember going to his office to see him, and sitting in his office, trying to ask him a few questions about why he made certain choices in his personal life and getting very little response," she says. "When someone asked my father a difficult question—one he didn't want to answer or wasn't sure how to answer—he would remain silent. Whether the silence was stony or thoughtful, I was never sure. Probably some of both.
"I felt that I was on the verge of getting at least a few answers out of him, and creating a family situation that was more open and honest, privately and publicly," she adds. "But then he died."
---
Even Kahn's death was wrapped in mystery. His entangled heart gave out in a men's room at New York's Penn Station, where he was about to catch a train to Philadelphia after a whirlwind trip to India. Because he had scratched out his home address in his passport, it took three days before the police and the world figured out the identity of the body in the New York morgue.
In My Architect, Harriet Pattison tells Nathaniel that the crossed-out address confirmed her assertion that Lou had finally agreed to leave his wife and come live with them. Nathaniel calls that theory a "nice myth." She asks him, with a trace of annoyance, what his explanation is. He doesn't answer her. He admits now that "one can never know" what the real explanation is.
Having a father whose private life is of public interest can be difficult enough in the best of circumstances. When the private life is as complicated as Lou Kahn's, his children have to fuse their loving memories with some hard realities.
"When people have a child out of wedlock, something that doesn't go along with society's norms, they think it's their problem," says Alex. "It is to begin with, but once they've produced children, the problem or situation ceases to belong to them. It takes on its own life. And as the children grow older, it takes on dimensions they couldn't expect, and couldn't possibly predict."
---
Becca Tyng Kantor C'08 is sitting at a conference table in the Architectural Archives, looking pretty radiant and cheerful for someone who has only had three hours of sleep. Her rich head of reddish-brown hair is framed by the large photograph of her grandfather's spectacular Dhaka capital complex in Bangladesh that hangs on the wall behind her. She doesn't have an architectural background, apart from the double helix of her DNA (her mother is Alex Tyng, and her father, Stephen Kantor, is the grandson of Lou's brother, Oscar). But although she's an English major and her forte is words, she feels very much at home in the archives, where she has a part-time job as a work-study student.
"I'm not an architecture major, so in some ways I don't fit in, but that's made being here all the more fascinating," she says. "They're the only ones who understand when I say I'm going to a conference in Estonia and it's all about Louis Kahn."
The archives were in the process of re-housing all of Lou Kahn's drawings when she began working there.
"It was really interesting to see the charcoal and pencil drawings—they're really personal and rough," she says. "I got to see all these different stages; it was like seeing history unfolding. It even had his childhood drawings. There were pictures of boats, which was interesting because he came over here on a steamship and boats had a real fascination for him."
It is a testimony to her family's efforts to make peace with Lou Kahn's legacy that she can simply enjoy her genetic inheritance and the literary possibilities it represents. She has been writing short stories about her grandfather—including his early childhood in Estonia and his return there in 1928—for Max Apple's fiction-writing class, and it has proved to be a rich vein.
"Just writing the stories has been a real challenge and reward for me," she says. "Just trying to imagine his mindset has helped me to understand him, and helped reconcile different things I had heard about his personality."
"I hope she finds out lots of stuff that none of us knows," says Nathaniel, "because it will be fun to read those stories."
It was Nathaniel's film that gave a group of Estonian architects the idea to organize a symposium about Louis Kahn, who was born Leiser-Itze Schmuilowsky in the Estonian town of Pärnu. (His parents changed their name to Kahn in Philadelphia.) They wanted to learn more about the famous native son who had left for America in 1906, and late in 2005 they contacted Bill Whitaker GAr'96, the Architectural Archives' collections manager, and began discussing plans to visit Philadelphia and organize a symposium. It would be held in Kuressaare, the main town on Saaremaa, where Kahn' s family lived for several years. The island's misty, primal landscape and eclectic Old World architecture were thought to have held a special place in his heart and mind.
When Whitaker mentioned that three of the Estonians would be visiting Philadelphia, Becca was intrigued, to say the least. She told her mother, who "got really excited."
"Estonia had always been a fairy-tale land for her," Becca explains. "She had heard my grandfather's stories about it," so her image of it was filtered through that lens. Nathaniel was interested as well, especially since they wanted to screen My Architect and have him lead a discussion about it. Sue Ann also wanted to come and perform a piece of music, but the timing would prove impossible.
The Estonians—Ingrid Mald-Villand, Vilen Künnapu, and Toivo Tammik—arrived in Philadelphia last spring. Nathaniel came down from New York, and he, Alex, and Becca took them out to dinner at a Mexican restaurant in Center City. Later, they walked around Philadelphia together, taking in the architecture; Künnapu bought a tri-corn hat and wore it along with his Le Corbusier glasses.
Though the Estonians didn't have much money for their symposium, says Nathaniel, "once the three came to Philadelphia, we realized, 'Wow—they're doing so much work; let's make it fantastic.'"
It was around then that Alex offered to paint a portrait of Lou. This wasn't just a sentimental gesture from a daughter who dabbles in oils. Over the years Alex has become a serious portrait artist, garnering second honors in the Portrait Society of America's recent international competition for one portrait, while another—"Becca in her Prom Dress"—was an Artist's Magazine finalist. She recently began organizing Portraits for the Arts, an exhibition of her work depicting 25 artists with Philadelphia roots who have made a "significant impact" on society, a group that includes Robert Venturi Hon'80 and Denise Scott Brown GCP'60 GAr'65 Hon'94 and a filmmaker named Nathaniel Kahn. Now that group would include an architect named Lou.
The Estonians were delighted. "One of the things about Alex is, she's extremely generous," says Nathaniel. "It's not about money. It's about the reach of art, and the ability of art to draw people together. She decided, 'I'll make this painting.' Her sum-total payment was a plane ticket to go."
Afterwards, Alex called her mother, Anne, who taught in the architecture department at Penn for 27 years and recently moved to California. She had been to Saaremaa once before, as a faculty member of the Baltic Summer School of Architecture and Planning, and had more than a passing interest in the place where Lou Kahn spent his early childhood. Would she be interested in going? She would.
---
On Saaremaa there is a small crater and on my visit to [the Swedish island of] Gotland I had found a similar, somewhat larger crater lake at Tingstade, an ancient site of a Viking ting or court (from which my name Tyng is derived). I wondered if parts of the same meteorite might have landed, creating both craters. Such a possible cosmic connection recalled the fantasy Lou and I had that our remote ancestors had met somewhere in the Baltic. We imagined that my ancestor, a Viking chieftain, had carried off his ancestor, a Laplander princess. Lou reminded me of a Laplander with his pronounced cheekbones and the upward tilt of his eyes. —Anne Tyng, Louis Kahn to Anne Tyng: The Rome Letters 1953-1954.
---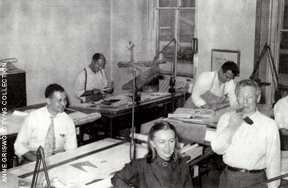 It doesn't take long to sense the keen mind behind the voice on the phone from California. Now in her mid-80s, Anne Tyng has no trouble recalling the details of her significant contributions to architectural projects, and she has some remarkably intricate theories about the physical nature of the universe that those of us with geometry-challenged brains can barely get our minds around. She doesn't talk much about her romantic involvement with Kahn, but she's written about that already.
Tyng was a young woman of 25 when she joined the small Philadelphia architectural firm of Stonorov and Kahn in 1945, having recently received her master's degree in architecture from Harvard. Photographs from that era make it clear that she was not only very bright but very pretty. Kahn was far from handsome, but he had deep wells of charm, energy, and sympathetic intelligence. Even the scars on his face seemed "part of a natural charisma" to Anne:
His wavy mop of reddish sandy hair was prematurely graying and his blue eyes, which tilted impishly upward at the sides, seemed to be on fire from within, compelling me to look beyond the scars. On swelteringly hot summer weekend charettes when Lou occasionally worked shirtless, it was hard not to notice how unusually broad his lightly freckled shoulders were in proportion to his slim hips. I had never met anyone remotely like him. He generated a profound energy—in his resilient walk, in the lively lines of his drawings, and in his ideas which seemed to take shape as he drew and talked.—Anne Tyng, Louis Kahn to Anne Tyng.
---
She had not been working there for long before she became aware of Lou's "unusually intense" interest in her, a "powerful physical attraction that I immediately realized was mutual." That attraction was intellectual and architectural, too.
"Very few indeed understand the modern potentialities in the same way we do," Kahn told her in a letter, and he wasn't blowing smoke. He later wrote that Tyng "knows the aesthetic implications of the geometry inherent in biological structures bringing us in touch with the edge between the measurable and the unmeasurable."
In Beginnings, Alex—perhaps not the most unbiased source, but certainly an informed one—writes: "During a time when Kahn was still unsure about expressing himself in words and in his architecture, Tyng recognized his creative potential. Not only did she validate for him the originality of his ideas, but she also encouraged him to set down these ideas in tangible form."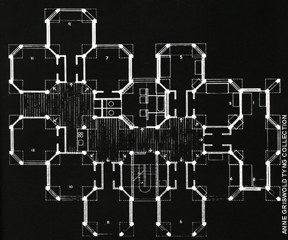 Kahn and Anne Tyng collaborated on some seminal projects, including the Trenton Bath House, which Kahn considered a watershed in his development as an architect; the futuristic, geometrical City Tower (never built) for Philadelphia; the Erdman Hall dormitory at Bryn Mawr College; and the Yale Art Gallery. The latter's "ordered geometry reflects the continuing critical influence of Anne Griswold Tyng," write Penn professors David Brownlee (art history) and David De Long (architecture) in their massive biography, Louis Kahn: In the Realm of Architecture.
She didn't always get credit for her contributions; such was the lot of women architects in those days. But there is no bitterness in her voice; not for the occasional professional slight, and not for the sometimes-difficult situation in which she found herself on account of her romantic relationship.
"I think that for Lou and me loving each other and working together became integrated and took on a life of its own," she writes in Louis Kahn to Anne Tyng. "I felt strongly that loving Lou should be an asset and not a liability in our work together. That meant a healthy degree of autonomy with no possessiveness and special prerogatives."
She got more autonomy that she bargained for when she discovered, late in the summer of 1953, that she was pregnant with his child. Since Lou was in no position to marry her, she decided to go to Rome to avoid the disapproving eyes of family and society.
"I had never felt more alone, uncertain, and filled with misgivings," she writes of her transatlantic crossing. "Having Lou's baby was not the breaking-away I was thinking of when I applied for a Fulbright."
The letters Lou sent her in Rome are a heady blend of passion, tender concern, architectural gossip, and sketches. A few weeks after she informed him by a coded telegram that she had given birth to Alex, he wrote:
She must be certainly beautiful if she looks the slightest bit like you. If she is like me she may grow to become beautiful in other ways. If she has your wonderful ability and courage she will love to live and work in the creative field of the ever fascinating universe.
---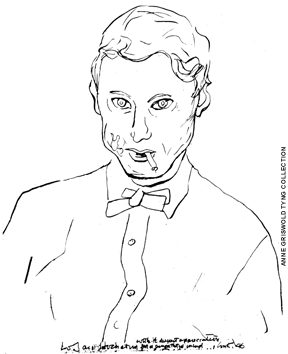 I can't remember my father without white hair. The image of Louis Kahn as a wise old man has become so strongly etched into my mind that sometimes I have difficulty imagining him as young and inexperienced, with most of his dreams and ambitions unfulfilled, lacking the mystique that enveloped him in later years. —From Beginnings: Louis I. Kahn's Philosophy of Architecture, by Alexandra Tyng.
---
The two black-and-white photographs of Lou that Alex chose as her guides shared a certain consistency of light. They also presented a problem: He wasn't facing the same way in both. She had to flip the one of him standing among the trees, then adjust the position of the head.
Figuring out a way to bring the spark of life to her canvas was a little trickier. She needed models, preferably ones whose bodies bore at least a passing resemblance to her father's. For that she enlisted her husband, Stephen Kantor, and their son, Julian—both Kahn-family descendants. (Her first choice was Nathaniel, her half-brother, whose body structure is the closest to Lou's, but he was out of town.)
They posed for her in charcoal-gray suits and one of her father's bow ties, which Sue Ann had given her.
"For the hair, skin color, and hand, I used photos of myself," she recalls. "Everyone had to pose outside with the light coming from the same direction so I could get accurate color and value information.
"The biggest challenge was the face," she adds. "I had to get the color correct and the values correct—photos distort the values of light and shadow." And the biggest challenge within the face was the patches where the pigment was washed out from his burn scars. That, and capturing his inner twinkle.
"The goal was to end up with a painting that is not a copy of a photo, but a work of art that is more than the sum of its parts and, hopefully, takes on a life of its own," she says.
There was one more piece of the puzzle: where to place him. Alex decided to portray him standing in front of the Dhaka capital complex in Bangladesh, even though it wasn't completed until nearly a decade after he died. In the painting, the complex seems to be surrounded by water—which, as Bill Whitaker observes, suggests an island, an appropriate touch for a painting that would soon reside on the island of Saaremaa.
"There's a dramatic contrast between Bangladesh and Estonia," says Alex, "and I was thinking how, as a boy, he had no idea how far he would travel and how far his influence would reach. I also wanted to avoid putting him in a specific time frame. The capital complex wasn't finished when he died, so in reality he could never have stood there. So the portrait represents a whole range of time from his childhood to the end of his life and beyond."
The process of painting her father was "emotional, in a quiet way," she admits. "I wasn't painting with tears running down my cheeks, but there was a lot of internal emotion. It's very hard to describe. But I felt very connected to his image."
---
What are the elements of a fairy tale?
Start with the atmosphere, which should hint at something supernatural: clouds, mist, light, shadow, maybe a rainbow. Saaremaa—"one of the most mystical sites in northern Europe," in Nathaniel's words—has a boat-load.
As they approached the island on the ferry, "there were dramatic shifts in the weather," Becca recalls. "Through the low clouds, you could very intermittently see the stream of sunlight, almost spotlighting the ground. Suddenly the sun came out and it started to drizzle; then, as we were pulling up into the town, there was a rainbow.
"There is this kind of surreal, mystical atmosphere about the island," she adds. "The ground gets really misty; there are these amazing cloud formations low to the ground. It's very beautiful but very stark, and it has a really remote feeling."
Adding to its mystery is the crater of Lake Kaali, formed by a meteor some 7,000 to 10,000 years ago. In a short story for her fiction-writing class, Becca imagined her grandfather being told about the crater when he returned to Saaremaa in 1928:
"But you would like Lake Kaali. Of course"—he let one hand fall in a resigned downwards arc—"it's not a building, so maybe you will not be interested. But it's a sacred place. A sacred place to the people who live here. It was made when a piece of the sun fell down, how would you say—"
"A meteor," said August.
Lou said, now: "I think I might have been there before."
---
At the center of the fairy tale is the castle, an image that surfaces repeatedly in Lou Kahn's work. In addition to the Dhaka capital complex, his unbuilt design for the Mikveh Israel Synagogue in Philadelphia has a castle-like quality, as does the Erdman Hall dormitory at Bryn Mawr and his model for a chemistry building at the University of Virginia.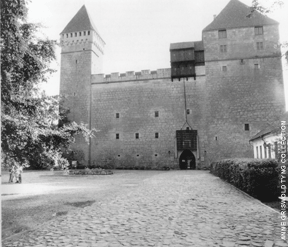 "Kahn's fascination with castles was not limited to their interesting plan typology," write Brownlee and De Long. "A lover of fairy tales, he was not immune to the power of these—and all—historical monuments, and he very movingly explained to several audiences in the mid-sixties how art outlived the particular circumstances of its making and exerted an enduring influence over human experience."
"Lou absolutely loved castles," says Nathaniel. "He gave me two books on castles when I was a boy. One sort of wonders: Where did that come from?"
No one can say for sure. But it's impossible to ignore the stark, stern, medieval castle that still dominates the town of Kuressaare.
"It has a very bloody history," says Nathaniel. "It's definitely a fairy-tale castle, but it's not a jokey fairy-tale castle. You can imagine them dumping pots of boiling lead off the battlements. It's not prettified at all—it's very archaic, and very appropriate to Lou."
"Certainly, the castle, when you see it as a little boy, you're never going to get that out of your memory," says Anne Tyng. "The scale of the castle is very impressive. Nothing else in the town is anywhere near that."
Which is another reason Alex painted him standing before the Dhaka capital complex.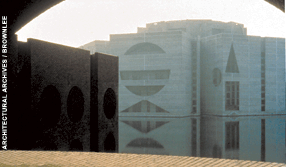 "The massive forms of the mosque and capital building at Dhaka are to me like a modern castle, square and stark with corner towers, very much like the medieval castle at Kuressaare," she explains. "I wanted to establish this link to his origins, since the portrait was to hang in Kuressaare."
Key to the fairy tale is the test: some sort of crucible that the boy must pass through in order to emerge as the hero.
The story of Kahn's burns lies somewhere between Greek myth and a Bruno Bettelheim-approved fairy tale. It also happens to be true. One day at his home in Kuressaare, the three-year-old Leiser became fascinated by the light of glowing coals in the open hearth, and shoveled them into his pinafore apron. It quickly caught fire. The flames seared his face and the palms of his hands. The pain must have been terrible, and there was little his distraught parents could do to soothe it. His father suggested grimly that it might be better if he died. But his mother said that he would become a great man because of it.
That Promethean event surely, at some level, shaped Lou Kahn. But like all such events, what matters is how the person who experienced it interprets it.
"For years he told me stories about his life as a little boy in Estonia, about the place where he was burned taking coals out of the common hearth into his apron," says Nathaniel. "He also told me about what he said were Cossacks in the streets of his town, about his father being in the military and the military people stationed on the island, and then of course the amazing story of his crossing the Atlantic on a steamship—he did drawings for the captain, and because of that, his mother, sister, and brother were promoted from steerage to a slightly better cabin.
"All of those stories—to me it was as if they were images dancing on the wall. They had a place in my imagination where they loomed very large, very mysterious, and very otherworldly. Then you go back and it's just a place—yeah, there's a castle, and a street, but what's important is what the human mind does with that."
---
The symposium began at 3:00 in the afternoon of Friday, October 6, with the unveiling of Alex's portrait of Lou Kahn in the Kuressaare Town Hall. An Estonian television station filmed the unveiling.
"It was a very emotional thing," says Nathaniel. "Everybody just gasped at what a wonderful painting it was. Many of us got very teared up about it. There he was: The native son had come home."
"I thought she caught something that was very special about Lou," says Anne. "He was always really a very charming person. He had a tremendous appeal for everyone."
Though Alex was pleased with the portrait, she worried about critical reaction. Finally an architect who had been examining it for some time approached her.
"I felt your father spoke to me," he said simply.
"Seeing Alex's portrait hanging there in the Town Hall of Kuressaare, you can't help thinking of the little boy wandering those streets and wondering what his future would bring," says Nathaniel. "And you can't help but think of the wonder of how far one life can go."
Later that afternoon they walked to the castle, where an exhibition of photographs from the Architectural Archives was opening in a vaulted gallery. That evening, My Architect, complete with Estonian subtitles, was shown.
The talks at the Kuressaare Town Theatre the next day ranged from the personal and professional to the mystical to the scholarly. One was "Louis Kahn's Contribution to Architecture," by Anne Tyng. Two panelists spoke about the intense professional relationship between Kahn and his fellow Estonian, the structural engineer August Komendant, who met Kahn in 1956 and worked with him on some of his greatest masterpieces. (Komendant, who later taught at Penn, also wrote a book titled: 18 Years with Louis I. Kahn.) Taken together, the talks were a "really wonderful introduction to Kahn's work," says Bill Whitaker.
The panelists had done a lot of research, says Becca approvingly. "They uncovered so many specifics that people had just been hypothesizing about before." Until then, the image of the island in her mind was "kind of a fairy tale," she adds. "Now there's substance."
"The only thing missing is that I wish my sister Sue Ann was there," says Nathaniel. "If she had played a piece of Bach on the flute, which my father loved so much, it would certainly have made the celebration complete.
"It would have been nice if the three of us could have walked through the streets together," he adds. "On some level, I think Lou would have liked that."
"It would have been a really neat thing if my sister had gone," agrees Alex. "But she was there in spirit."
---
Afterwards, as they walked about Kuressaara and looked at its muddy streets and simple, clapboard houses, something struck Bill Whitaker. For all its northern European-ness, the town looked remarkably like New England, or maybe Nova Scotia. It was not so much a fairy-tale landscape as a quaint maritime village.
"For me, the whole castle thing is interesting, and something that Kahn was certainly taken with," he says. "But I don't know if he was that crazy about castles in the 1920s and '30s. Seeing the landscape of Saaremaa, with the beautiful rolling hills, the very simple houses and very direct architecture, I realized that he had done many, many drawings of similar landscapes in Maine and Canada."
Nathaniel expounds a bit on Whitaker's observations: "If you look at Lou's drawings before his European trip in the early 1950s, many of them were of New England towns and places in Nova Scotia. He has a nostalgia for them, to my mind. They were carefully observed, with a lot of detail, lovingly drawn. But they lack a kind of conviction or ferocity, the monumental simplification that he did in the 1950s—and they were lacking in color. He drew quite a lot of them in a nostalgic way.
"It now makes me see his later drawings from the '50s in a different light," he adds. "There is almost a revolt to those drawings, as if he's saying: 'I'm putting away those childish things now. I don't need them. I've found my own voice now. I've discovered myself through my work, and I no longer need my nice drawings to comfort me.'
"I felt suddenly connected to the little boy that was Lou," Nathaniel concludes, his voice filled with the same passion that infuses My Architect. "His stories of himself as a little boy were of enormous importance to him, but those were the stories the old white-haired man was telling. And when I was there, I could imagine the little boy who was Lou, staring around in wide-eyed wonder at the castle and the little mud streets—and then leaving this whole world behind."
---
Back in her studio in Narberth, where her father's vivid pastel of the Temple of Horace at Edfu, Egypt, hangs on the wall, a question is put to Alex. It's more of an observation, really: Lou Kahn's nomadic affections caused no small amount of heartache to the women and children and families he tried to juggle. And yet, had he not surrendered to those affections, Alex and Nathaniel—and Becca and Julian—would not be here today.
"The beauty of that," she responds after a pause, "is that those situations change from being contained in one person's problem or secret or whatever it is, to evolving to unlimited possibilities, with the next generation becoming adult and doing what they're going to do in life. You can take something that was negative and make it totally positive. It informs you, but it can end up being a really positive thing. Because it gives you something, gives you material, gives you a story. Everybody has a story in their life—and you can do with it what you want."
---