The Quake Show Goes National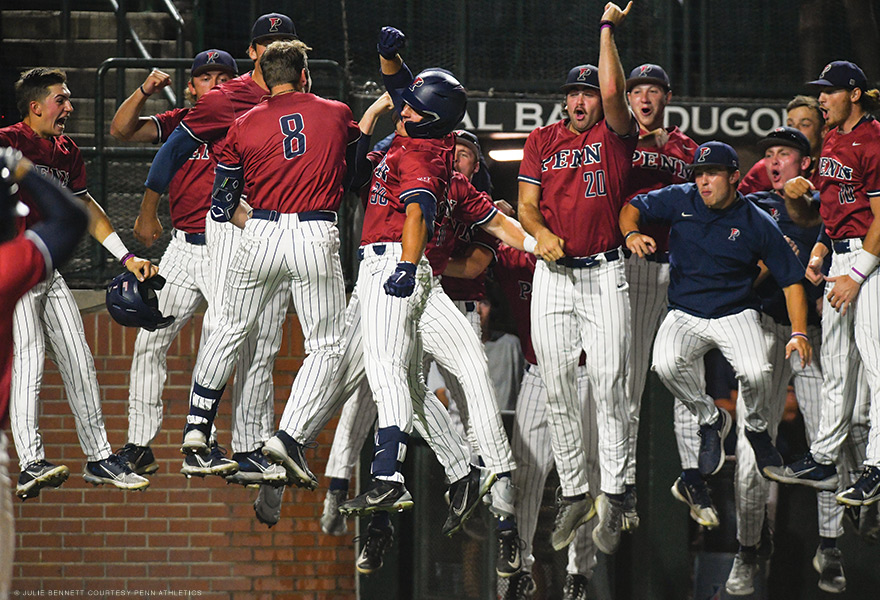 ---
Penn baseball rekindled 1990s glory with a long-awaited Ivy championship—and then made some noise at the NCAA tournament.
---
As the 1995 Ivy League baseball championship trophy gleamed within a glass case in the background, the 2023 Quakers gathered in the Dunning Coaches Center in late May to find out where they'd be headed for the program's first NCAA tournament appearance in 28 years.
Cheers and knowing smiles filled the room when ESPN announced Penn's destination and opponent: Auburn, the same team that the Quakers played—and lost to—the last time they were on this stage in 1995.
"We haven't done this in so long and of course we're going right back to where we were last time," said slugging third baseman Wyatt Henseler C'24 just after the NCAA selection show concluded. "Hopefully we can make a little more noise than last time."
"The Quake Show," as Penn baseball has come to be known, ended up making a lot more noise.
Fresh off titles in the Ivy League regular season and inaugural Ivy tournament, the Quakers upset Auburn, 6–3, for their first NCAA regional victory since 1990. The next day, Penn notched a 5–4 win over Samford to become the first Ivy team to win its first two games at a regional since the NCAA went to a bracket with 16 four-team regionals in 1999. But with the chance to become the first Ivy team to win a regional and advance to a Super Regional (the final round before the eight-team College World Series), Penn lost two straight games to Southern Mississippi, ending its historic season with a program-record 34 victories.
"The way it all played out was really special," said Penn coach John Yurkow, who, before the Auburn game, organized a Zoom call with his players and the 1995 baseball alums—including Mark DeRosa W'97, a former Major League baseball veteran who is currently an analyst for the MLB Network and recently managed Team USA at the 2023 World Baseball Classic. The message from the alums, Yurkow said, was that "they felt like if they would have gone in with a little different mindset, the results may have been different. And that was the one thing they stressed to our guys: You guys belong in the postseason. Go in there and expect to win."
Yurkow knew beating a team from the baseball-rich Southeastern Conference would be a tall task but felt confident with Ryan Dromboski C'25 on the mound, calling the Ivy League Pitcher of the Year "one of a kind" because of his boundless energy. "The fans and the crowd, I knew it wouldn't affect him," Yurkow said. Dromboski did his part, striking out eight in five-plus innings, but the Quakers trailed 2–1 heading into the eighth—the same score the '95 team lost to Auburn by, which was not lost on Yurkow. "I was like, You have to be kidding me," the Penn coach said. "Then, sure enough, everything kind of turned."
With Penn down by a run, catcher Jackson Appel W'23—"the total package [who] came through in some really big spots," Yurkow said—cranked a go-ahead two-run homer in the eighth. And after Auburn tied the game at 3–3 to force extra innings, Penn executed three straight perfect bunts to bring home three runs in the 11th, silencing the boisterous Auburn crowd and giving the Ivy League its first-ever NCAA tourney win over an SEC opponent.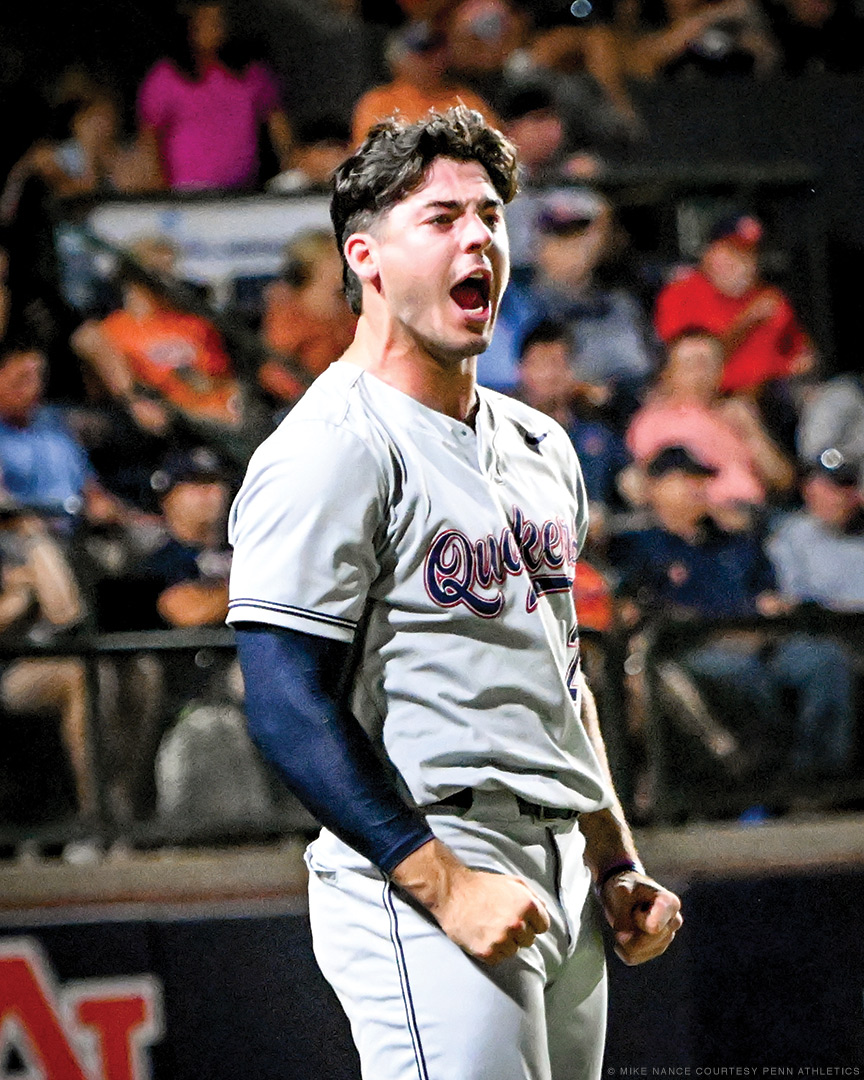 The Quakers kept rolling the next day, thanks to an eight-inning gem from pitcher Cole Zaffiro W'24 and a heads-up defensive play by first baseman Ben Miller C'23 to end the game by throwing out the tying Samford runner at third base. That dramatic finish, like the three consecutive bunts, got the Quakers some attention from around the country—but it was nothing compared to their next game, when Calvin Brown C'24 was called out for a pitch-clock violation with the bases loaded and two outs. The call, which ended the fourth inning, was controversial since Brown had one foot in the batter's box and Yurkow said the umpire was ready to make the call even before the clock hit 10 seconds (when the hitter is supposed to be ready). "I just feel like it was really unfortunate to do that in that big of a spot to a kid," Yurkow said.
The Quakers were beating Southern Miss 2–1 at the time and ended up falling 11–2. The next day they surrendered a 5–1 lead to lose 11–7. It was a crushing exit from the tournament, but a tweet from one of Penn baseball's most famous alums, Doug Glanville EAS'93, helped put it in perspective.
"So proud and thankful for your inspiring run," wrote Glanville, a retired MLB player who continues to work in baseball and was part of the 1990 Penn team that had been the last to win an NCAA tournament game. "Because of it, you had a bunch of old-head Penn players navigating WhatsApp to reconnect after many years. It made us recall great memories and connections. Grateful you brought us back together."
That proved to be a familiar theme, said Yurkow, who heard from "five different eras of guys that texted me to say, 'John, one of the best things about this was not only you guys winning but that we all hopped on these group text chains and WhatsApp threads while watching,'" the Penn coach said. "It really brought together people that hadn't connected in a long time."
Yurkow had been trying to energize alums and build a national-caliber program since taking over as head coach a decade ago and felt a shift in 2019 when Penn swept nationally ranked Duke on the road. "I thought we were gonna go on a run and win four championships in a row," he said. That didn't happen, in large part due to COVID-19 wiping out 2020 and 2021. The Quakers lost to Columbia for the league championship in 2022, before getting their revenge on the Lions this year, closing the regular season with three straight wins against them, including a monster five-run ninth-inning comeback. "I think that comeback won us the rest of the season, honestly," said Henseler, who's already hit more home runs than anybody in program history heading into his senior season. "That really showed us what we were capable of."
As the top seed playing at home, Penn beat Columbia again to open the Ivy League Tournament, then knocked off Harvard and crushed Princeton in the title game to capture the trophy and secure the automatic NCAA berth.
"It was just a special group of kids," Yurkow said. "People are never going to forget what they did."
---
Women's Lacrosse Back on Top
Like the baseball team, the Quakers' women's lacrosse squad utilized Zoom and the program's alumni base to motivate and inspire en route to a championship.
After an uncharacteristically poor 2022 campaign in which longtime head coach Karin Corbett felt the team didn't understand the meaning of "Penn Pride," Corbett had this year's players connect with ones from 2007–10 when the Quakers were a national powerhouse.
"They've heard about those teams, but just to meet them … was really inspiring," said Corbett, who said the alums talked to her group "about culture and who we were." Some of those former players came to Franklin Field on April 8 for Alumnae Day to watch the Quakers wallop a very good Yale squad, 16–6, in a game Corbett called a turning point. "I think that really cemented in their head that we can be good."
The Quakers proved it with a convincing win over rival Princeton to secure the program's 14th Ivy League title and then by once again beating Yale, this time to win the Ivy League Tournament in a dramatic 15–14 overtime thriller. The Quakers went on to storm past UConn in the first round of the NCAA tournament—their 13th NCAA tourney win under Corbett since 2007—before narrowly bowing out of the tourney to eventual national finalist Boston College. "You could see them believing in themselves as the game was going on," Corbett said. "And I think that is going to be a big steppingstone for us next year."
Since many key players, including Niki Miles (the Ivy League Attacker of the Year) and Izzy Rohr (the Ivy League Defender of the Year), are planning to return for a fifth year since they took the 2021 spring semester off when the season was canceled, perhaps the Quakers can rekindle the magic from the NCAA Final Four teams of 2007, 2008, and 2009?
"What is the limit for us next year?" Corbett said. "We can go far." —DZ