The ICA at 40: Still Blazing Trails
By Libby Rosof | One wild night nearly 40 years ago at the Institute of Contemporary Art, it suddenly became clear that this upstart new museum was important.
There was Andy Warhol and his sidekick Edie Sedgwick, making their desperate escape from an overly enthusiastic mob, first through a hole sawed in the ceiling, then through a trapdoor to the roof of the ICA's first home in what is now the Fisher Fine Arts Library. There were the tastemakers of the art world—people like Henry Geldzahler, then curator of 20th-century art at the Metropolitan Museum of Art, and Rosalind Constable, art critic of The New York Times —coming in from New York by the busload to see the first American museum exhibition of Warhol's work. And there, at the center of that artistic vortex, was Sam Green, the ICA's wunderkind director, who got the job at age 24 with paper-thin credentials and an address book that constituted a Who's Who of the '60s art world—and who somehow managed to charm arch enemies into détente and merge antithetical art movements into the same show.
"The Warhol exhibition put the ICA on the map and Sam Green kept it here with one amazing show after another," noted ICA senior curator Ingrid Schaffner last December in the first of a series of six public conversations celebrating the institute's 40th anniversary. And for all his youth, Green set the ICA on a course that it still maintains.
By presenting exhibitions that stretch the public's understanding of contemporary art, the ICA has also given emerging artists their first solo museum shows or first important catalogs, thus helping to establish their place in the artistic pantheon. Back in Green's day it was people like Warhol and Frank Stella. Today the ICA showcases the likes of Lisa Yuscavage, whose lush, edgy paintings bring to mind Playboy's cartoon babes while packing an emotional punch that pushes them beyond the cartoon realm. "We did Lisa Yuscavage, her market tripled at least," said current ICA director Claudia Gould, who gave the artist her first museum show and her first catalog in December 2000. The catalogs sold out and her work is now in museums around the country.
Yuscavage, incidentally, is scheduled to conclude the ICA celebration by engaging in a conversation with Gould on November 17. (The other two upcoming conversations take place on October 13, when former ICA director Patrick Murphy talks with Philadelphia artists Tristin Lowe, Virgil Marti, and Gabriel Martinez, and on November 6, when installation artist Ann Hamilton talks with former ICA curator Judith Tannenbaum.) Under Gould, the openings at the ICA have again become major events on campus and in Philadelphia's art world. Yuscavage's opening attracted an elbow-to-elbow crowd, while Japanese artist Yoshitomo Nara lured even more, including swarms of students. "Fifteen hundred people came to Nara," said Gould, noting that the artist also spoke to a class on Japanese anime(offered because of his appearance at the ICA), while an art-history class has curated a show for the ICA's Project Space.
The linkage between academic life and the ICA is no accident, Gould pointed out: "To be sitting here on this campus by ourselves, to have some of the most amazing depths in thinking on our doorsteps and not [make] the connections here, would be a complete oversight."
The '60s were an era of seismic changes in the art world. Pop had popped along with Conceptual Art, while the art world was still struggling with Abstract Expressionism and what that meant. The big question originally posed by Marcel Duchamp's readymades—What makes a work of art?—was back with a vengeance. The modern objects in question included Warhol's Campbell's soup cans and Brillo boxes. What makes an object that looks like a can of soup more interesting than a can of soup? The art world was scratching its head, trying to figure it out.
It was in 1963 that G. Holmes Perkins Hon'72, then dean of the Graduate School of Fine Arts, founded the ICA to bring contemporary art to students. "It was an attempt to fill the gap in the Philadelphia art scene," recalls Perkins, now 99 years old. "Modern art was important and we weren't giving it enough attention."
A faculty-organized show the previous year that featured work by David Smith and Barnett Newman had created a stir among faculty and students, so Perkins set up an institution that would familiarize GSFA students with contemporary artwork. "We put on a first show with Clyfford Still and that started us off," Perkins recalls. The following year they hired Green, who promptly began exhibiting work by Roy Lichtenstein, Ellsworth Kelly, Robert Rauschenberg, Yayoi Kusama, Yves Klein, Willem de Kooning, Jackson Pollock, and Mark Rothko, to name just a few. Artists then on the edge, but now considered part of the canon, were invited to show.
While Green transported the audience in the ICA auditorium to the excitement of those years, his interviewer, independent curator Judith Stein G'67 Gr'81, put him in a context that included who he knew and why his connections mattered. He knew artists like Warhol and had mentors in Duchamp and Newman, who helped him curate shows. For the Warhol show, which opened in October 1965, Green painted the floor of the "deliciously Victorian" Furness library building silver and papered the walls with S&H Green Stamps, Stein recalled. After sending out more than 6,000 invitations (a select group of them on the back of Campbell's soup labels), Green became so concerned about the safety of the artwork that he removed the Warhols from the walls.
The artist was tickled, said Stein, adding Warhol's words: "'We weren't just at the art exhibit; we were the art exhibit. We were the art incarnate.'"
By the time Suzanne Delehanty, now director of the Miami Art Museum, took over the reins at the ICA in 1971, directors had firm credentials and the openings were more decorous. But the artwork still held its edge.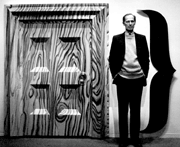 Delehanty revived Agnes Martin's career—she had stopped painting seven years earlier—by showing her at the ICA. In 1975 Delehanty also brought in a prescient video show that included Nam Jun Paik, Bill Viola, and Bruce Nauman. And then there was the first solo museum exhibition for Richard Artschwager, who wrote in a note to another former ICA director, Janet Kardon G'65, that his ICA show was a highlight of his career.
The ICA's little auditorium at 36th and Sansom streets was packed to hear Delehanty and Artschwager, the featured guests of the ICA's second conversation in February. The conversation with Artschwager focused on the puzzle of his art—elegant, well-crafted 3-D meditations on looking. The work plays with perspective, pattern, and surfaces; it questions the relationship between how something looks and what something is.
Dressed in a three-piece, pin-striped blue suit and bowtie, the 80-year-old Artschwager looked more like a neighborhood pharmacist (pre-Rite Aid) than an artist. But his artwork remains fresh and wry. (Some of his "blips"—simple shapes of plastic stuck to walls or windows—punctuated the ICA's recent "Big Nothing" show.)
Mostly, Artschwager didn't think that explaining the art was a good plan. "I didn't want to drown out the art with the analysis," he said after the talk. "History and critics are OK, but they make their own kind of poetry."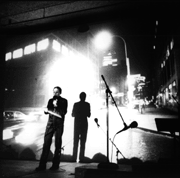 For the third discussion, the ICA chose a larger auditorium in Meyerson Hall, befitting the rock-star status of its main guest, performance artist Laurie Anderson. Anderson, who still sports a spiky hairdo and whose dimples are wormholes into the far side of her mind, talked about her current life as the National Air and Space Agency's artist-in-residence. While she's figuring out just what that means, she's using some NASA images of Mars in a Japanese Garden she's creating for an upcoming Expo business fair in Japan.
At the gala that followed, Board of Overseers Chair Katherine Sachs CW'69 called the ICA the "R&D of the museum world," while then-President Judith Rodin CW'66 said it "challenges us to look at the world in new ways." All three talks had done just that.
---
Libby Rosof is a founder of Roberta Fallon and Libby Rosof's artblog.