Sweet Success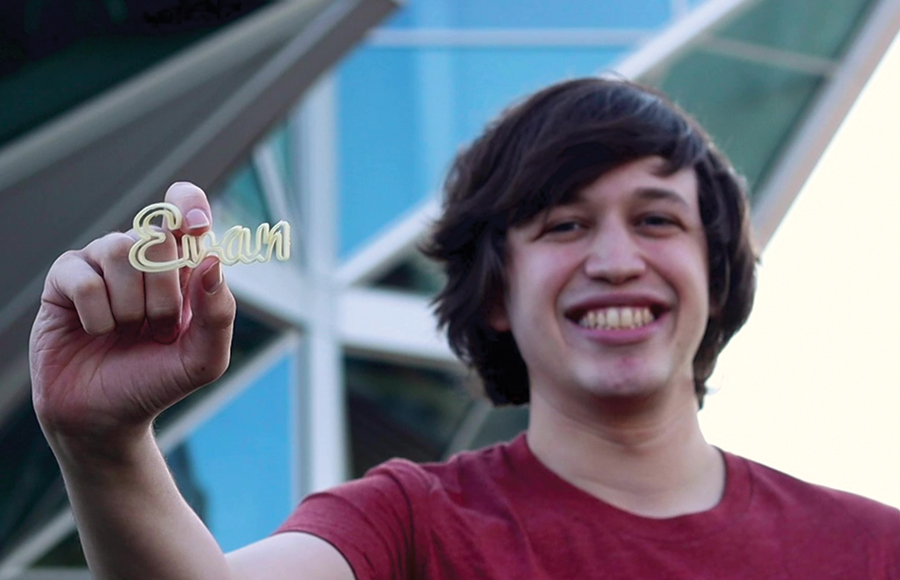 From vases to miniature labs, this engineer's 3D printer turns chocolate into edible art.
---
The first time Evan Weinstein EAS'19 GEng'20 presented a 3D chocolate printer to an audience of entrepreneurs and inventors, it didn't work. Stuck at a booth outside the New York Hall of Science at the 2017 World Maker Faire on an unseasonably hot September weekend, Weinstein's chocolate creations came out more melted than magnificent.
Still, attendees were impressed. "When I showed it off, people were asking me if they could buy it, how much it cost, how many of them had already sold," he says. "But I had only finished working on it three days earlier and it was the third time the printer ever ran."
Three and a half years later, Weinstein has the business of 3D chocolate printing down to a science, turning what began as a high school engineering project into Cocoa Press, one of more than a dozen start-ups backed by the Penn's Pennovation Center, an off-campus hub of interdisciplinary entrepreneurship. Essentially a "3D printer inside a wine fridge," Cocoa Press uses fine-tuned temperature controls to heat and then solidify chocolate as it builds, layer by layer, into tiny chocolate sculptures, vases, and even models of family pets.
Officially launched for preorder in October, Cocoa Press uses professional-grade milk, dark, and white chocolate cartridges—crayon-looking cylinders that act similar to regular printer ink—to create edible art that can store at room temperature for at least a year. The first 3D chocolate printer of its kind in the US, it's designed not for the standard kitchen but on a much larger scale (and with a price tag of $5,800).
"We're talking to some restaurants, chocolate shops, and gastro-eateries—people who are trying to be on the cutting edge of food and do innovative stuff with food," Weinstein says, adding that even several marijuana dispensaries are interested in piloting the machine. To him, Cocoa Press's biggest draw is that it makes mass personalization an option for the hospitality sector. "Coke is placing names on the Coke bottles. Sellers on Etsy profit off of personalization. There's a huge shift right now from mass manufacturing to mass personalization," Weinstein says. "And I think that that is almost impossible in the culinary world, where you can maybe get your name written on a cake. Food is something we all eat three-plus times a day, and it hasn't changed very much, so I hope the general impact of Cocoa Press is just the ability to have desserts be more personal."
For Weinstein, Cocoa Press has been an enduring project, something he kept returning to between courses in electrical engineering and mechatronics throughout his time at Penn. "It kind felt like I had a half-finished project," he admits. So during his senior year, Weinstein turned Cocoa Press from a side hustle into his capstone project—a School of Engineering graduation requirement that enabled him to work with six other students to create a prototype and preliminary business plan.
After he graduated from Penn, however, Weinstein's team dissolved as his classmates went off to start at new jobs. He had other difficulties too. "I had all of these resources in terms of the lab space, in terms of the machine shops, and in terms of all the professors who were willing to help. I lost some of that after graduating, which was kind of sad," he says. "Just learning who to go to for help was a new challenge."
This led Weinstein to extend his residency at the Pennovation Center, where he was matched with mentors from the Hershey Company who validated Cocoa Press's concept through lessons learned from their own attempt at creating a 3D chocolate printer in 2015. This openness, Weinstein says, is what he finds most inspiring about keeping Cocoa Press's roots close to his alma mater.
"It was really helpful to be at Pennovation in that period of transformation where there were people all around I could bounce ideas off of, physically borrow tools from, and just go to for advice," he says. "It would be a lot less fun to be in my own office space somewhere else, where there weren't five other companies around me."
Cocoa Press is slated to ship the first iteration of its printers this coming summer. And as Weinstein keeps working out kinks by decreasing build time, he looks forward to continue proving to people that chocolate doesn't have to start and end with candy bars or Easter bunnies molded in generic patterns.
"We don't have competition, right? Our competition is the status quo. It's what people are currently doing and we have fundamental advantages to that," Weinstein says. "We have ideas of how to use it, but nothing is proven. So, the problem is just really convincing people that what we say is true."
—Beatrice Forman C'22