Still Crazy Good After All These Years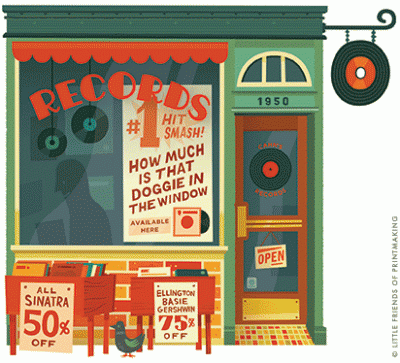 For Ben Yagoda G'91, the "lightbulb moment" behind his new book about the Great American Songbook was his discovery of a 60-year-old lawsuit.
"I learned that in 1953, a group of 33 veteran songwriters and composers were so befuddled by their own declining fortunes that they sued the radio networks and major record companies for $150 million, alleging a conspiracy to keep their songs off records and off the air," he explains. "Their suit was totally without merit, but it was a perfect emblem of the changes going on beneath the surface." Two years later, the arrival of Elvis Presley and rock and roll would "put a clear face on the changes," he adds, "but at this point the songwriters were grasping for bad guys."
From that discovery came The B-Side: The Death of Tin Pan Alley and the Rebirth of the Great American Song , published in January by Riverhead Books. Yagoda—whose broad pop-music erudition mirrors the wide range of his literary output (his previous books include a history of The New Yorker , a biography of Will Rogers, and several examinations of language and writing)—says that he "set out to figure out how and why the quality of American popular songs declined so rapidly." But first, he "needed to understand how they got so great to begin with—a challenging but invigorating investigation."
Yagoda recently spoke via email with Gazette senior editor Samuel Hughes.
---
You've clearly been appreciating this music for a long time. Care to share some recollections of your early exposure to the Great American Songbook?
I definitely did not grow up in a home where Ella Fitzgerald and Frank Sinatra were the household goddess and god. However, I was probably the only kid at Henry Barnard Elementary School in 1964 who was more into show tunes—specifically "The Music Man" and "Guys and Dolls"—than the Beatles.
Later on, I sort of backed into an appreciation of this music. In the '70s, I recall being knocked out by Randy Newman's cover of an undeniably racist but haunting 1932 Tin Pan Alley song, "Underneath the Harlem Moon," and Leon Redbone's albums of tunes from the same period.
Subsequently, two authorities cemented my interest: Whitney Balliett's columns and profiles in The New Yorker and Jonathan Schwartz's radio program, which I've listened to on a series of platforms for nearly 40 years. (It currently airs seven days a week on thejonathanchannel.org.) Their informed enthusiasm led me to transformational live performances by such great musicians and interpreters as Teddy Wilson, Marion McPartland, Dave McKenna, Duke Ellington, Ellis Larkins, Jimmy Rowles, Earl Hines, Count Basie, Tony Bennett, Mel Torme, George Shearing, and Frank Sinatra.
What about those songs appealed to you most? Is there any easy way to define their greatness?
It's not exactly a Potter Stewart I-know-them-when-I-hear-them kind of thing, but there is indeed no easy way. The jazz pianist Bill Charlap, who is steeped in the music, told me that the great composer Jule Styne once laid out for him the defining characteristics of a great popular song: "It must be melodically simple and harmonically attractive." Getting more specific, and talking about Styne's "Just in Time," Charlap said, "It has an innate sense of structure. There are rests, points of emphasis, and overall balance and taste. It's so pliable, and very American."
Were you surprised by how quickly the great era of songwriting fell off after WWII?
To be honest, the thing that surprised me was how widely recognized this was at the time. Starting about 1948, the pages of the trade publications Variety and Billboard are filled with quotes from singers, bandleaders, and songwriters themselves bemoaning the sorry state of popular songwriting. This continued till 1954 and 1955 when rock and roll came along and suddenly became the focus of the older generation's laments.
Mitch Miller turned out to be a much more interesting character than I would have guessed. How did your image of him evolve?
At the outset, the only thing I knew was that he had a goatee and a lot of people sang along with him. But he died in 2010 (at the age of 99), just as I was embarking on the book, and reading his obituaries I learned that as an executive with Columbia Records in the 1950s, he was probably the most powerful figure in popular music. Also, in the eyes of singers like Frank Sinatra and Tony Bennett, and of some critics, he was more responsible than anyone else for the decline in the music. The truth turned out to be more complicated than that, but for the purposes of my narrative, The Beard (Miller's nickname) was a great figure to keep coming back to.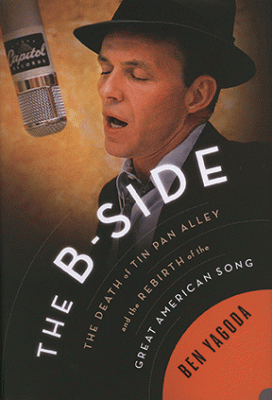 Did you have a say in the cover art? Why Frank Sinatra?
Yes, when I saw that Sid Avery photo, I knew I wanted it for the cover. First, it's a great image. Second, Sinatra is key to the "rebirth" part of the story. His Capitol albums from 1954 through 1961 were immensely important, first, in introducing the idea of a canon of great popular songs—the "standards"—and, second, in the way his incredible performances and the arrangements of Nelson Riddle and others presented them with a modern authenticity and swing. The thing I really love about Avery's photo is the clarity with which you can read the words Capitol Records on the microphone.
What other songwriters and performers most intrigued you?
The one that comes to mind is Jimmy Van Heusen. He was younger and slightly less well-known than Gershwin, Porter, et al., but the songs he wrote between 1940 and 1960, mainly with lyricists Johnny Burke and Sammy Cahn, are amazing: "But Beautiful," "Come Fly with Me," "Darn That Dream," "Here's That Rainy Day," "I Thought About You," "Moonlight Becomes You," and many more. I'm also constantly astonished by Johnny Mercer's lyrics.
Talk a little about the divides within postwar jazz—trad, sweet, bebop, et cetera—and how they hurt or helped the genre.
There were a lot of reasons for the changes in songs and songwriting, but to me the most important one had to do with jazz. From the '20s through the late '40s, high-quality jazz, in the form of big- and small-band swing, was right in the mainstream of American music. The best songwriters understood jazz harmonies and rhythms, and improvisers such as Coleman Hawkins and Art Tatum and big-band arrangers did great things with their compositions. That synergy fell apart after the war. Jazz divided into the progressive bebop of Charlie Parker and Dizzy Gillespie, on the one hand, and the "moldy figs," who were only interested in the early New Orleans sounds of Sidney Bechet and Louis Armstrong. Neither one had a huge amount of mainstream appeal and, crucially, neither one was much interested in great songs.
You love rock and roll, which wasn't exactly beloved by most "traditional" songwriters. Any thoughts on how the two genres can coexist?
Because they are such different kinds of songs. The Great American Songbook standards are jazz-based, subtle, sophisticated. Songs like "Hound Dog," "I Wanna Hold Your Hand," and "Satisfaction" (to name just three enduring rock tunes) are a different beast entirely. They come out of folk music, country and western, and various strains of African-American music lumped together under "rhythm and blues." Their amazing energy is generated by an emotional release expressed in three chords, a pounding beat, and shout-out-loud lyrics.
What pop songs in the past 35 years or so would you say belong with some of those old standards? (My candidate would be Elvis Costello's "Almost Blue.")
I'm a fan of "Almost Blue," though I'd put it in a special category because it's so much of a throwback to a sort of 1950s cool jazz song. Far more common are outstanding songs that grew out of rock but have some of the same qualities Jule Styne mentioned: melodically simple (and memorable) and harmonically attractive. Some of the songs I'd put in the category are Costello's "Allison," Brian Wilson's "Caroline No," Allen Toussaint's "What Do You Want the Girl to Do," Joni Mitchell's "Help Me," Jimmy Webb's "Wichita Lineman," Burt Bacharach's "A House Is Not a Home," and dozens by the Beatles. I've actually started a blog to try to create a working list of such songs. If anyone wants to nominate one, go to thenewamericansongbook.org and lay it on me!