Sophomore Sensations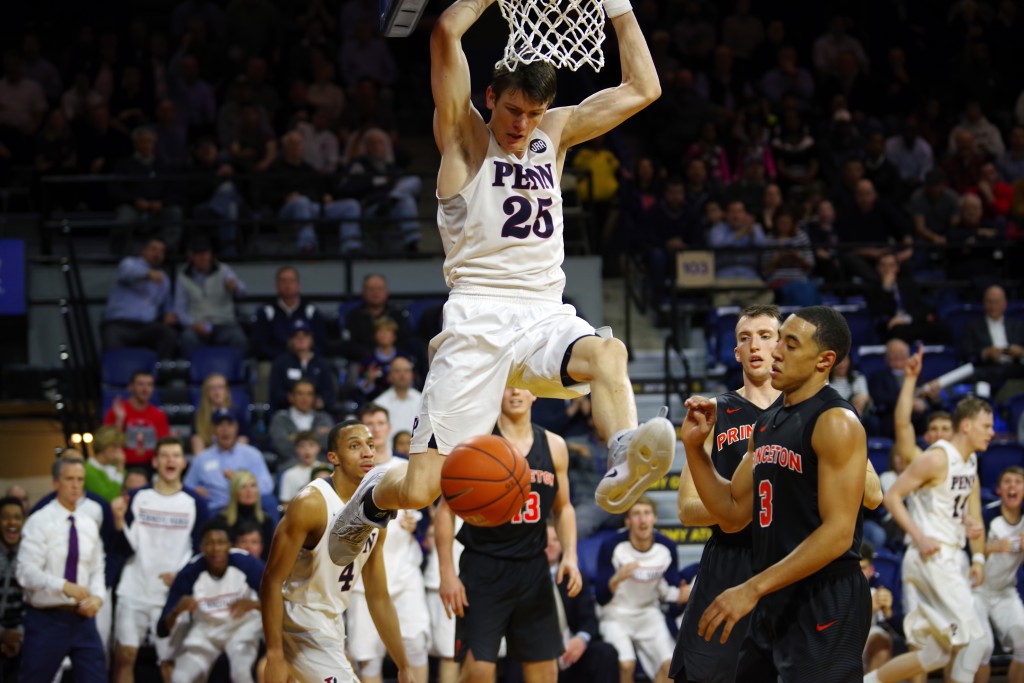 If you're looking for a reason to get excited about the 2017-18 Penn men's basketball season, which begins in less than two weeks, look no further than the sophomore trio of AJ Brodeur (pictured above), Ryan Betley and Devon Goodman.
Those three players are the biggest reasons why Penn overcame an 0-6 start in league play last year to make the inaugural Ivy League Tournament.
And they're the biggest reasons why the Quakers should remain in the upper half of the Ivies this season with a chance to break through and return to the NCAA Tournament for the first time since 2007.
"I think it's pretty apparent that AJ and Ryan in particular are two of the better players in the league," Penn head coach Steve Donahue told the Gazette before a recent practice. "Ryan (pictured below) proved that over the last nine games, AJ over the whole year. I don't know if there was a better offensive player in the league the last nine games than Ryan, and he's gotten bigger, stronger, more flexible. And Dev really brought us a spark. Dev needs to continue to improve in all aspects but he gives us something we don't have — someone who can really push the tempo and guard quicker guards.
"All three of them, I expect to have a real big role in what we do this year."
Will it be enough this season?
That could be a tough ask considering the Quakers are still young and have to figure out a way to work a lot of pieces into the rotation, including Antonio Woods, back after nearly two years (and who was featured in this issue of the magazine). Yale, Harvard and Princeton will also be loaded as the Ivy League continues to improve.
But to be building around three sophomores, as the Quakers are in many ways, may help Penn climb back to the top of the Ivies — if not this season then the season after that or the season after that.
"It's something special, the three of us," Brodeur said. "We have Dev as a point guard, we have Ryan as a wing, and we have me as a big guy. So we have all three positions locked down. We've been all trying to step up more with our respective teammates who play the same position, trying to work hard and communicate more and step into leadership roles. We're laying the groundwork now."
It's rare to have a sophomore leader, let alone three of them. But according to Brodeur, the second-year trio has really been focusing on meshing well on the court (and off the court, where they live together) so by the time they're upperclassmen, it will almost be second nature.
"As we get older, as the maturity comes, that's something you can't teach," Brodeur said. "As we get more and more mature, I think it'll be reflected in our games — just the way we play, interact, and communicate with teammates. Stuff like that. Something that comes with time. The only thing you can do is speed up the process by stepping into that role, taking the initiative, and having the mindset of a champion."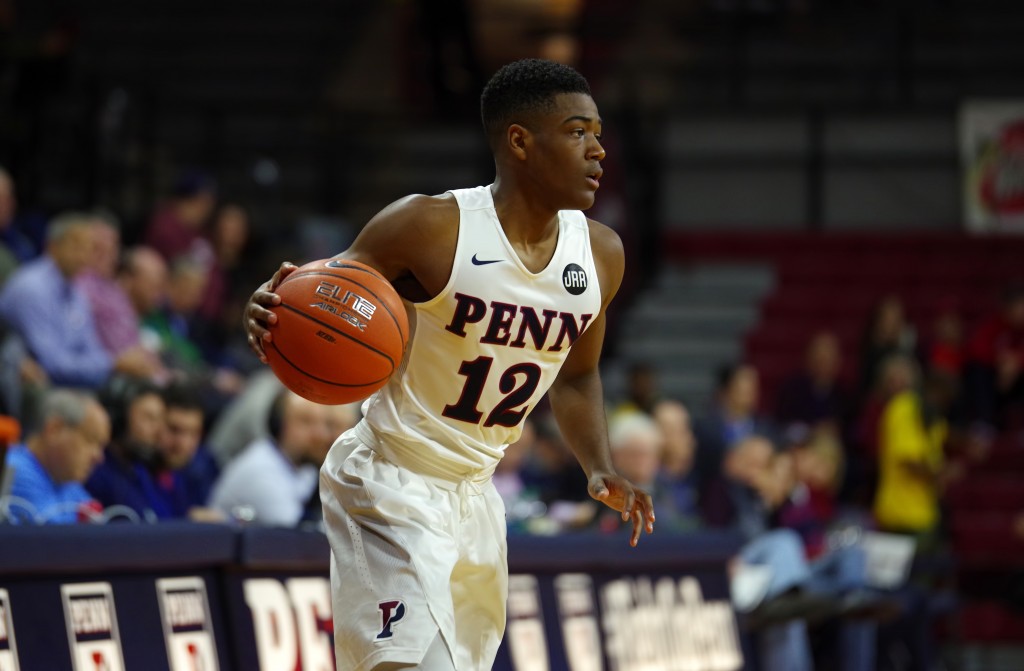 Mindset aside, the biggest reason those three players will stand out on a crowded 21-man roster is talent.
Brodeur burst onto the scene immediately last season, drew some remarkable praise from coaches (after a loss at Temple, Donahue said he has a chance to be one of the program's all-time greats), and had some moments for the ages (including dropping 35 points on La Salle and making some big plays on 7-foot-6 Tacko Fall in Penn's other signature non-conference road win at UCF).
Betley, meanwhile, came on strong in Ivy play after missing the first nine games with an injury, showing off his sweet stroke and the reason why Donahue made him his first call after getting the head coaching job, as documented in this very good piece by the Philadelphia Daily News' Dick Jerardi.
And Goodman (pictured above) also went from seldom-used reserve to key player by the time the Ivy season hit its midway point as Donahue switched things up and handed the keys of the program to his first recruiting class.
That class, the Penn coach said, is how he hopes to "build all of our classes." And this year's group of freshmen appears to be just as good, with Brodeur in particular saying how excited he is to play down low with Jarrod Simmons, who he predicted is going to be "a major contributor" right away.
But while having so many promising underclassmen might be more of a positive sign for future seasons than anything else, Brodeur is tired of playing the waiting game.
He's ready to fight for titles now.
"We feel like we have as good of a shot as anyone in the league this year to take it all," he said.
 — Dave Zeitlin C'03