Hoop Dreams Deferred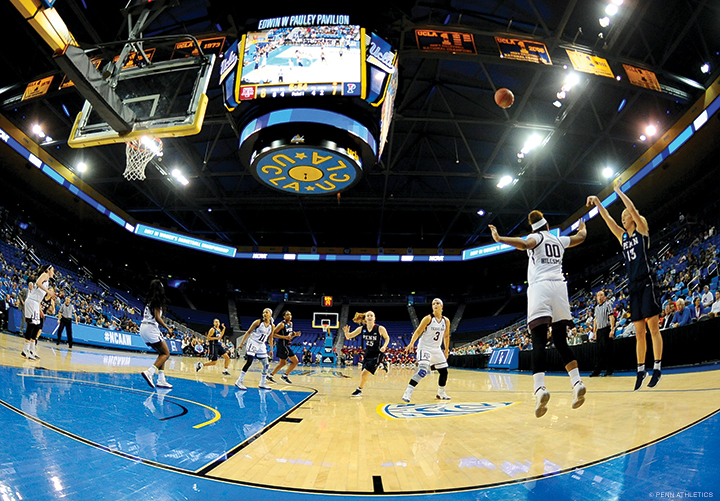 By Dave Zeitlin | Penn women's basketball coach Mike McLaughlin hasn't watched a replay of the game yet. It's just too raw, too painful, too hard to fathom.
How did Penn play near-flawless basketball to take a 21-point lead in the final quarter of its opening-round NCAA Tournament game versus perennial powerhouse Texas A&M? And then how, on the cusp of capturing the program's first-ever NCAA tourney win, did the Quakers completely unravel over the last eight minutes to end up on the wrong side of the largest comeback in the tournament's history?
Two weeks after the shocking 63-61 season-ending loss to the Aggies in Los Angeles, McLaughlin still wasn't sure exactly how to process it. But the trophies in his office helped serve as a nice reminder of the heights the Quakers reached before the bitter finale: the program's third Ivy League championship in the last four years and victory in the inaugural Ivy League Tournament.
That's the message he told his heartbroken players after they returned to campus. "Look at where we've been," McLaughlin said, recounting those conversations. "People dream to be in that position. We're gonna be okay. It's really hard, but we'll be okay."
The fact that Penn qualified for the NCAA Tournament in 2014, 2016, and 2017 is indeed quite the achievement for a program that went 2-26 in McLaughlin's first season (2009-10) before steadily rising to the top of the Ivies. And the Quakers' championship this year was especially impressive as they went 13-1 in the Ivy League, the eighth best conference in the country according to the Rating Percentage Index, before winning two more in the league tournament and getting to cut down the nets at the Palestra.
Penn then looked ready to take the next step on the national stage. With every starter making big plays and Texas A&M struggling to score, the Quakers jumped out to an early 30-13 advantage and, after a small Aggies spurt, rebuilt their lead to 58-37 on star senior Sydney Stipanovich's jumper with 8:50 remaining.
At that point, Stipanovich had 20 points and the ESPN announcers were gushing about how she could not be stopped. "It may be too little, too late" for the Aggies to mount a comeback, they said. But the Quakers did not make another field goal the rest of the game, committed seven fourth-quarter turnovers against a swarming full-court press, and watched their lead vanish when the Aggies made a very deep three-pointer with 36.2 seconds left, followed by a layup less than 20 seconds after that.
"We were trying to let the clock run out without actually winning the game," McLaughlin lamented. "And I sensed it. I sensed a little bit of them wanting it so bad and it was starting to go the wrong way. I did see it. We had a determined group that wanted to win so bad. And we needed one person to make one play over the last eight minutes, and we just couldn't do it."
For most of the night,
the Quakers counted on Stipanovich, who was brilliant in her final game in a Penn uniform, shooting 10 for 17 from the field and combining with fellow star forward Michelle Nwokedi—the 2016-17 Ivy League Player of the Year and a one-time Texas A&M recruit—for 35 points. And even though she admitted the ending will "take awhile to get over," she's not going to let it "ruin" the team's season, or an illustrious career that included winning Ivy League Player of the Year in 2015-16, Rookie of the Year in 2013-14, and three Defensive Player of the Year nods.
"I think we all wish we could have those six minutes back and do things differently," said Stipanovich, who's decided not to pursue a professional basketball career and will instead remain in Philadelphia and work for a real estate company. "But that's the game of basketball. That's how sports go."
McLaughlin called Stipanovich, who finishes her career with 1,386 points, 999 rebounds, and an Ivy record 317 blocks, "one of my all-time greats." Yet next year's senior class brims with promise. It includes Nwokedi and guard Anna Ross, a second-team All-Ivy selection. They are certain to have plenty of motivation to finally notch the program's elusive first NCAA Tournament win.
"I would like nothing more than to get back there again and be in the same moment—and then finish it for the school," McLaughlin said. "That would be pretty awesome."
MEN'S BASKETBALL RISES FROM THE DEAD
When Penn dropped to 0-6 in the Ivy League after an ugly home loss to rival Princeton in mid-February, head men's basketball coach Steve Donahue took a long, hard look at his team.
He did not see a group that was ready to throw in the towel. Instead, he saw talented players that were simply in a funk and in need of a change—something, anything, to keep Penn's hopes of qualifying for the inaugural Ivy League Tournament alive.
Since four teams would qualify for the tournament, "for the first time in the history of the league, we had the ability to push the reset button," Donahue said. "And that's what we did."
Typically a big advocate of sports science, Donahue decided to strip his players of the GPS and heart monitors they wore during practice. He modified the pregame warm-up routine. He eliminated most shooting drills and had players go after each other in intense scrimmages. And he changed the rotation, giving freshmen Ryan Betley and Devon Goodman more prominent roles while benching transfers Matt McDonald and Caleb Wood.
"We went pretty hard," Donahue said. "At that point in the season, I can't imagine anybody in the country went longer and harder in practice. Part of it was based on desperation."
Indeed, even with a conference tournament giving new life to bottom-dwelling teams in a league that until then had rewarded the regular-season champ with a trip to the NCAA Tournament, Penn still had a lot of work to do.
But the rejuvenated Quakers won seven of their next nine games to just barely qualify for the fourth and final seed of the Ivy League Tournament, the winner of which would earn the conference's automatic berth to the Big Dance. The surge was capped by a 75-72 win over Harvard at the Palestra, in which sophomore Jackson Donahue hit a game-winning three-pointer in the final seconds, which his coach called a "historic shot." And, fittingly, it was senior Matt Howard who scored a career-high 24 points while matching a career-high with 12 rebounds against the favored Crimson squad.
That victory gave Howard, Penn's lone senior contributor, the chance to extend his career for another week and play at least one more game at the Palestra, where the Ivy League Tournament was held. And he made the most of it, scoring 17 points against top-seeded Princeton in a thrilling contest in front of a near-sellout crowd in the historic gym.
And yet, what many fans may remember most is how Howard's missed free throw in the final seconds of regulation allowed the Tigers to storm down the court for a game-tying basket, which sent a game in which the Quakers had led by 10 at one point in the second half to overtime. Princeton then prevailed in OT, before beating Yale in the finals to capture the inaugural Ivy tourney title after going a perfect 14-0 in the regular season.
Still, as excruciating as the loss may have been for Penn fans, Donahue focused on the bright side.
"I was so extremely pleased with our growth over that last month culminating in that game, and playing as good a team as there's been in the Ivies over the last several years toe-to-toe, to the point where I think we outplayed them—we just didn't finish. But [Princeton] deserved to win."
Donahue said the Palestra's tournament atmosphere reminded him of an old-school Philadelphia Big Five game more than a typical Penn-Princeton showdown, as fans of both teams packed different sections of the gym, negating much of Penn's homecourt advantage. "To me, it was the best tournament game in the country, based on the venue and what was at stake," he said. Nevertheless, the loss was an emotional ending for Howard, who in many ways served as a bridge from one era to the next, providing Donahue with important leadership during his first two years at the Quakers' helm. And even though his graduation will leave a big hole in the lineup, Donahue believes the Quakers will be a better team moving forward because "he kind of showed the way."
Now he's ready to hand the reins of the team over to a dynamic freshman class featuring point guard Goodman, sharpshooter Betley, and prized big man AJ Brodeur, who led the team in scoring (13.9 ppg) and rebounding (6.9 rpg) in his debut season. Between the promise of that trio, the return of Antonio Woods (who, after being academically ineligible for parts of the last two campaigns, returned to practice in the second semester), and a highly touted recruiting class that features at least one potential star in Jelani Williams, Donahue is optimistic that the 2016-17 season will be a springboard to future success.
"To have that experience, fighting and clawing to get into the tournament, the pressure of dealing with that kind of stress, and then playing in that environment is a huge piece for their growth," the Penn coach said. "I think it makes us so much better."
HALL CALL
On Saturday, May 6, at the Inn at Penn, a new class of former star athletes and coaches will be inducted into the Penn Athletics Hall of Fame. The members of Athletic Hall of Fame Class X are as follows: Jerome Allen W'09 (men's basketball), Brian Chaput C'04 (men's track & field), Fran Dunphy (men's basketball coach), Robyn Fortsch C'87 GEd'88 (women's basketball/women's track & field), Thomas Gilmore C'86 (football), Patrick Goodwillie W'96 (football), Ruthlyn Greenfield-Webster Nu'92 (women's track & field), Joshua Hall III W'85 (men's lacrosse), Bruce Konopka W'78 (men's crew), Elisabeth Kwak-Hefferan C'04 (volleyball), Donna Mulhern Woodruff C'90 GEd'00 (field hockey/women's lacrosse), John Outland C'1899 (football), Matt Valenti C'07 (wrestling), and Eugene Venzke Ed'36 (men's track & field). Donor George Weiss W'65 Hon'14 will receive a lifetime achievement award.
For detailed information and career highlights on all of the honorees, please visit our sports blog.
Dave Zeitlin C'03 writes frequently for the Gazette.