Roster Madness
Promising veterans, big-time recruits, and a depth-chart balancing act for men's and women's hoops.
BY DAVE ZEITLIN
---
When the 2017–18 season opens, Penn men's basketball coach Steve Donahue will have some interesting decisions to make as he attempts to settle on a rotation from a huge roster of 21 players.
Perhaps the most intriguing option of all is redshirt junior Antonio Woods.
The talented guard from Cincinnati last played in a college basketball game on January 2, 2016. A week later, Woods was declared ineligible for the remainder of the season due to insufficient academic progress under University policy—forcing him to leave school before re-enrolling a year later, at the start of the 2017 spring semester. Upon returning to Penn, Woods then opted to redshirt the remainder of the 2016–17 campaign.
What has the journey back been like for him?
"I'll admit: at first it was a little dark," Woods said during the first week of practice in early October. "I had no idea what to do, not being at school, not being able to play basketball. I had a lot of things I had to learn. I had to basically learn how to become a man."
He decided to remain in Philadelphia, finding one job at a local basketball organization and another at Temple University Hospital, where he transported patients to different areas of the hospital, and to the morgue. He called it a "humbling process" to meet different people every day and hear their stories.
When he returned to Penn, Woods—a sociology major focusing on urban studies—says he became laser-focused on his academics while trying to encourage his teammates from the bench.
Now he could be poised to break through and build upon the promising skills he showcased as a freshman, when he averaged 8.7 points per game, and in the first part of his sophomore season (10.7 ppg).
"I think he's one of the better guards in the league," Donahue said. "He can guard multiple positions. He's got a good feel for the game. He can make people better. He can get to the rim and get fouled, which we don't have a lot of.
"I'm so proud of how he handled it," Donahue added. "He took it as a chance to learn from that experience and get better. He did an incredible job of taking responsibility for it, getting a really good job, making his own money, learning from it and being better because of it."
If Woods can work his way back into the rotation, he'll have to develop chemistry with a lot of new faces. Last year a trio of freshmen—forward AJ Brodeur, swingman Ryan Betley, and point guard Devon Goodman—helped the Quakers overcome an 0-6 start in the Ivy League to make the inaugural conference tournament, where they took top-seed Princeton to the wire in a heartbreaking loss.
They look poised to develop into some of the league's best players, while meshing with an influx of big-time freshmen that includes potential impact players Jelani Williams, Eddie Scott, and Jarrod Simmons. Upperclassmen Darnell Foreman, Jackson Donahue, Sam Jones, Tyler Hamilton, Max Rothschild, Caleb Wood, Matt MacDonald, and Jake Silpe have also had key roles in past seasons on a roster that Donahue noted has a "much higher level of talent" across the board.
"I feel like a lot of guys can contribute in their own way," Woods said.
Whenever he plays his first game—the Quakers open at Fairfield on November 11 and face La Salle in their home opener two days later—Woods said he's ready to get back "under the lights of the Palestra" and be a leader by "teaching, learning, coaching, playing"—anything the team needs to win.
In many ways for him, Penn has become even more special than it was before, thanks to an unexpected lesson in hardship and perseverance.
"I'm here to get a Penn degree and put some more banners up in this gym," Woods said. "And that's all that matters."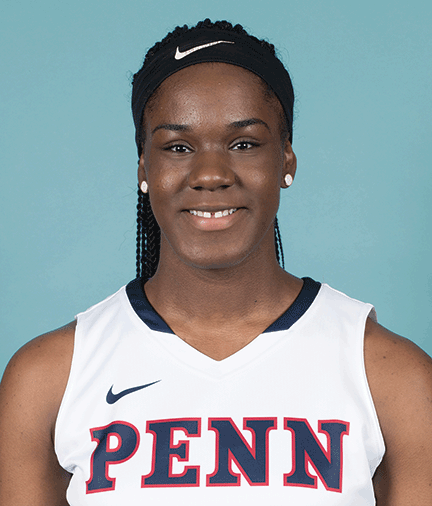 Penn women aim for third straight Ivy title
For the last three seasons, Michelle Nwokedi formed a dynamic partnership in the post with Sydney Stipanovich C'17 to lead the Penn women's basketball team to back-to-back Ivy League championships in 2016 and 2017.
Stipanovich has since graduated but it's possible that the Quakers won't miss a beat with the addition of freshman Eleah Parker, arguably the best recruit in program history.
The 6-foot-4 center from Charlotte was coveted by some of the top programs in the country before choosing Penn and joining forces with Nwokedi, another big-time recruit who took official visits to UCLA, Texas A&M, and Texas four years ago.
For head coach Mike McLaughlin, luring players away from better-known basketball schools is an encouraging trend and a big reason why he's been able to turn the Quakers from a team that went 2-26 in his first year in 2009–10 to one that's captured three of the last four Ivy titles.
The recruiting upgrades will once again make the Quakers a force in the Ivy League, and perhaps nationally. Last season, they were poised to break through on the national scene, leading Texas A&M by 21 points in the fourth quarter of their first-round NCAA Tournament game. The stunning collapse and devastating two-point loss that followed was hard to swallow. But Nwokedi said she's ready to lead the Quakers back to the same spot and beyond, along with classmates Beth Brzozowski, Lauren Whitlatch, and Anna Ross, a high-scoring guard who McLaughlin said will likely move over to her natural point guard position following the graduation of Kasey Chambers C'17.
All four have impressed the Penn coach with their commitment and growth—among other things, they attended a Wharton leadership program over the summer—and he's counting on a lot, in particular, from Nwokedi.
"I'm so impressed with what I've seen from her," McLaughlin said. "Her maturity, her leadership—she has been tremendous."
McLaughlin is counting on Nwokedi, who averaged 15.1 points and 9.3 rebounds per game last season, to "adapt" to playing alongside Parker, even though the two may command the same spot on the court at times. He also commended her for an off-the-court mission of raising money for her hometown of Houston following Hurricane Harvey, something her teammates gladly helped her accomplish.
"Everyone supports one another," said Nwokedi, whose parents were not directly affected by the flooding after the hurricane. "If anyone else on the team was going through something like that, we would all have each other's backs. To see the amount of support is amazing."
She says it has reaffirmed her decision to come to Penn, where she's learned to balance community service, academics, and a whole lot of winning on the basketball court. And now she's ready to close out her college career in style.
"One last go-round," Nwokedi said. "This has to be the best one yet."'
Dave Zeitlin C'03 writes frequently for the Gazette.