Grappling with Tragedy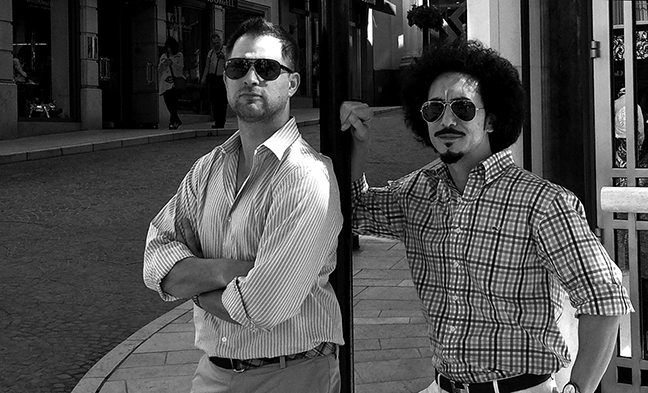 Class of '98 | Two recent full-length films have told the strange, tragic story of the late John E. du Pont C'61 and the man he murdered, Olympic gold-medal wrestler David Schultz. The first was Foxcatcher, the 2014 dramatized feature film from director Bennett Miller, with an assist from producer Tom Heller C'95 ["Alumni Profiles," Jan/Feb 2015]. It focused not on Dave Schultz but his brother Mark, and featured terrific performances by Steve Carell (du Pont), Channing Tatum (Mark Schultz), and Mark Ruffalo (Dave Schultz). Why it chose to emphasize Mark, who wasn't even on the premises during the crucial years leading up to his brother's murder, is another story.
To find out what was really going on at Foxcatcher Farm, the 800-acre du Pont estate in the Philadelphia suburb of Newtown Square, check out Team Foxcatcher, the taut, absorbing documentary from director Jon Greenhalgh now available on Netflix. Not only does the film shed new light on du Pont's psychological unraveling and USA Wrestling's dependency on his money and the lavish Foxcatcher facilities; it also examines events that may have triggered his rage at the very man who had tried hard, with a variety of motives, to be his friend.
Team Foxcatcher also reflects a deep involvement by the Penn wrestling community, especially Ben Hatta C'98 and Jeremy Bailer C'98—who, along with Schultz's widow Nancy, were the film's executive producers and the driving force behind it. It was no coincidence that the memorial service for Schultz, attended by wrestlers from around the world, was held at the Palestra.
Bailer and Hatta were not only wrestlers and classmates at Penn; they were also roommates and best friends from freshman year on. Both had been state-champion wrestlers in high school—a big reason why they chose Penn, whose academic appeal was bolstered by its surging wrestling program and its proximity to Foxcatcher.
In Hatta's case, that allure was greatly enhanced by the presence of Schultz at Foxcatcher. His father, Tadaaki Hatta, was an Olympic wrestling coach who had coached Dave and Mark Schultz, and every summer the Hattas would stay with the Schultzes at the US Olympic Training Center in Colorado Springs.
When the Olympic wrestling training center moved to Foxcatcher in 1992 "because du Pont was plugging in all the money to USA Wrestling," Hatta recalls, his father went there to train and brought Ben with him. "We stayed with the Schultzes whenever we'd go there and just work out with the team," he adds. "That's how I was introduced to Penn. The Penn wrestlers were there, [as was Penn coach and Schultz's good friend] Roger Reina C'84 WEv'05, and three of our assistant coaches were Foxcatcher wrestlers. I was like, 'Oh my god, there's this Ivy League institution right next to the best wrestling institution in the world?'" When he visited Penn on his recruiting trip, Hatta went rock-climbing in Valley Forge with Reinaand Schultz, which pretty much sealed the deal.
Though Bailer didn't know Schultz before attending Penn, the Foxcatcher facility was a big attraction for a high-school wrestler whose identity was and is entwined with the sport. Like everyone else, he was deeply impressed by Schultz, who was not only a great and innovative wrestler but a fun, fascinating individual who put on clinics at Penn for the wrestlers.
"He was really looked at as a mentor to our team," Bailer says. "If you were there, he was willing to help you out." Schultz was really a "renaissance man," he adds. "If he didn't know a language of his competitors, he would learn it. He learned Russian, Spanish—all these languages—so he could communicate with other countries' wrestlers. He really was this ambassador for the sport."
Unlike Olympic wrestling programs in Russia and the former Soviet bloc countries, which were often subsidized by their governments, those in the US had no formal financial backing, and the athletes had to take jobs to support themselves and their families. Enter du Pont, who was not only fabulously wealthy but also loved wrestling—and wrestlers—even if he wasn't much good at it himself.
Hatta's early impression of du Pont was basically The Simpsons' Montgomery Burns: a "rich millionaire who was just delusional," someone who "wanted to be like one of the guys, but just didn't have the physicality, especially at that age." Still, in the early years, Foxcatcher Farm was a "sports utopia, where all the wrestlers lived on the farm, and after practice or weekends there would be a get-together at one of the houses," Hatta adds. "It was a constant amalgamation of just fantastic athletes. They were winning, they had lots of money, and the smell of insanity wasn't necessarily wafting through the air yet."
Soon enough, it would, as Team Foxcatcher vividly recounts. Some things were bizarre but basically harmless, like the time du Pont drove his car into a pond, then did the same thing the next day with a new car—and a wrestling official in the passenger seat. Then there were the hallucinatory delusions, which provided some of the coaches with a job that made them increasingly uneasy—filming the "big house" in which du Pont lived, in order to capture evidence of its … movements.
"John had this notion that at night, the house sunk into the ground, and in the morning, it would come back out," says Hatta. The next day, when du Pont and the coaches would review the video footage, "John would say, 'You see that?! It's moving!' And they would be like, 'This guy's my boss, and he's so sure about it, and if I deny it, then he's going to jump down my throat and say I'm calling him a liar.'"
What made them all so wary of telling du Pont the truth or confronting him about his delusions was, of course, money. That awful dilemma is examined in the film, as are such disturbing details as his growing inability to abide anything black—cars, equipment, people—which led him to order the African-American wrestlers off the farm.
"John, at one point, had noticeable problems, and people were like, 'You should see someone,'" says Hatta. But USA Wrestling feared that if du Pont's family learned the extent of his mental illness or found out he was seeing a psychiatrist, they would take away his money—"and the whole program goes down." As a result, Hatta says, "they're caught in this, 'We'll be his friend 'cause he's doing all this stuff for us, and he's helping a program that needs his help.'"
Dan Chaid was a wrestling coach at Penn for seven of the eight-plus years he lived on Foxcatcher Farm. He was also one of Schultz's closest friends. In October 1995, as the movie recounts, du Pont confronted him; Hatta offers some additional details and a bit of speculation here:
"I think Dan Chaid was promised a certain lifestyle or stipend or whatnot that some of the other wrestlers like Dave had on the farm, and it never came through. So he kept hounding du Pont about it, and somehow it rubbed him the wrong way, and du Pont wanted him off the farm." First he sent Chaid a moving van and parked it outside his house for two weeks. When that message didn't get results, he had someone burn down the house across the driveway from Chaid's. "The coup de grace was, he walked into the weight room while our coach was working out, put an automatic rifle to his chest, and said, 'Get the fuck off my farm.'"
This time, a shaken Chaid left Foxcatcher. Yet the incident was played down—by the local police, by his fellow wrestlers, even by Dave and Nancy Schultz, who made the fatal mistake of thinking they could ride out the insanity until the Olympics were over.
Team Foxcatcher briefly exploresthe growing friendship between Schultz and Valentin Yordanov, a Bulgarian Olympic gold medalist whom du Pont had brought to Foxcatcher and named as his sole heir. For the lonely, mentally deteriorating du Pont, that friendship between the two younger wrestlers may have pushed his paranoia over the edge.
In January 1996, Hatta and his parents and the Schultzes all went out to dinner in Philadelphia. Dave told a story, recounted in Team Foxcatcher, of a recent incident in which du Pont, carrying a gun and clearly drunk, had come to Schultz's house and somehow fallen, cracking his head open.
"My mom was completely flipping out, going, 'Oh my god—he had a gun?!'" Hatta recalls. "And Dave was like, 'Yeah, I took it way from him—it's fine, the guy's harmless.' And my mom was so freaked out—she was just like, 'You've got to be careful, blah, blah, blah.' And the gist from Dave was, 'We'll take care of John; he's not going to hurt anyone; he's just crazy.'"
But du Pont convinced himself that Dan Chaid had attacked him with a baseball bat, and wanted to file charges against him. Schultz assured the authorities that no such thing had occurred, and his statement was included in a police report obtained by du Pont.
"I feel that du Pont thought that Dave was siding with [Chaid]," says Hatta. "That was where Dave started to fall from John's grace, in a sense.
"Things were building," he adds. "There were calls between the heads of USA Wrestling and the wrestlers and coaches, saying, 'What's going on? Shouldn't we do something about this?'"
Brandon Slay W'98, who would go on to win a gold medal in the 2000 Olympics, was taking the wrestling season off from competition that winter, but continued to work out twice a week at Foxcatcher. On Thursday, January 25, he wrestled Dave Schultz, who, as always, beat him easily. Slay told him he'd see him the following Tuesday, then drove back to West Philadelphia.
---
The Penn wrestlers were at Columbia on January 26, 1996 when the news broke that du Pont had shot Schultz to death in front of his wife. The coaches didn't tell the team until after the meet was over.
"It blew my mind," Hatta says. "I lost it. I didn't even want to wrestle anymore." But the next day they had to wrestle Cornell, whose team was coached by Schultz's No. 1 competition in the Olympic circuit—the enemy, in other words.
"I remember just taking out so much frustration on my opponent," Hatta says. "I was wrestling to take out the anger. I won, but it wasn't my best match. It was more like, 'I'm gonna punish this guy, because someone's gotta pay for this.'"
For Bailer, it all felt like a very bad dream. "It ripped everyone's heart out," he says. "It didn't seem real. I don't think my mind could really process it—that this guy who was helping USA Wrestling immensely could murder one of the coolest men I've ever met."
A few weeks later, a memorial service was held at the Palestra. Wrestlers flew in from around the world.
"It was tough to see a lot of these big, big guys like Mark Schultz break down on the stage," says Bailer. "A lot of the bigger wrestlers delivered eulogies. It was almost tougher than when we first heard the news."
---
John du Pont was convicted of third-degree murder but found mentally ill. He spent the rest of his life in prison, dying of natural causes in December 2010.
By then, Hatta had been in LA for a dozen years, working first in television, then moving into documentaries and independent films. Bailer, who had been working in finance, had recently formed his own film production company, Madrose Productions.
"Jeremy reached out to me after working in Wall Street," says Hatta. "He wanted to get into entertainment, so I introduced him to some friends of mine who were doing independent projects. He started to back them, and helped produce those projects for them. So he had a few credits under his belt." One was the 2014 indie film Someone Marry Barry, written and directed by Robert Pearlstein C'95. Bailer and Marc Simon C'96 were co-executive producers.
When Hatta learned that Bennett Miller was planning to make a feature film drawing on a manuscript that Mark Schultz had written, he called his father, who told him he had heard that Nancy Schultz wanted to make a documentary. She had been approached by Greenhalgh several years before, but it was only when du Pont died that she was ready to proceed. "I said, 'Hey Nancy, I heard you're doing this documentary of Foxcatcher—how can I help?'" He then called Bailer, who was "gung ho" to be part of it.
"We basically said, 'OK, it's time to start putting together people we know that have the means and also the passion about this story,'" says Hatta. "And the first people on our lists were our teammates—anyone tied to the Penn wrestling community who knew Dave and Nancy and wanted this story to be told. It didn't take a lot of convincing." (Among the many who responded were Brett Matter W'00, Clint Matter C'97 W'97, and Ed McBride W'96.) The film's original title was David.
Hatta worked on the creative side with director Greenhalgh. Bailer was the main financing guy—among other things. He describes himself as the equivalent of Pulp Fiction's "the Wolf," played by Harvey Keitel, who gets called in to fix problems.
When the film was finally released in late April, after being screened at the Tribeca Film Festival, it made Netflix's list of 50 best documentaries. The New York Times called it a "straightforward documentary and a good one for those who haven't already spent enough time with this strange, unsettling story."
For Bailer and Hatta, to be able to tell that story in a way that focused on the admirable man who was so unfairly cut down in the prime of life, leaving a wife and two young children behind, is a source of great satisfaction. So is the support they got.
"The thing I'm most proud of is how this whole project came together from the wrestlers at the University of Pennsylvania," says Bailer. "It speaks to the kind of man Dave was. Trust me, I raise money for films, and it's not easy—but this one was very easy to raise money for." There was another thing he was proud of, too: "that two freshman-year roommates still stay in touch and collaborate on film projects—that I could do this film, and make it with one of my best friends."
"We all understand that wrestling is not a popular or pretty sport," says Hatta. "But the story of a gold-medal athlete and a billionaire philanthropist, one going up, the other going down, and they crossed in that middle somewhere and it ruins both of their lives. Regardless of what sport the athletes are doing, or who this guy is—that is just an interesting story."—S.H.