Seven Lives and Then Some
A 19th-century American original returns to print.
By Dennis Drabelle
---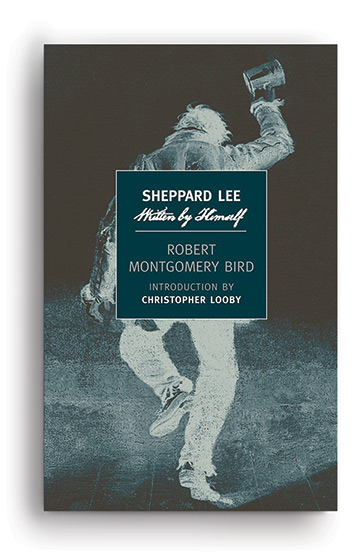 Robert Montgomery Bird M1827 enjoys a distinction that may be unique among American writers: having his work praised by both Edgar Allan Poe and Walt Whitman.
Writing for the Southern Literary Messenger in 1836, Poe called Bird's novel Sheppard Lee, Written by Himself "an original in American Belles Lettres." Its "deviations … from the beaten paths," Poe added, "look well for our future literary prospects." Reviewing an 1846 revival of Bird's play The Gladiator for the Brooklyn Eagle, Whitman described it as "calculated to make the hearts of the masses swell responsively to … nobler, manlier aspirations in behalf of mortal freedom."
By turns physician, poet, playwright, novelist, farmer, biographer, politician, teacher, editor, photographer, and more, Bird resists pigeonholing. Yet his masterpiece, the aforementioned Sheppard Lee—now back in print as a New York Review of Books Classic almost two centuries after its first publication—can be summed up easily enough: a visionary satire in the vein of Gulliver's Travels and Candide.
Born in New Castle, Delaware, in 1806, Bird was raised by a rich uncle after the boy's father died. When his mother was widowed a second time six years later, Robert reunited with her in Philadelphia. He prepared for Penn at Germantown Academy and entered the University's medical school in 1824.
After graduating three years later, Bird practiced medicine for only a short time. He preferred writing plays, among them The Gladiator, based on the slave uprising led by Spartacus. Though a hit, The Gladiator was not to everyone's taste. "If [it] were produced in a slave state," Bird wrote, "the managers, players, and perhaps myself in the bargain, would be rewarded with the Penitentiary!"
Bird pivoted to the novel because he considered it a less demanding genre. After a few apprentice works, he published Sheppard Lee, the story of a failed farmer in such desperate straits that he ransacks a swamp in search of a rumored treasure supposedly buried by Captain Kidd. Unsuccessful in this effort, Lee passes out and wakes up as a disembodied spirit hovering over his own dead body. Nearby is another corpse, that of a prosperous Philadelphia merchant named Higginson. Lee wishes he could have been Higginson, and the next thing you know, he is: Higginson's body has come back to life with Lee's soul at the helm. The reincarnated Lee retains a dim sense of who he used to be.
This soul-migration proves to be the first of seven, which lend themselves to a satirical panorama of early 19th-century America. At one point, Bird works a variation on Swift's "Modest Proposal": Lee recommends that, rather than consign the dead to coffins, we put their carcasses to practical use, burying them uncontained so as "to enrich the soil from which they draw their sustenance." Lee even invades the body of a black slave, who joins an uprising against his master and pays for it by being hanged, thus sending Lee's well-traveled spirit on yet another journey. Alas, Lee never checks into a female body, a transformation that could have been both illuminating and bawdy.
The other standout among Bird's seven novels is Nick of the Woods or The Jibbenainosay, a Tale of Kentucky (1837), which is out of print but not hard to get hold of online. (The Jibbenainosay is a kind of sasquatch to which some Native American tribes ascribe miraculous powers. Bird's white settlers call the creature Nick of the Woods, "Nick" being one of the devil's sobriquets.) The best lines in Nick go to a self-promoting, grammar-mangling character known as Roaring Ralph. In her book American Humor, A Study of the National Character, Constance Rourke observed that, in creating Roaring Ralph, Bird "tapped a deep fund of western talk and character."
Have a listen as the roaring one satisfies another character's curiosity about the condition of a wounded colleague: "He ar'n't much hurt to speak on, for all of his looking so much like coffin-meat at the first jump; it war a kind of narvousness come over him that men feels when they gets the thwack of a bullet among the narves." There you have early frontier life in a nutshell: a bullet thwacks, and you resemble coffin-meat.
The author had more lives than his character Sheppard Lee. To recuperate from a bout of mental illness, Bird tried his hand at farming but lost his crops to a tornado. He moved back to Delaware, where he sought, but failed to get, the 1842 Whig nomination for a seat in the US House of Representatives. He taught at the Pennsylvania College of Medicine in Philadelphia until it disbanded in 1843. He invested in and edited a Philadelphia newspaper but quarreled with his partners over their habit of speculating with company funds. In advance of the 1848 election, he wrote a campaign biography of Zachary Taylor. Bird hatched other schemes that went nowhere, especially literary works that exist as titles only, e.g., "The Imp of the Rhine."
In his last years—he died in 1854, just shy of his 48th birthday—Bird pursued a new interest, photography. According to Christopher Looby in his introduction to the New York Review edition of Sheppard Lee, several hundred of Bird's prints are "in the collection of the Library Company of Philadelphia. The majority of them are haunting [Philadelphia] cityscapes, taken from the windows of his Filbert Street home, up and down the street and over the nearby roofs."
Two of these prints are reproduced on the inside covers of the New York Review edition. They are haunting indeed, and one would like to think that, by focusing intensely on what lay all around him, the restless Robert Montgomery Bird at last found a measure of peace.
---
Dennis Drabelle G'66 L'69 is working on a book pegged to the 150th anniversary of Yellowstone National Park in 2022.