Schwartz Leaves SSW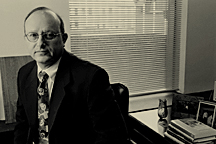 Dr. Ira M. Schwartz, dean of the School of Social Work since 1993, is crossing the Schuylkill River to become provost at Temple University. Schwartz, who also served as director of Penn's Center for the Study of Youth Policy, left Penn at the end of August.
    Penn President Judith Rodin praised him as "an exceptional dean and a national leader and advocate for child welfare," while her counterpart at Temple, David Adamany, hailed him as a "distinguished scholar" and a "brilliant academic administrator."
    Asked about his accomplishments at the school, Schwartz noted that, during his tenure, SSW "has risen dramatically in the national rankings and is now one of the most respected and influential schools of social work in the country"—largely owing to the fact that the faculty, many of whom he recruited, "are engaged in cutting-edge research that is influencing public policy and improving the quality of social-work practice." Schwartz was also instrumental in launching the Center for Children's Policy Practice and Research, a multi-school and multi-disciplinary center that evolved out of the Children's Group ["The Children's Crusaders," May/June 1999].
    The biggest challenge now facing the school, he noted, "is that new physical-plant facilities are desperately needed. Every leading research-oriented school of social work in the country either has a new building or is in the process of raising funds for a new building. The Penn SSW must have new facilities for instruction and research in order to be competitive with our peer programs."
    A search committee is being formed to find a new dean.