Running on Empty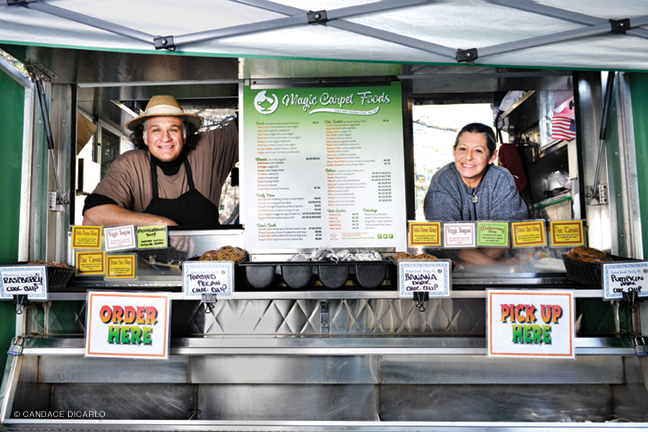 ---
From GoFundMe to grit, how campus food trucks are facing the pandemic.
---
It's a chilly Thursday in November during what used to be the lunch rush when Deb Varvoutis, co-owner of famed University City food cart Magic Carpet Foods, announces that she and her husband, Dean, will be closing up shop for the semester weeks early. The line outside their cart, which is a perennial presence next to the Stuart Weitzman School of Design, is two people deep—a once-strange occurrence for a team accustomed to serving 600 customers on any given day. Now, it's a common sight. As Varvoutis hands over seven banana chocolate chip cookies to a student buying in bulk for her housemates, she reminds the customer that her treats freeze well and that they'll be back on January 20—"even if times are hard."
COVID-19 has certainly been hard for Penn's food trucks. The city halted their operations last March, and they've faced an uphill battle since being allowed to operate again in late May. The pandemic has bled campus of student life, leaving the businesses that feed undergraduates in flux. Freshmen no longer pour out of the Quad looking for breakfast on weekday mornings, and there aren't any upperclassmen skipping class to grab lunch with friends. Reliant on diminished foot traffic for revenue, several food trucks, like 38th Street's cult-favorite Chinese food truck Yue Kee, are closing after decades of serving the hungry masses. And for those that choose to stay in business, it's less about making a profit and more about preserving tradition—and surviving.
"We're losing between $10,000 and $13,000 a month just by being open," says Varvoutis, whose Magic Carpet cart has been serving an eclectic mix of vegetarian and vegan Greek, Mexican, and Middle Eastern cuisine for 36 years. "That's the nature of it. We're not alone, though. It's the whole country. It's probably half of the world. … [Our losses] are not something you can take personally because they're not personal."
Magic Carpet is a relic of pre-pandemic times. Its menu of vegetarian meatballs, warm pita sandwiches, and thick, chewy cookies has been unchanged since its 1984 opening. All of its offerings are prepared in a 2,500-square-foot commercial kitchen located in South Philly, which has made navigating the pandemic especially hard. "We have all the overhead of a restaurant, but we only serve lunch five days a week," says Varvoutis, who had to trim the business's full-time staff from eight to three and close a second cart, typically located outside the Quad's entrance, in order to limit costs.
Varvoutis estimates that they're seeing, at most, 50 customers a day, a fraction of their usual numbers. To put that in perspective: Varvoutis used to lug 14 12-quart containers of salad to campus. Now she only takes two. The trucks used to go through 10 trays of steamed rice and veggies. Now, they're barely finishing three.
Varvoutis says all of that influenced her decision to close for the season on November 20, about a month before their usual vacation. And while Magic Carpet has received a Paycheck Protection Program loan that's helped stave off closure, they've had to turn to other means to keep the business afloat—namely a GoFundMe hosted in partnership with the University City District's fundraising efforts.
Posted on October 4, the crowdfunding page has raised nearly $20,000 of its $100,000 goal so far. More than 400 donors have chipped in, many of them alumni who waxed nostalgic about the cart's food and camaraderie. "Magic Carpet was such a huge part of my Penn experience," writes Jess Chen on the GoFundMe page, "I miss your cookies every day still!"
Varvoutis is shocked and humbled by the outpouring of support. "Most of our customers are repeat customers, so we get to know them. I really love watching you guys come in as freshmen and grow up to get married, then come back with your kids," she says.
Other trucks on campus have been hesitant to solicit donations. Rachel Pran, the heir to Bui's Lunch Truck, has been serving bacon, egg, and cheese sandwiches (salt/pepper/ketchup) on 38th Street for 33 years alongside her parents. She misses the same things Varvoutis does: her customers, the Alumni Weekend rush, looser purse strings. But, unlike Magic Carpet, Pran has opted to weather the pandemic the old-school way, relying on foot traffic alone to create revenue.
"I have no other employees, so it would be unfair to ask customers to make donations," says Pran, who runs the truck herself with her parents occasionally helping out. "[My customers] supporting me all these years is enough. It really is. But, you know, I don't expect much. I just hope that customers remain loyal."
While her food truck is only doing a third of its usual business, she says her current margins mirror those of the summer months, which is sustainable—for now. "We just stick it out," Pran says. "A dollar here and a dollar there is still everything to us."
Ultimately, the pandemic has forced Penn's food truck owners to make a grim calculus steeped in sunk cost: shut down in hopes of breaking even, or dig themselves a deeper hole in hopes of crawling out whenever normal life resumes.
For the owners of Magic Carpet, however, the answer is simple: stay open. "I can't bear to think that Magic Carpet is gonna go by the wayside," Varvoutis says. "Not after all this work." —Beatrice Forman C'22