RIP, Concrete Charlie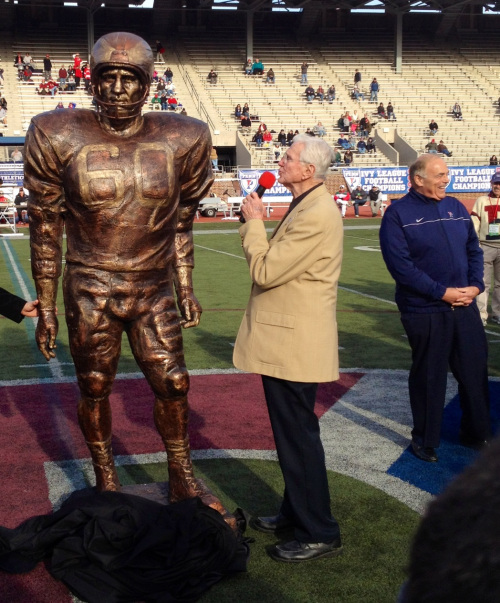 A few years ago, Chuck Bednarik C'49 finally met his match.
Standing in the middle of the same stadium in which he used to pulverize other football players, the man known as "Concrete Charlie" took a microphone, looked up and started talking to a seven-foot bronze statue of himself.
Even in his late 80s, it might have been the only thing at Franklin Field that he couldn't tackle.
Bednarik, best known for his toughness and perhaps the greatest athlete ever to come from Penn, died Saturday morning. He was 89.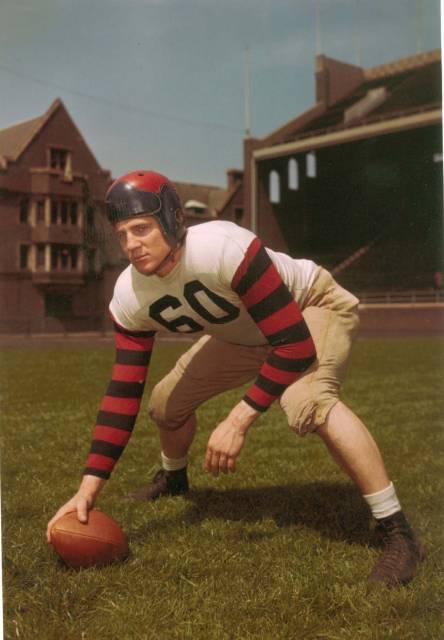 Predictably, the tributes have been rolling in for Bednarik, who will forever be a huge part of this city's sports lore for playing a record 14 seasons with the Philadelphia Eagles and winning championships in 1949 and 1960 (the franchise's last). Fellow Penn alum Rich Hofmann W'80, in particular, wrote a terrific column for the Philadelphia Daily News on Bednarik, who grew up in Bethlehem, flew more than 30 combat missions during World War II and was a part of Penn football during its glory years.
In 1947, Bednarik helped the Quakers go undefeated with a 7-0-1 record that included a win over Navy and a national ranking of seven in the final AP poll. Bednarik, who was a three-time All-America as a center and linebacker, was third in the 1948 Heisman trophy voting. How versatile was the player who hardly ever came off the field? He also punted for Penn.
Sports fans in Philly know him best for his illustrious tenure with the Eagles, which included one of the most famous tackles in football history on Frank Gifford, but Bednarik also stayed connected to Penn over the years.
It was in late 2011 when "Concrete Charlie" was on hand at Franklin Field, along with some of his old teammates and prominent figures like former Pennsylvania governor Ed Rendell C'65 Hon '00, for the unveiling of his statue. And he couldn't stop smiling and cracking jokes. He even sang about going to heaven.
The statue remains in the bowels of Franklin Field for all to see, an immovable object that can't be tackled. A fitting tribute, indeed.
– Dave Zeitlin C'03