Returned, Restored, Resplendent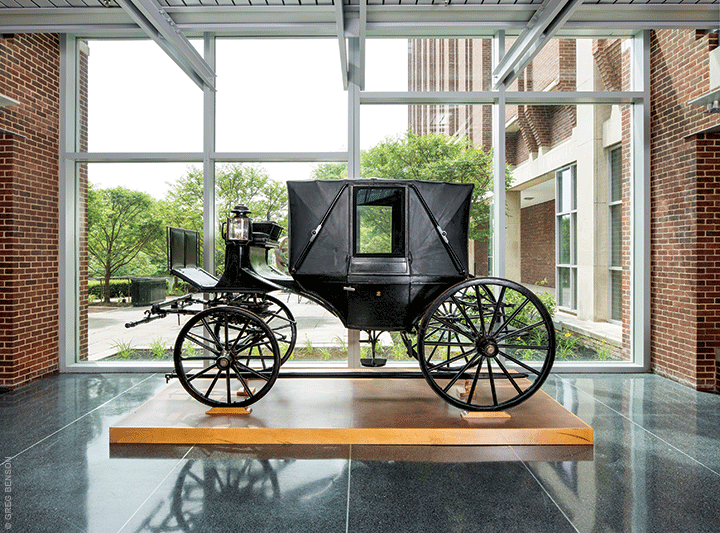 The history of the carriage above is almost as unlikely as that of the man who once owned it. Thomas W. Evans was the talented Philadelphian who became surgeon dentist to the Emperor Napoleon III and the Empress Eugénie, as well as the unofficial cavity-filler and secret courier to most of the crowned heads of Europe. In September 1870, after the emperor was captured during the Battle of Sedan, a Parisian mob began to threaten the empress. She turned to Evans, who agreed to help her. Using fake passports to disguise their identity, they and two attendants traveled in that handsome Landau carriage to the coastal city of Deauville, then by ship to England.
When the Thomas W. Evans Museum and Dental Institute opened at 40th and Spruce streets 100 years ago, the 87-year-old former empress wrote a letter to the dean of Penn's dental school congratulating him on the "realization of the generous idea" of her late friend Evans, whose fortune had funded the handsome facility. "I am reminded of his sincerity," she added, "the proof of which he gave me in the darkest hours of my life."
For years the carriage was the centerpiece of the Evans Museum, whose collection of paintings, sculpture, and objets d'art is the basis of a new exhibition in the Arthur Ross Gallery. (See "The Art of Dentistry.") After the dental school closed the museum in 1967, the carriage was moved to the New Bolton Center, where it stayed until it was loaned to an exhibition in France in 1993. After some determined sleuthing by Lynn Marsden-Atlass, the Ross Gallery's director, and some persuasive diplomacy by Denis Kinane, the Morton Amsterdam Dean of the dental school, the carriage was located and finally released from the Château de Compiègne and brought back to Philadelphia. Restored over the summer by Amish craftsmen, it's now resting from its long journey in the Schattner Center.
"I think the pièce de résistance of the Evans Collection was bringing back the carriage," says Kinane. "It focuses a lot of people, because that carriage is steeped in history." —S.H.