Remote Beginnings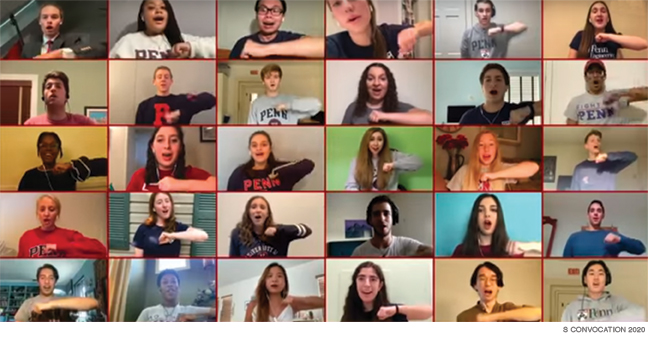 ---
For the Class of 2024, "mission-driven grit and a united community" should guide the way.
---
On August 31, the start of the academic year looked a little different on Penn's campus. Gone were the crowds of freshmen swarming Locust Walk, serenaded by the Penn Band as they took their seats on College Green. Instead, the celebration welcoming more than 2,325 incoming first-year and transfer students to the University was beamed onto laptops around the world.
With the COVID-19 pandemic still casting dark clouds over the University and everywhere else, it would've been easy for this year's virtual Convocation to harp on all that the Class of 2024 lost—proms, graduations, going-away parties. The ceremony, however, focused more on what today's students might gain from this unprecedented time.
"Life presents us with these liminal moments, where we find ourselves standing on the threshold at the cusp of something new," said Chaz Howard C'00, the University chaplain and recently installed vice president for social equity and community ["Gazetteer," Sep|Oct 2020] during the invocation. "We look back and celebrate or grieve what was left behind. [And] we look forward—perhaps with some trepidation—to what awaits us."
Speaking candidly about public health and issues of racial equality, Howard sought out a silver lining amidst the pain, reminding new students of the opportunities for change and leadership that this moment requires. "May these students help all of us cross over into the new … to envision what a post-COVID society should and could look like," he said. "May they help us turn the page on racism and all forms of hate. And during their season here at the University of Pennsylvania, may they know that they are not alone, that the entire faculty, staff, and administration are here to journey with them into the new. But we also need them to help us take steps forward as well."
Howard's words struck a chord with freshmen like Grace Brazunas, who watched Convocation with her parents at their home in nearby Wynnewood, Pennsylvania. "I liked the chaplain's remarks because they were grounding and acknowledged all the challenges that we're facing," she said. "He made it seem like Penn was concerned about us and our families."
In her remarks, Penn President Amy Gutmann drove home a similar sentiment, attempting to galvanize the incoming students by using the urgency of the moment—a moment that "cries out for mission-driven grit and a united community," she said. "Yours will be the class defined by both."
Gutmann shared the story of 2019 President's Engagement Prize winner Brendan Taliaferro C'19 ["Gazetteer," Jul|Aug 2019], whose project, the Homeward Initiative, aims to provide shelter for homeless gay and transgender youth. After COVID-19 struck just before it was set to launch, Taliaferro pivoted to match local youth shelters with restaurants to provide warm meals to young people in need. This kind of focus on "grit and community," Gutmann said, represents "the hallmark of a Penn education."
She went on to invoke the words of John Lewis, the civil rights leader and longtime congressman who died in July. Gutmann read a line from an essay that Lewis, who received an honorary degree from the University in 2012, had written shortly before his death in which he said, "The vote is the most powerful nonviolent change agent you have in a democratic society. You must use it because it is not guaranteed." And after recalling how her mom would take her into the voting booth as a kid and how her immigrant grandmother was the first woman in her family to vote, she expressed "tremendous pride" in the Penn Leads the Vote initiative and "the civic engagement of all Penn students."
"Together, we are a long, proud, unbound line of citizens all united for a common mission," Gutmann added. "Marching forward with mission-driven grit, a community united, your Penn family can and will make the impossible possible."
Provost Wendell Pritchett reiterated how collective action shapes what success looks like at Penn. "The last six months have reminded us of something we've always known—that individual achievement, while laudable, is not nearly enough," he said. As "inequalities have been laid bare" across the country and the University contends with its own "historical ties to slavery and discredited medical practices like eugenics," Pritchett invited students to join in on the "hard work of battling racism, injustice, and inequality, of healing our world," he said. "I urge you to envision how success looks not just for you but for all members of our community and our country."
The ceremony closed with words of advice from current students, before the Class of 2024's flag was presented.
For Sneha Ravi, a junior transfer from McLean, Virginia, the entire video calmed her anxieties about the year ahead.
"It was a good reminder to be ready to make the best out of everything," Ravi said. "I now know that my opportunities aren't so limited. Rather, there are more chances to do something impactful."
—Beatrice Forman C'22