Redefining Kin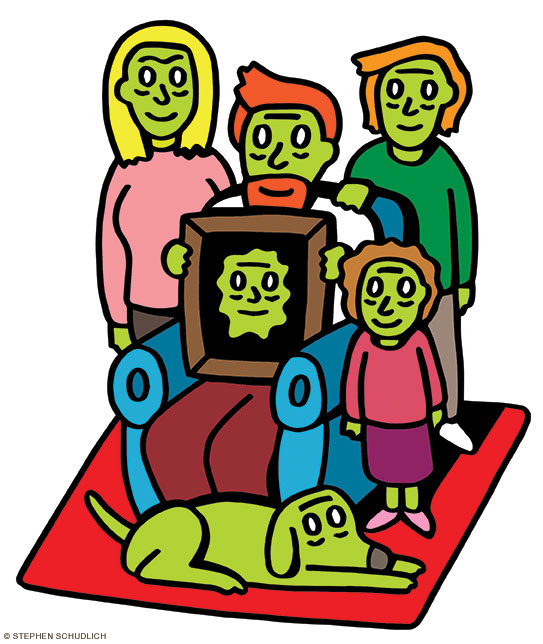 The Wolf Humanities Center explores the topic of kinship.
---
How do you define whether someone is kin to you? Can kinship extend beyond family members to include friends, neighbors, or other groups? What happens when the ties that bind start to chafe? Can our species embrace kinship with animals, domestic or otherwise? What about bacteria?
Wrestling with questions such as these has been the agenda of the Wolf Humanities Center's free-to-the-public 2019–20 Forum on Kinship. Each academic year a Wolf Center forum highlights a different topic, which it addresses from diverse, cross-disciplinary perspectives through lectures, conversations, film, exhibitions, and other formats.
This year's talks have included "Collectivizing Kinship: Rural China's Women in the 1950s," "Kinship Reloaded: Humans, Animals, and the Urban," and "Who Belongs at Home?," a conversation between the novelist Kamila Shamsie (Home Fire) and Emily Wilson, a Penn classical studies professor and a 2019 MacArthur Fellow ["Gazetteer," Nov|Dec 2019].
A film and discussion series in October provided different takes on the "Queer Black and Latinx" ball culture, currently the subject of Ryan Murphy's FX series Pose. Another film series, "The Family Tree," at the Penn Museum through March 8, examines family, ancestry, and connections through the lens of culture. A third set of films, under the rubric "In Relation," focuses on how nation, religion, and environment complicate kinship. It concludes in early March at the Annenberg Center's Montgomery Theatre, with Gemma Atwal's 2018 documentary, Stolen Daughters: Kidnapped by Boko Haram.
In the Forum brochure's introduction, this year's topic director, Ramya Sreenivasan, associate professor of South Asia Studies, describes kinship broadly as "biological, adopted, geographical, intellectual, religious, or spiritual." It can, at times, be restrictive and parochial, she suggests—or more progressive.
"I'm always struck by how many people are permanently disappointed by their biological families," she explains. "Our kin are constantly coming up short against our expectations." At the same time, "it turns out that people are actually able to fall back on others."
The topic of kinship, and the notion of who merits inclusion or exclusion, can seem ripped from the headlines. "We look around the world today, and everybody is constantly trying to define for us who is not kin, who does not deserve solidarity," Sreenivasan says. "Ethnonationalists would like us to believe that patriotism requires the re-assertion of solidarities. But, no, ethnonationalism is about the denial of solidarities to anybody who is unlucky enough to be defined as 'other.'"
Jason De Léon's kick-off talk in September on the economics and hazards of border crossings was timely enough to have attracted about 400 people, Sreenivasan says. De Léon—a professor of anthropology and Chicana/o Studies at UCLA, as well as executive director of the Undocumented Migration Project and a 2017 MacArthur Fellow—titled his lecture "'Work Is Work:' Kinship, Race, and Violence on the Human Smuggling Trail."
"Undocumented migration is inherently about kinship," he said. "People are migrating for their family. People are seeking to reunite with loved ones." In addition, those fleeing Central American poverty and violence face the possibility of "finding kinship on the migrant trail," including what he called "fictive kinship" with their smugglers, or coyotes.
"The smuggler is not a simple villain," he said, but rather an "expected product" of the United States' choice to force migrants away from urban points of entry into the harsh Sonoran Desert. He called the policy, which he said has resulted in thousands of deaths through dehydration, cold, rattlesnake bites, broken limbs, and other mishaps, "Prevention Through Deterrence."
The De Léon event was preceded by a participatory pop-up exhibition at the Penn Museum called "Hostile Terrain 94," an installation that arrayed 3,200 hand-written toe-tags against a map of the Arizona/Mexico border. It was followed by a screening of Border South, a 2017 ethnographic documentary about the migrant trail.
Another event linked to contemporary political debate was the conversation between Shamsie and Wilson about Home Fire, Shamsie's novel that touches on the impact of terrorism, class, ethnicity, and religion on kinship. The Karachi-born, London-based author drew inspiration from Sophocles' tragic drama Antigone, in which the title character faces off with King Creon over the right to give her slain brother a suitable burial.
In Home Fire, the British Muslim Parvaiz, son of an extremist fighter who was captured and killed, struggles with fatherlessness and what Shamsie called a "sense of being out of place." His two sisters, in turn, struggle with the fallout from his ill-judged decision to find an ideological and spiritual home outside of his country and family. Kinship, in its various manifestations, is a source of both strength and peril in the novel.
Sreenivasan's own interest in kinship grew out of her research. After starting out as a gender historian, "I became more interested in thinking about the institutional contexts in which women and men lived their lives," she says, "and I began thinking about relationships." She is currently writing a history of kinship and households in India between the 16th and 18th centuries.
Sreenivasan says she hopes the Kinship Forum has helped attendees "be a little more mindful and grateful for the solidarities that we do have"—and figure out how to expand them. In addition, she says, it should inspire reflection on "the people we choose to exclude from our circle of solidarity," whether through inertia or because they adhere to antithetical values.
Is she at all concerned that the Kinship events may be preaching largely to the converted? "They still serve a purpose," she says. "They remind us in our smartphone-staring world that there are other people who share our values. They're also useful because they help us to sharpen our own arguments, and our own understanding. And who knows? Somebody might walk in who's at least agnostic, and might walk away saying, 'OK, I need to rethink this.'"
—Julia M. Klein