A World Without Prisons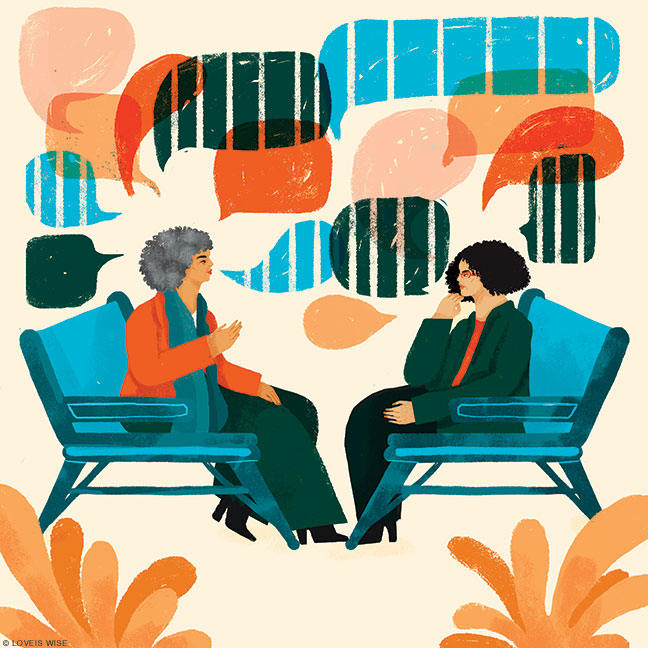 Two leaders in the prison abolition movement echo Martin Luther King Jr.'s message that "justice is indivisible."
---
"What would Dr. King do now?" mused Angela Davis at the start of the 19th annual Reverend Dr. Martin Luther King Jr. Lecture in Social Justice.
The veteran activist, academic, and author was addressing a full house at the Annenberg Center's Zellerbach Theatre in January when she answered after a thoughtful beat. "He would emphasize the interconnection of issues."
Fittingly, the conversation on stage wove together a variety of issues, from racism and gender violence to economic justice and prison abolition. Davis was joined by Gina Dent, associate professor of feminist studies, history of consciousness, and legal studies at the University of California, Santa Cruz. Margo Natalie Crawford, director of Penn's Center for Africana Studies, professor of English, and the Edmund J. and Louise W. Kahn Professor for Faculty Excellence, moderated the conversation.
Davis, 76, has been entrenched in social justice movements since the 1960s. As a young adult, she gained notoriety for her work in the civil rights movement—or the "freedom movement," as she remembers it being called. ("One of these days, we'll correct that," she said.) In 1970, recently fired from her job teaching philosophy because of her affiliation with the Communist Party, Davis was placed on the FBI's Most Wanted list. She spent 18 months in jail, fighting false charges of kidnapping and murder, and was eventually acquitted in 1972.
While serving as California's governor, Ronald Reagan vowed that Davis would never teach in the state again, due to her radical politics. Today she is distinguished professor emerita of the history of consciousness and of feminist studies at the University of California, Santa Cruz.
In her 2003 book, Are Prisons Obsolete?, Davis highlighted the explosion of prison construction—and of incarceration rates to fill them—that spawned "the prison industrial complex." In California, for example, in the century from 1852 to 1955 just nine prisons were built, but nine more were built in the 1980s alone, and another 12 in the 1990s. "When I first became involved in antiprison activism during the late 1960s, I was astounded to learn that there were then close to two hundred thousand people in prison," she wrote. "Had anyone told me that in three decades ten times as many people would be locked away in cages, I would have been absolutely incredulous."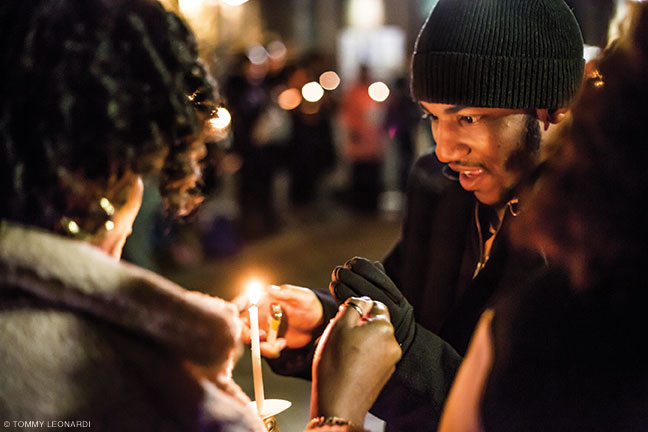 ---
"If Dr. King were alive today, I think he would be deeply involved in the abolition of the prison industrial complex," Davis said. An outspoken opponent of the Vietnam War as well as segregation, King argued that "justice was indivisible."
"Now I think he would acknowledge [that] our notion of what counts as social justice has become much broader," she said.
She asked the audience to consider what it would mean "to live in a world that did not require such violent means as a punitive solution to problems of insecurity. What would it mean to live in a world without prisons?"
Dent explained that the term "abolition" is used intentionally, borrowed from the movement to abolish slavery in the 19th century. Just as those who lived during slavery could not imagine a world without it, she noted, society today is also struggling to understand what it would be like to live without prisons.
"We have all been deeply affected by the ideologies of the state, and … in our very interactions with one another we often carry out the work of the state," Davis said. "We often respond with the same kind of punitive impulse that is incorporated into the so-called justice system."
For instance, in many areas, acts of gender violence are only just starting to be made criminal. And the suffering of victims and survivors is now being acknowledged through the prison sentences handed down to their perpetrators.
But by incarcerating someone who has inflicted violence on women or transgender people "in perhaps one of the most violent institutions in the country," Davis asked, "how is that going to allow us to move forward to purge the world of gender violence?"
Feminist concerns provide the strongest argument for the abolition of prisons, Davis said, and she proffered the term "abolition feminism."
Dent clarified, "The reason we are using the term 'abolition feminism' is because we want those terms to be inextricably linked." The movement aims to abolish all forms of racial and sexual violence, along with mass incarceration. Interpersonal violence and state violence should be considered simultaneously, Dent said, instead of as two separate issues.
"By looking through feminism, we actually deepen the abolitionist struggle," she added. Most prison data comes from men's facilities because women make up only a small percentage of inmates. This falsely suggests that issues women face—such as gender bias and sexual abuse—are less important in the prison abolition movement. "But in fact, if we think from a feminist perspective and we look at what's minoritized, what we're not taught to see, we actually find a lever that lets us see the whole [prison industrial complex] more precisely," Dent said.
"We have to create a capacious agenda and recognize the ways in which we are all interconnected," Davis said. "Feminism allows us to recognize how oftentimes issues that appear to be relatively small can have a massive transformative effect."
Davis made it clear that while she is in favor of "changes that would benefit those who are currently in prison," she does not believe that prison reform can ever be sufficient or should be the goal.
The French philosopher Michel Foucault argued that the history of prisons is actually a history of reforms of the institution itself. "Reforms have served to strengthen and render more permanent the institution of the prison," Davis said. "This is precisely why we argue that an abolitionist stance allows us to acquire a greater vision."
Davis offered the example of South Africa. When apartheid ended in 1994, many assumed there would be a decline in prison usage. However, the incarceration rate continued to increase.
In addition, many countries in the Global South—a term used to refer to low- and middle-income countries that are mainly in the southern hemisphere—are building more prisons in order to keep up with "so-called developed nations," Dent said.
"What we've observed from all of our travels and from US history is that the more prisons you build, the more you'll fill them," Davis added.
During King's time, many people assumed that it was feasible to eliminate racism without also considering issues of class exploitation, war, and misogyny, Davis said.
"But now, we can no longer afford to do that."
—NP