Classics Professor, Law Alumna Receive "Genius" Grants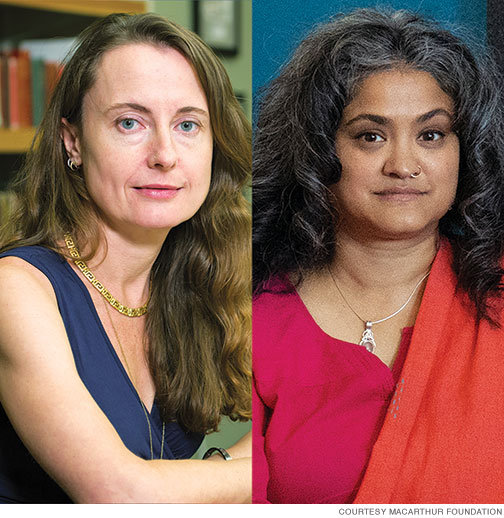 ---
Emily Wilson, a classical studies professor in the School of Arts and Sciences, and sujatha baliga L'99, a restorative justice attorney, were both named 2019 MacArthur Fellows, an award commonly known as a "genius" grant, by the John D. and Catherine T. MacArthur Foundation.
Wilson, who's been teaching at Penn since 2002, is best known for being the first woman to translate Homer's Odyssey into English ["An Odyssey for Our Time," Mar|Apr 2018]. Baliga was honored for her work as the director of the Restorative Justice Project at Impact Justice in Oakland, California.
Each of this year's 26 MacArthur Fellowship recipients, selected from a wide array of fields, receives $625,000 over five years—"intended to encourage people of outstanding talent to pursue their own creative, intellectual, and professional inclinations," according to the foundation.
A nationally recognized expert on restorative justice, which focuses on the rehabilitation of offenders through reconciliation with victims and the community at large, baliga has worked to provide an alternative to incarceration while breaking cycles of violence and recidivism. "I really do believe we can resolve basically everything through restorative processes if victims are amenable," she once told the Gazette ["Restoring Justice and Some Peace," July|Aug 2013].
Wilson has been widely praised for her translation of the Odyssey, published in 2017 and written in the more contemporary iambic pentameter instead of the original dactylic hexameter, "bringing a fresh perspective to the ancient epic poem," said Penn President Amy Gutmann.
Wilson is currently working on several other projects, including a translation of the Iliad and a book about translation, entitled Faithful. She said she hopes the award brings more "public attention to issues of translation, literacy, and poetic form," and that it "inspire[s] more young people to engage creatively and critically with pre-modern cultures."
—Sam Kesler C'20