Reclassifying the Classifieds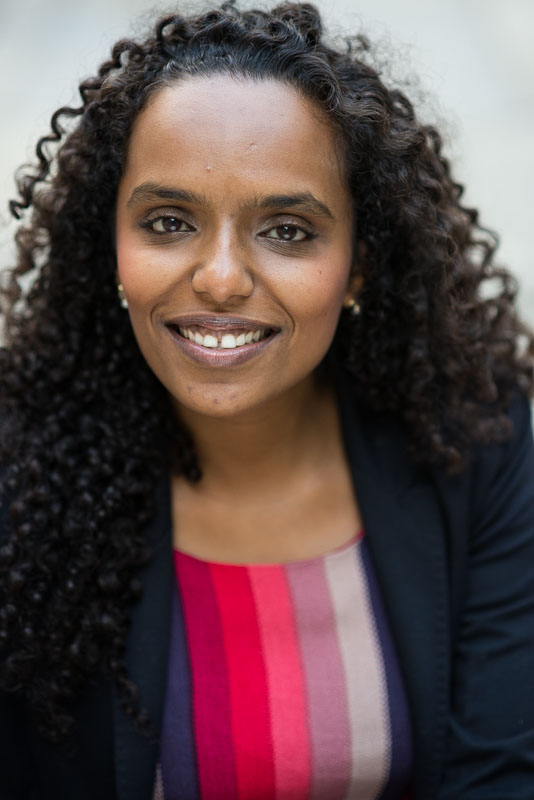 Taking inspiration from Craigslist experiences gone haywire, this Sudan native is creating a new kind of furniture marketplace.
---
"It's time to update the classifieds model," says Reham Fagiri WG'12, positioning herself as a disruptor from the start. "That's why Uber exists. That's why Airbnb exists. That's why all these things exist—they were all segments taken out of the Craigslist model, when you think about it."
The same could be said for her start-up, AptDeco. A furniture marketplace serving the greater New York City area, AptDeco updates the standard classifieds model to include curated listings and fully insured delivery, removing concerns about quality and pickup.
The idea spawned after Fagiri finished business school at Wharton and was preparing to move to New York. Desperate to sell her furniture, she turned to Craigslist, the well-known classifieds advertisements website that's now almost 25 years old. But when she did, she was met with strangers coming to her house, heavy negotiations, and a whole lot of awkward moments.
"I wanted to create that trust and safety factor with delivery being handled, instead of having to do it yourself," Fagiri says. So she did. AptDeco handles all transactions online (taking a 19 to 33 percent sales cut, depending on the size and demand of the item), including the logistics of the delivery and helping customers find a piece of furniture that fits their needs.
"Trust comes from branding," Fagiri continues, speaking of the website's streamlined and bright layout. All furniture listings are quality-assured for size and conditions, with most being imposed on a sleek, white background to mimic the feel of a standard furniture brand, not a consumer marketplace. "We [created] an experience where you can trust where you're buying from, and being able to see things in your home is a big part of that. [So is] curation—the idea that you should be able to easily find what you're looking for and not sift through a complicated classifieds site."
While reliability and ease were central factors in AptDeco's mission from the beginning, the start-up also now focuses on sustainability—something Fagiri admits they weren't thinking about initially. But "the more we learned about the market and the carbon footprint of furniture," she says, "it's something we now pay close attention to. We want to get users to understand the impact of the decisions they're making." Fagiri notes a shift toward secondhand retail could yield a large reduction in fossil fuel emissions.
Despite her vision and clarity, Fagiri never anticipated starting her own business. A former engineer and analyst at Goldman Sachs, Fagiri used to find comfort in a larger corporate environment, where "your role is siloed and you're in charge of one little piece of a big thing." But coming from a long line of entrepreneurs in Sudan, with her father running an engineering firm and her aunts managing architecture companies, enterprise has always been in her blood.
In Sudan, she says, "the economy is set up to favor small businesses, and my family owned a lot of them. So, when you grow up in that sort of environment, it becomes the unintentional goal and motive. Deep down, I knew I could start a business because I had seen other people do it in my family."
Fagiri has had no shortage of role models and help along the way. Following her time at Wharton, she and AptDeco were drafted into Y Combinator, a high-powered start-up accelerator known for catapulting tech companies like Dropbox and Airbnb. While her time at Goldman Sachs taught her to never reinvent the wheel, advice Fagiri found essential to building AptDeco's brand, Y Combinator empowered her to prioritize customer experience.
During the early days of AptDeco, Fagiri and her business partner Kalam Dennis borrowed a scenario from an episode of Undercover Boss and began delivering the furniture themselves. Although hauling sofa beds up flights of stairs in luxury apartment buildings and accidentally damaging some of them in the process is a memory Fagiri wishes to forget, she gained valuable insight about her customers in the process. "We got to learn about who these people are and what their motivations are, which helped us change our marketing, targeting, user experience, and even how we frame content—whether it's emails or the text on the website."
Ultimately, as AptDeco expands to more parts of the Northeast, the advice she offers to young entrepreneurs, especially women, is introspective. Recognizing that her Sudanese upbringing insulated her from a lot of the social stigmas and challenges endemic to female and minority entrepreneurship in the US, Fagiri admits that "it's only gotten harder" to run her business as she gains knowledge about racial stereotyping.
Most of these problems, she acknowledges, are systemic issues of exposure and opportunity, citing that women are up against more stringent review, and thus more likely to be rejected, when it comes to securing a business loan than men. "Traditionally, marginalized people haven't been exposed to entrepreneurship, so if you're not afforded the opportunity to see role models and examples, [starting a business] isn't something you'd think about," she says. "That's where the issue starts."
But her outlook isn't all bleak, as she believes that most of what's needed to break these barriers begins with confidence. Reflecting on her own experiences with self-doubt, Fagiri says, "I think a lot of times, at the beginning when someone critiqued something, I would take it too seriously and take that advice to heart. But knowing what I know now, I think you have to be confident in what you're building. Not everyone is going to like it. That's OK. Take people's advice, but don't take everyone's advice."
—Beatrice Forman C'22