Pictures of Penn, Vol. 8
We love seeing your pictures of alumni get-togethers, babies, and travel. This edition also highlights your amazing accomplishments, including book publications, art exhibitions, and career honors.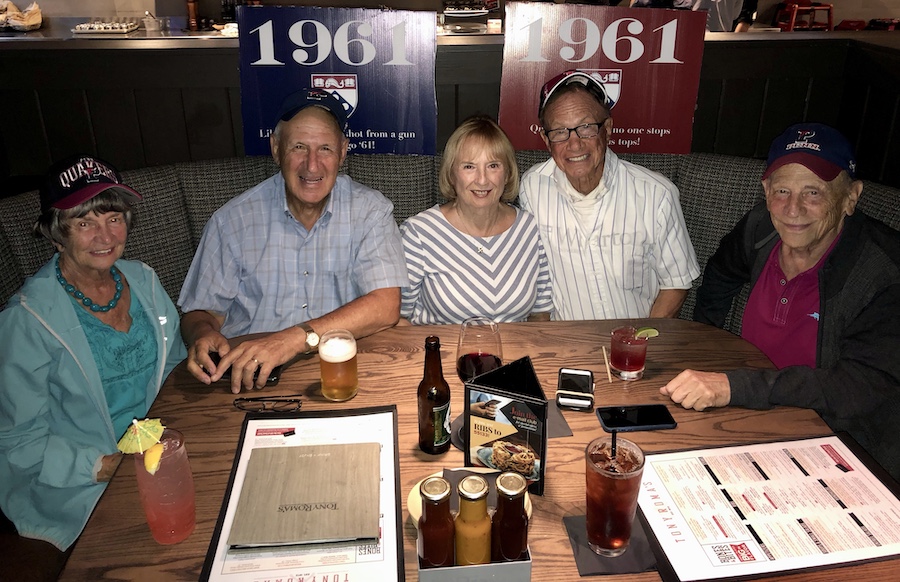 Charlie Schlesinger W'61 writes, "Steve Silver W'61, Barbara and Lee Shoag W'61, and my wife Joan and I celebrated our friendship of over 60 years at the Kennedy Space Center and Epcot in Orlando, Florida. Go Penn!"
Jill Krutick W'84 writes, "I have made an interesting transition from finance to the world of art. After a 17-year career on Wall Street as a highly ranked equity analyst covering the entertainment and leisure time industries and six years in the media world, I have become a full-time artist! This year I am having three museum exhibitions and gallery shows too!" Jill's most recent solo museum exhibition was at the Yellowstone Art Museum in Billings Montana, November 7 through January 5." Her website is jillkrutickfineart.com, and you can find her on Instagram @jillkrutickfineart.
Jordan Brehove WG'10 married Amanda Baldauf on May 25. Jordan writes, "The sun shined on our outdoor wedding in Centerport, New York. In attendance were over two dozen Penn alumni, including Mike Kramer WG'10, Jason Semine L'10 WG'10, Eddie Serrill WG'10, and Jeff Henretig WG'09, who were in the wedding party. Arthur Gravitz WEv'49 was the senior alumnus in attendance and danced with energy through the night alongside the 200+ attendees."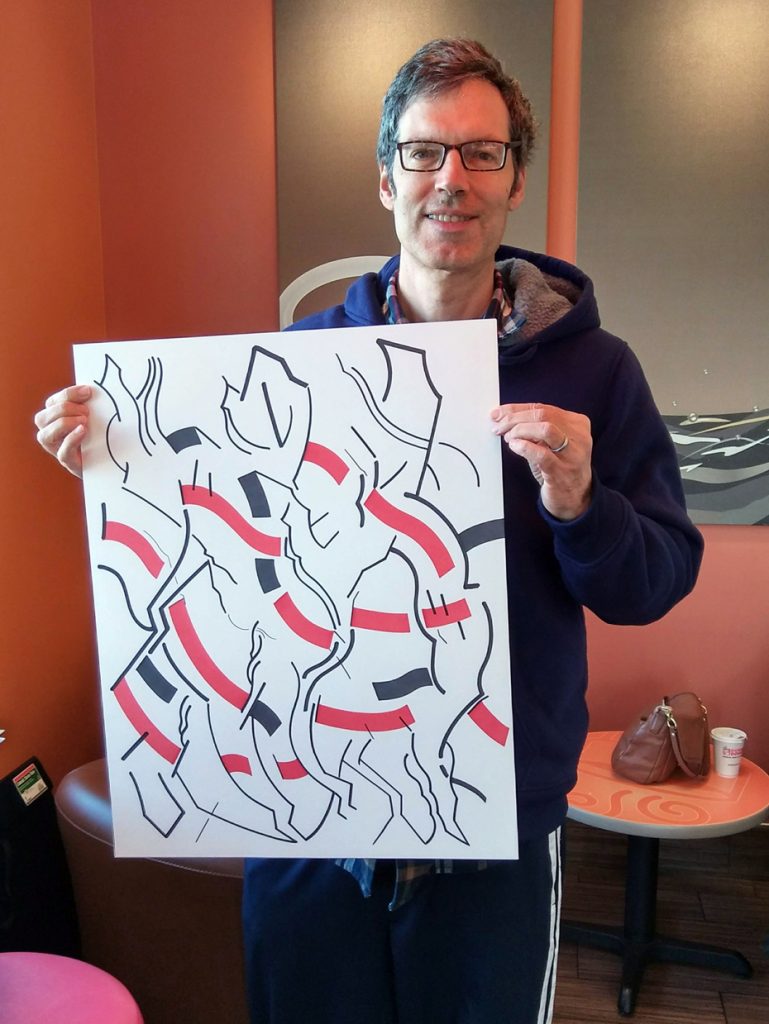 Robert Carley C'82 writes, "I was recently accepted into the Art of the Northeast (AoNE) exhibit in New Canaan, Connecticut, which is one of the most selective in the state. I also just had, two more abstracts accepted into the Ridgefield Guild of Art (RGA) show which received 400 submissions and accepted 50. The 69th AoNE receives many more submissions than the RGA. The funny thing is that all six abstracts that were accepted into five juried art shows so far this year were drawn outside of my studio. What's brewing at some Fairfield County Connecticut coffee shops? … Creativity. It's amazing what a hot cup of coffee can do to get one's creative juices flowing! When the coffee is percolating my inspiration perks up. I am not pretentious when it comes to what kind of studio space I use. I also draw at my local McDonalds … I call these works … McDrawings."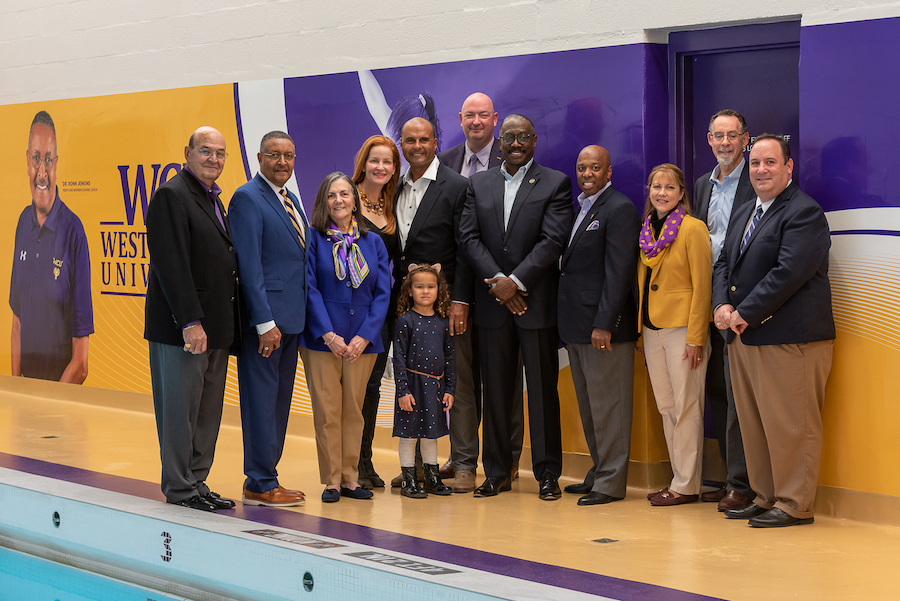 Ronn Jenkins GrEd'81 (second from left), a longtime diving coach at West Chester University, was celebrated in October at the school's homecoming festivities with the unveiling of a renovated pool area, now named the Dr. Ronn Jenkins Diving and Aquatics Center.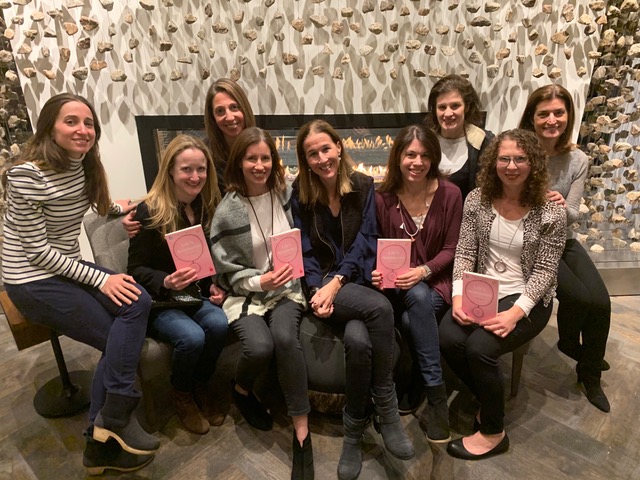 Rachel Levy Lesser C'96 (center) has published her fourth book, Life's Accessories: A Memoir (And Fashion Guide), which was chosen as one of '11 Memoirs You Need to Be Reading Now' by Parade magazine. Rachel writes, "The book is a coming-of-age memoir told in 14 essays, and in each essay the narrative is tied to a fashion item from my closet or dresser. In the book, I write about my time at Penn and my lifelong friends from Penn make appearances in the book as well. I was back on campus in October to record a podcast episode at the Kelly Writer's House with English professor Jamie-Lee Josselyn C'05, and I did a reading at a Live from the Writer's House event. I was in Nashville in November with eight of my Penn classmates and lifelong friends (who are in the book) and we took this picture of us together with our copies of the book."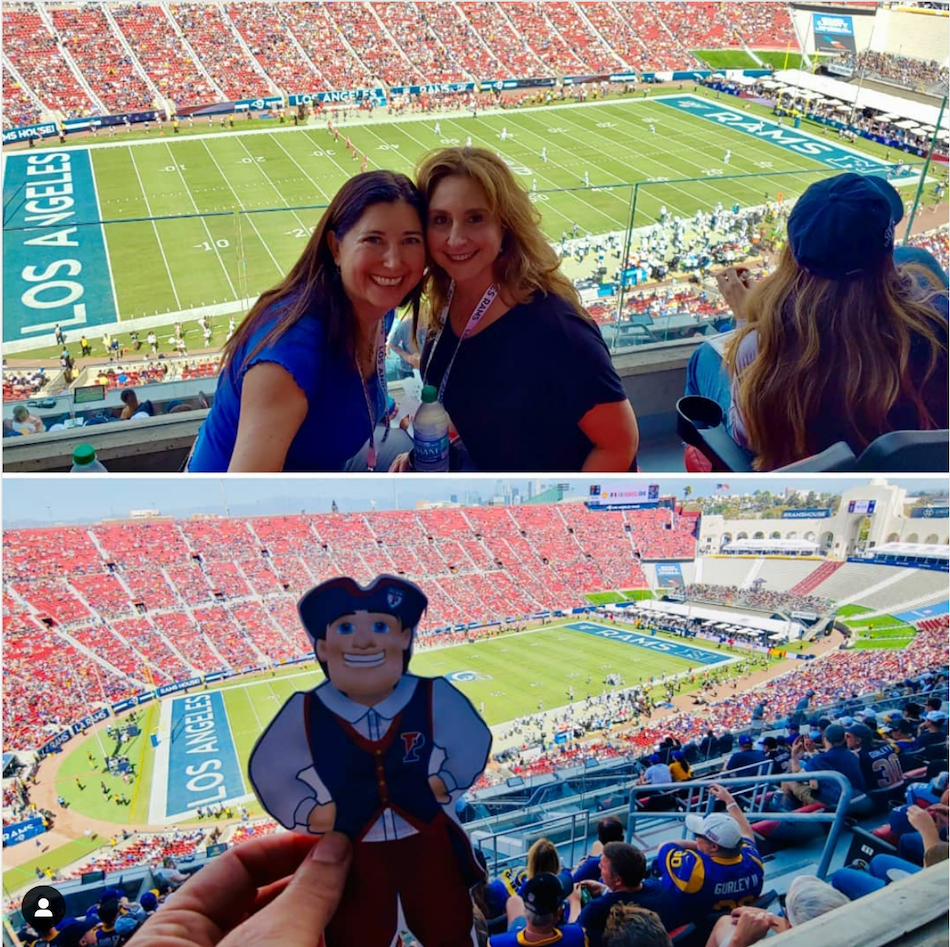 Lisa Niver C'89 (left) and Toni DeMayo CGS'01 CGS'05 watched the Los Angeles Rams play the Tampa Bay Buccaneers in September at the Los Angeles Memorial Coliseum. They brought along another familiar face, the Penn Quaker.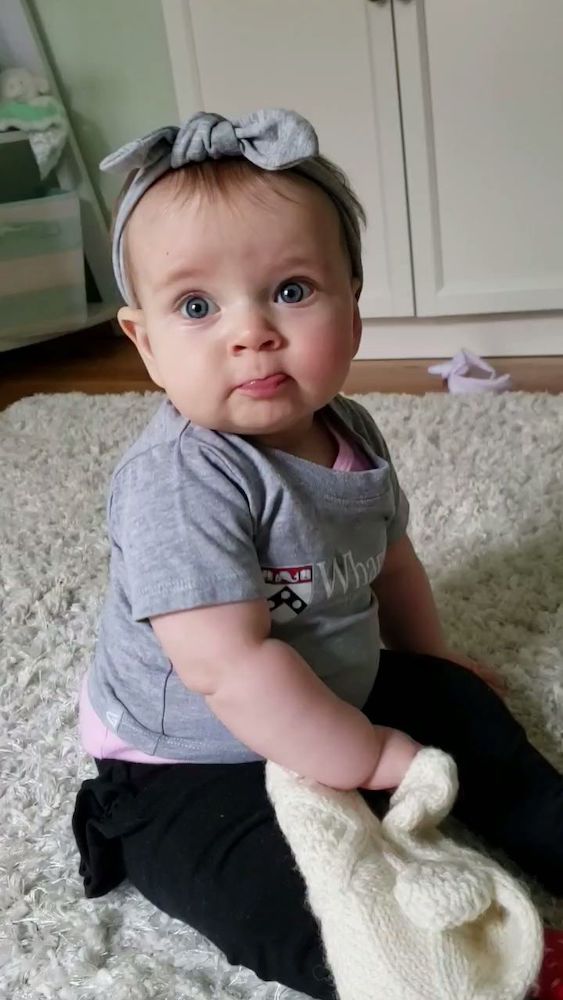 Marshall Hayes W'98 writes, "My wife, Mary, and I are overdue in announcing the birth of our beautiful daughter, Cecilia Marie Hayes, born September 5, 2018! She recently turned one and is constantly on the move. Although we live in Denver, we have been back to Philadelphia with her a few times already. Perhaps we are looking at a member of the Penn Class of 2040!"
Submit your photos and updates to gazette@ben.dev.upenn.edu. Keep smiling, Quakers!