Play It Again, Sam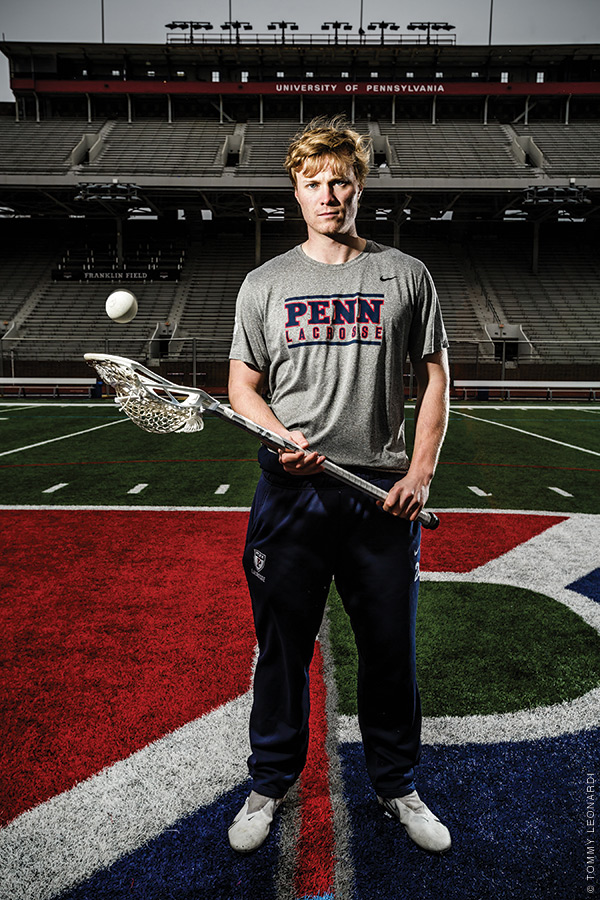 The best men's lacrosse player in the nation never wanted to be anything but a "Penn man."
---
As drops of freezing rain land on his wavy blond hair, Sam Handley casually strolls around a near-empty Franklin Field on the final day of January, wearing sandals, sweats, and a blue North Face fleece.
Save for his 6-foot-5 frame, the Wharton senior almost looks unassuming—an impression deepened by his laid-back conversational style. "He's a little quiet," Penn men's lacrosse coach Mike Murphy says, "a little reserved."
Yet on the lacrosse field, with his helmet strapped on, Handley morphs into a ferocious competitor, "whether running by someone or running through someone," as Handley puts it. "I'm pretty calm and composed," says the Portland, Oregon native. "But if you mess with me, I'm definitely fiery."
Already one of the most accomplished players in program history, the tenacious midfielder entered the 2023 campaign as arguably the best college lacrosse player in the nation. Tapped by USA Lacrosse Magazine as its preseason player of the year, Handley is fresh off a 2022 season in which he had 36 goals and 37 assists, was a finalist for the prestigious Tewaaraton Award (the lacrosse equivalent of football's Heisman Trophy), and was named a first-team All American by several publications as well as Ivy League Player of the Year.
Asked if he's ever had a player come into a season with more buzz, Murphy is quick to respond. "No," the 14th-year head coach says. "Nobody here at Penn. Not even close."
Handley has been dominant from the time he set foot on campus, but he's had a tumultuous journey at Penn. In 2019, he set program records for a freshman in goals (35), assists (26), and points (61) and was the unanimous choice for Ivy League Rookie of the Year, helping the Quakers capture their first Ivy title in 31 years ["Sports," Jul|Aug 2019]. Less than a year later, in the 2020 season opener at Maryland, he took a hit whose pain reverberated as the game wore on and during the bus ride back to Philly. Feeling terrible over dinner afterward, he told his dad he needed to go to the hospital. Turns out, he had ruptured his spleen. "I'd been bleeding internally from whenever I got hit in the game," he recalls, "until they rushed me into surgery."
Handley credits the trauma surgeon, Brian Smith, for saving his life. But the recovery wasn't easy. He spent 10 days in the hospital, for most of which, he says, he "couldn't eat any food before throwing it back up." And regaining mobility—starting with walking around the hospital in medical compression socks—was a challenge. The 15-inch scar on his abdomen, meanwhile, was a constant reminder of what he'd been through.
After his hospital stay, Handley flew across the country to continue his recovery at his Portland home. About a week later, the COVID-19 shutdown caused most other Penn students to leave campus, too. "I guess I beat the rush hour traffic," Handley muses.
The 2020 season lost, a healthy and rejuvenated Handley eagerly anticipated a return to play in 2021. So when the Ivy League became the only Division I conference to cancel spring sports that year, it was an especially bitter pill to swallow—and it made him seriously wonder if he'd ever suit up for the Quakers again. But although he looked into transferring at the time, "the truth is I didn't want to be anything but a Penn man," he says. "I didn't have any interest in being a new guy in a new place and a new program again. I've been here so long. I know all my food spots. I know all the little ins and outs of campus." (His favorite food truck is Tacos Don Memo on 38th Street.)
It helped to know that Penn has as much of a chance to win a national title as most other programs—something the Quakers proved last year when they returned to the NCAA quarterfinals. And though he had "a lot of self-doubt" about whether his star-studded freshman campaign could have merely been a "flukey season," Handley picked up right where he left off to emerge as the top player in the country's best conference. (A whopping six Ivy teams qualified for the 2022 NCAA tournament.) He led the Quakers to a pair of dominant performances in the Ivy League Tournament ("Probably the best lacrosse weekend I ever had," he says) and set up the decisive goals in a first-round NCAA tournament win over Richmond in overtime ["Sports," Jul|Aug 2022].
"Last year Sam felt some pressure to live up to expectations," says Murphy, who believes Hadley's field vision and IQ sometimes get overlooked. "The thing that sticks out is his size and athleticism," the coach notes. "He looks like an NFL tight end. But I still think the thing that separates him is his understanding of the game, knowing where the open guys are. When he's playing well, there's not a lot you can do defensively on him."
Had he followed the typical academic path, last season could have marked the end of Handley's Penn lacrosse career. But rather than graduate in May, Handley—along with classmates BJ Farrare, Piper Bond, and Dylan Gergar—dropped one class last spring, took the fall semester off, and returned to Penn this semester, needing to complete only one class to graduate. (It's a behavioral economics and public policy course.) Handley, Farrare, Bond, and Gergar—hardened by two thrilling seasons that bookended two lost ones—live together in an off-campus house. "Those are some of my best friends," Handley says. "I think adversity makes the bonds sometimes stronger."
Led by that veteran foursome and other promising players like junior Brendan Lavelle (who Murphy says is "poised to be one of the best defenders in the country"), the Quakers are hoping to finally break through and reach the NCAA final four, which this year will be held at Philadelphia's Lincoln Financial Field during Memorial Day Weekend. Penn's only been there once before, in 1988. Last year, the Quakers fell one game short after dropping a heartbreaker to Rutgers in the quarterfinals in a game in which Handley was hobbled by a broken foot. In 2019, they lost to Yale in that spot, in a 19-18 thriller. "That might be the hardest game to win in our sport," Murphy says.
Though he's dreaming of making it to championship weekend this May, Handley has big dreams beyond Penn too. He's projected to be the top pick in the Premier Lacrosse League (PLL) draft, has an investment banking job lined up in Los Angeles, and is in the product development phase of creating his own snack food brand. This past winter, he was also one of a handful of college players to try out for the US men's national lacrosse team, and though he didn't make it, he called it a "great overall experience."
But from February through May of this year, all eyes will be on Handley to see if he can replicate his college success one last time.
What does it mean for him to be widely considered the best college lacrosse player in the nation? Initially tentative about how to answer the question, Handley—a bulldog on the field, reticent off of it—later follows up with an email to carefully articulate his thoughts.
"Although being considered one of the best in the country is cool, I never started playing lacrosse to be the best," he wrote. "I started playing and kept playing because I loved it. However, if my younger self could see where we're at today, he'd be proud." —DZ