Lacrosse Legacies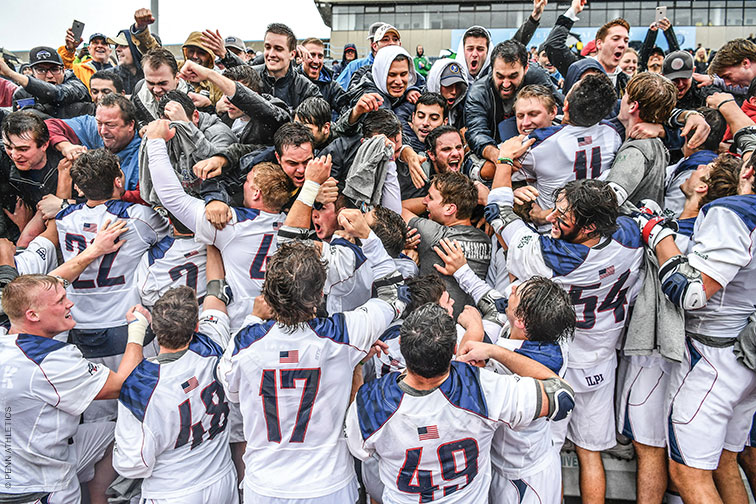 Men's lacrosse enjoys historic season while invigorating the program's alumni base.
The first thing Mike Murphy GEd'04 told his players after Penn's heartbreaking 19–18 overtime loss to Yale in the NCAA men's lacrosse tournament quarterfinals was that this was the best team he ever coached—and arguably the best one in program history. In case that wasn't enough, once the team's bus returned to Philly from East Hartford, Connecticut, he read aloud an email that had just been sent to him by John Kanaras C'88.
A goalkeeper who led the Quakers on a terrific three-year run from 1986 to 1988, culminating with the program's only trip to the NCAA final four, Kanaras still called the 2019 squad the best in school history, predicting that the "excitement and pride" the group "instilled in the program will change the trajectory for Penn Lacrosse for many years to come."
While Murphy says anyone can debate which is the best ever, this year's team is "clearly in the conversation" after reeling off 12 straight wins, ascending to as high as No. 2 in the national rankings, and capturing the program's first Ivy League title in 31 years. Kanaras' email also underscored another key point: the team's success stirred a lot of goodwill and nostalgia for alumni of the program. From the 1964 team that Murphy notes was the first to beat Princeton in Ivy play, to the great teams of the 1980s, to more recent ones that have been trying to return the Quakers to prominence, "the connectivity that our success generated was incredible," the Penn coach says.
At no point was that felt more than when the Quakers hosted an NCAA tournament game in front of some 3,000 boisterous fans—including Penn President Amy Gutmann—at Franklin Field in mid-May. "That was the best environment I think we've played in, home or away," says Murphy, who coached Penn to a 13–8 victory over Army, marking his first NCAA tournament win in 10 years at the Quakers' helm. With that result, he also became the program's all-time winningest coach with 75 victories, passing Tony Seaman (the last coach to lead Penn to an NCAA tournament win, in 1988).
But getting his second NCAA tournament win, he knew, would be a far greater challenge. Standing in the way of Penn making the final four—"For me," Murphy says, "the greatest event in sports"—was its No. 1 nemesis and the defending national champion: Yale. The Quakers had already beaten the Bulldogs twice, including a triple-overtime classic in which Tyler Dunn C'19 scored the game-tying goal with one second left in regulation before Sam Handley W'22 fired home the sudden-death winner. And Penn's second win over Yale, in the Ivy Tournament final, was also a one-goal affair as the Quakers clinched a sweep of the league's regular-season and tournament titles for the first time in program history.
Of course, as the adage goes, it's difficult to beat a good team three consecutive times. Some also wondered why a pair of conference foes—and arguably two of the best four teams in the country—were pitted against each other before the semifinal round. "My family, alums, people in the area were like, 'Oh my god, they screwed you!'" Murphy says. "No, they didn't. It's not like the [selection] committee goes into a room and says, 'How is this going to affect Penn?' It's much bigger than just us."
Moving from the Ivy to the national stage, Penn and Yale—seeded fourth and fifth, respectively—once again put on a show for the crowd at East Hartford's Rentschler Field or anyone watching at home on ESPN. Trailing 18–16, the Quakers managed to force overtime with a pair of goals in the final minute, including one from Simon Mathias W'19 with just 10 seconds remaining. "Simon's goal was Herculean and speaks to the type of player and leader he is, and the type of character he possesses," Murphy says. But, in the end, it wasn't enough as Yale's Jack Tigh ended the game with an overtime goal after popping up off the ground, spinning out of trouble, and firing one past Penn star goalie Reed Junkin C'19. "In that moment, I didn't even think it was real," says Junkin, his career ending on a goal he calls "weird" and one Mathias refers to as "lucky."
Still, despite the suddenness of a sudden-death tournament loss, the Penn seniors had their spirits lifted by the large group of supporters chanting "I–L–P–L," which stands for "I Love Penn Lacrosse," after the game. "To have our alumni group so willing to drop their plans on a Saturday or Sunday and come support the boys, it was really special," says Mathias, who graduated with Penn's all-time points record at 197.
"I don't think it was possible to play any harder, or prepare any better," Murphy adds. "Yale made a play. It was one of the best games I've ever seen. You don't have regrets." Yet it was hard not to feel a little wistful the following week when Murphy went to the final four, which this year was held at Philadelphia's Lincoln Financial Field. He couldn't help but wonder what the crowd would have sounded like had Penn played Penn State in the semifinals. And after Yale blitzed Penn State to advance to the title game, the coach certainly noticed people looking at him as if to say, "That could have been you." (Yale ended up getting denied in its quest to repeat as national champs, losing in the finals to Virginia.)
But Murphy believes his program has been built to the point where it's now a perennial national championship contender. So do this past season's seniors, who Murphy called "as good a group of student-athletes as I've ever been around." Losing Mathias, Junkin, and others to graduation will hurt, but the program will have a solid core returning, including Handley (the first freshman in program history to earn a first-team All-American honor) and Kyle Gallagher (who drastically improved Penn's faceoffs—something Murphy admits "hasn't been something we've been good at here" before this season).
"I hope we gave them a taste and they'll capitalize on that and make a final four appearance sometime soon," Mathias says. "And I'll be there to watch."
---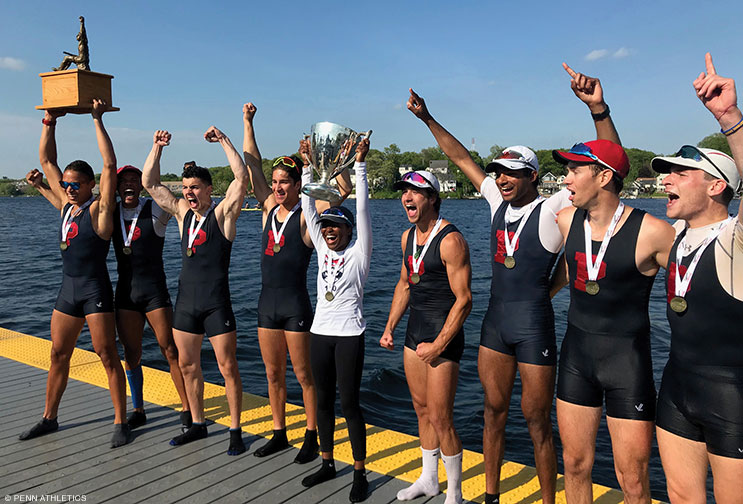 A Championship Crew
As the rowers splashed each other on the dock in celebration, Penn men's lightweight rowing coach Colin Farrell noticed a bit of surprise from onlookers.
The Quakers boasted a solid squad but "didn't come in as a top-ranked crew," Farrell says. "Internally, we knew what was possible. But certainly externally, people were kind of waiting to see it to believe it."
The wait is over. On May 19, at Lake Quinsigamond in Worcester, Massachusetts, Penn's lightweight men captured their first Eastern Association of Rowing Colleges (EARC) Sprints crown since 1976 and just the second since 1955. The Quakers, who entered as the fifth seed, beat out Yale and Navy in the Varsity Eights Grand Final, after knocking out top-seeded Cornell in a preliminary heat earlier in the day. "In our sport, the postseason is really kind of special and ends up determining how you look at the year," Farrell says. "Those guys really had their best race when they needed to."
Farrell adds that the rowers didn't have their best day two weeks later at the Intercollegiate Rowing Association (IRA) National Championships in Sacramento, California. But they still took home bronze to become the only school to earn medals at both of the championship regattas. "It's a special thing now that we can be third and get a medal at the national championship and be disappointed," says Farrell, who was named the Ivy League Lightweight Coach of the Year.
With everyone on the top two boats returning—and other exciting things on the horizon, including renovations to the Kelly Drive boathouse they share with the men's heavyweight and women's programs—Farrell is confident the team won't endure another championship drought that lasts 43 years.
"The challenge with lightweight rowing is everyone is the same size," he says. "It's really tough to dominate. The goal is to figure out how to compete and figure out a way to make the races go your way." —DZ
---
For a look at the Penn women's track team's historic day at the NCAA Championships, visit the sports page at thepenngazette.com