Paul Provenza, the Comedian's Comedian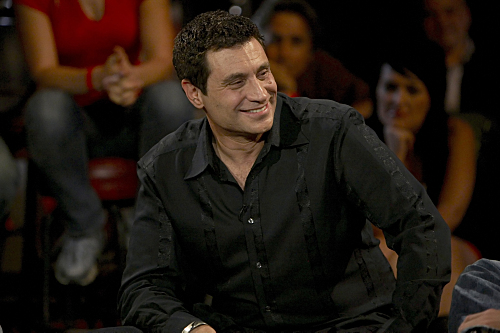 Paul Provenza C'79 is a comedian who's happiest when talking to other comedians. "When I became part of [the comedy] world, I realized I wasn't alone," he told me recently. "I realized there was a whole species of people like me who only relate to other people who are obsessed with comedy."
That comedy obsession has taken Provenza from performing standup in Penn dorms (you may remember him from appearances in the Hill House lounge), to a thriving TV, theatre and standup career, to directing The Aristocrats—a 2005 movie about comedy's dirtiest joke, and the ways various comedians tell it.
Most recently, Provenza's obsession has resulted in ¡Satiristas!, a just-published book of interviews with "comedians, contrarians, raconteurs and vulgarians," and The Green Room with Paul Provenza, a new show that debuts tomorrow (June 10) on Showtime.
In between book signings and preparing for his small-screen debut, Provenza made time to speak with me about his new book, his upcoming TV show, and his comedy days at Penn.
---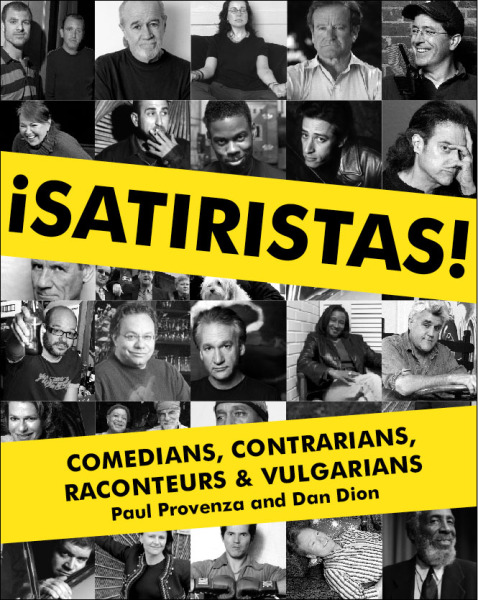 MP: Your interviews in ¡Satiristas! are very unique—they weren't conducted in the usual Q&A format many people have come to expect from celebrity interviews.
PP: Dan Dion [whose photographs accompany each interview in the book] really captures something in artists. His photos aren't about them being monkeys and jumping through hoops. They make you feel something about who these comedians really are. That drove my whole writing style. Rather than journalistic interviews, I wanted to do something that was as evocative as those photos—something that would make you feel something about the people you were reading about. That's why [the book] is more pieces of conversations than it is interviews.
For ¡Satiristas!, you interviewed some of the biggest names in comedy right now: Stephen Colbert, Judd Apatow, Conan O'Brien. Was it difficult to track them all down and have them agree to interviews?
It took about three-and-a-half years [to write ¡Satiristas!]. Almost everyone agreed to be interviewed right off the bat, and we ended up with a really nice cross-section of people. [The interviews] were very casual and informal, so they'd talk to me as another comedian rather than as a journalist. It was pretty loose, with no real agenda other than to talk about them.
So far, every one of the artists who's seen the book has been thrilled. Many of them feel it's one of the first times that they've been respected as artists and allowed to speak their minds without the obligation of soundbytes or any of that stuff.
What were some of the biggest surprises you encountered in interviewing your fellow comedians—several of whom are longtime friends of yours—for this book?
I've known Roseanne [Barr] for a million years and have always been a fan of hers, but through the process of chatting with her for this book, I learned the depth of what kind of thinker she is and how much she cares about things. I had no idea she was a Christian preacher in her youth.
Between your former Comedy Central show Comics Only, The Aristocrats and ¡Satiristas!, it's clear that you're a comedian who likes interviewing other comedians.
I've been doing comedy full time since 1980. That's a long time. And in all that time, with all the great experiences I've had and the personal milestones I've reached, the most fun I ever have is just hanging out with other comedians without an audience involved. When [comedians] get into some deep and heavy conversations, there's always some great, rich funny happening as well. [That humor] doesn't get in the way of their points; it helps them make their points.
So is that what your new Showtime show, The Green Room with Paul Provenza, is all about—sitting and talking to other comedians?
It's literally hanging out with comedians in a green-room environment. There's no agenda on the show, no format. I just put particular groups of people together and said, 'Let's do comedy jazz.' The audience is all people you would find in a green room: other comedians, producers, writers.
I've always hated doing comedy on television and watching comedy on television because that feeling of spontaneity falls away. The Green Room was shot with handheld cameras, and it has a really nice energy and down-and-dirty vibe.
Can we speak briefly about your Penn days?
I graduated with what I'm told is the first Theatre Arts degree ever awarded by the University. I started doing standup at the Improv when I was 15, but when I went to Penn, I couldn't find anywhere to do standup. I met a few other people who were interested in standup, and we started doing shows together. We'd do them in Hill House or the graduate dorms or wherever we could. Bob Saget was at Temple while I was at Penn, and he was part of a comedy team with another Penn student. In 1975 and '76, Bob Saget was auditioning for me to do a show in some dorm room at Penn.
You're obviously plenty busy right now, but what's on the horizon for you?
I love doing [The Green Room] and I hope I get to do that show for a long time. Right now, we're working on a live tour around the ¡Satiristas! concept. People have been able to put a frame around Blue Collar Comedy or the Kings of Comedy, but no one's done that so far with challenging comedy—comedy from brilliant social commentators. We did a few shows as part of the book release, and they went like gangbusters. People are interested in hearing challenging ideas—there's a big audience for a lot of these performers.