Padilla Power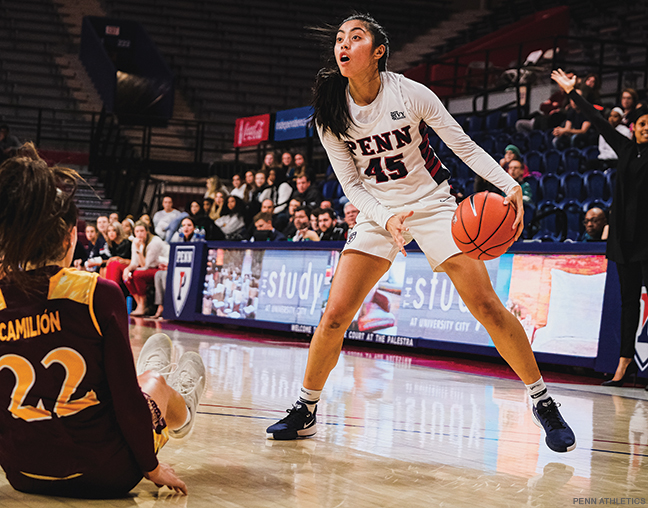 She's a rising basketball star and also runs a digital platform to amplify the voices of college athletes.
---
On the way to Hawaii for a New Year's Eve game, the Penn women's basketball team made a pit stop at rising sophomore Kayla Padilla's home in Torrance, California. There they squeezed into a backyard tent, ate mounds of Brazilian food, and listened to Padilla and one of her six-year-old twin sisters play guitar and sing Taylor Swift and Post Malone songs. Her parents and both sets of grandparents—who are from the Philippines, where basketball is the most popular sport—also made plenty of selfie requests.
"I question whether my parents or grandparents are the biggest Penn basketball fans," Padilla says. "They know every stat, every person on the team." Head coach Mike McLaughlin particularly enjoyed hearing about the parties the Padilla family would throw for every Penn game they could watch on ESPN+. "They told me exactly where they would sit," he recalls.
For Padilla, it was special to have her tight-knit family meet her new coaches and teammates just a few months after she had flown across the country as a 17-year-old to begin her freshman year at Penn. Having spent her whole life in southern California, Padilla admits that it was a difficult adjustment—not that anybody who watched her play at the Palestra could have been able to tell.
An immediate offensive dynamo, Padilla poured in 25 points in her second college game and continued to put up huge scoring numbers. She finished her freshman season in March with a 17.4 points-per-game scoring average and made 73 three-pointers, ranking second in the Ivy League in both categories. She was the Ivy League Rookie of the Year, a first team All-Ivy and All-Big 5 selection, and she ranked sixth nationally among all freshmen in scoring.
"We needed her to have the year she had," McLaughlin says. "We needed a scoring two-guard. And she was everything-plus. She's confident, creative as a basketball player. At times, she's unassuming. She may not look like she has everything, but she does."
Perhaps the pinnacle of Padilla's debut season came on January 11 when, in her first game versus Princeton, she had what McLaughlin calls a "special performance," shooting 10 for 14 to score 27 points. The following month against the nationally ranked Tigers, she had a successful encore with 24 points. "To feel that rivalry firsthand," she says, "was definitely something that came instantly."
The Quakers still lost both of those games, and missed the chance to play Princeton again when the Ivy League Tournament was cancelled due to COVID-19. But the way Padilla handled herself against Penn's fiercest rival reminded McLaughlin of another star freshman, Sydney Stipanovich C'17, who in her first year helped Penn dethrone Princeton to turn the Quakers into a regular Ivy championship contender.
"I was unbelievably impressed with her maturity," McLaughlin says of Padilla. "It's hard at that position. You're being chased all around the floor constantly. And her teammates totally embraced her because of who she is."
McLaughlin began recruiting Padilla years ago, thanks to a tip from former Penn men's basketball player Camryn Crocker C'15 GEd'18, whose sister Cailyn played with Padilla on the California AAU circuit. Padilla's ability to shoot threes, drive to the basket, and control the open court immediately jumped out. So did her family values, including the way she supports an autistic sister, and some off-the-court aspirations that drew her to Wharton and have since manifested themselves in entrepreneurial ways.
In April, Padilla launched The Sideline Post (thesidelinepost.com), a website for college athletes to write personal stories. It's modeled after The Players' Tribune, which gives that kind of space for mostly professional athletes. "I wanted to step in and bridge that gap and offer a platform to do the same thing and highlight the backgrounds and stories of college athletes, regardless of how many followers they have or what division they play in," Padilla says. A recent story by Penn men's basketball guard Devon Goodman C'20, in which he revealed for the first time that he played nearly the entire season with a broken wrist, was particularly well received. But other stories have gone beyond University City and touched on topics outside of sports. And as the global pandemic and police brutality protests have reshaped the world around them, other discussions have been happening too, including on regular team Zoom check-ins.
"It's great to have an open dialogue," Padilla says, "and not avoid the things that are going on today."
On the court, the Penn coaches are trying to give Padilla a bigger voice as she evolves into a leader. Padilla also hopes to become a more well-rounded player and improve her defense and rebounding to fill a hole left by point guard Kendall Grasela Nu'20.
She has her mind set on becoming an all-time program great, which McLaughlin is confident will happen—and more.
"She is going to leave Penn as one of the faces of the school," the head coach says. "She's that type of kid." —DZ