Out of the Shadows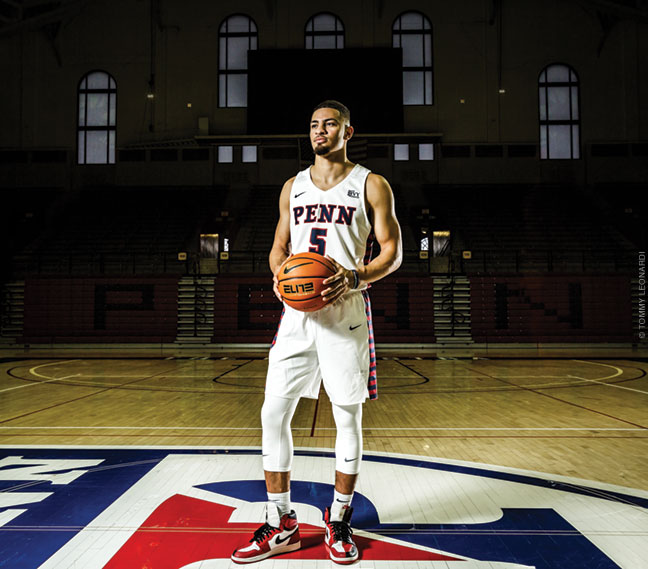 ---
Nearly five years after his last competitive basketball game, Jelani Williams is ready to light up the Palestra.
---
Jelani Williams has been keeping track of the number—a swelling number that, by the time the Penn men's basketball team opens its 2021–22 season on November 10 at Florida State, will be 1,788.
That's the number of days since Williams last played a competitive basketball game, due to three devastating knee injuries that, combined with the pandemic-induced cancellation of the 2020–21 season, sidelined him for nearly five years.
"I wanted to come in and be able to contribute for four years and leave an impact on the program," says Williams, who had been a prized recruit coming out of Sidwell Friends School in Washington, DC, in 2016. "But life doesn't always go as planned."
The 6-foot-5 point guard can still leave an impact on the program—but this is his last chance. A one-semester withdrawal during one of his injury rehabilitations has put him on pace to graduate from the University this coming May, a year after the classmates he came in with. He'll then still have plenty of college basketball eligibility remaining and hopes to use one or two years of it as a graduate transfer at another school.
But for now, Williams is focused on the Quakers—a team he has yet to play a game for but will nevertheless lead as a captain, along with junior Lucas Monroe, for his final season. "I think everyone's rooting for him," Penn head coach Steve Donahue says. "He's been our leader through the pandemic and someone I think we're going to lean on this year."
Other players, Donahue admits, might have checked out or hung up the sneakers for good rather than try to come back from three separate anterior cruciate ligament (ACL) tears. "I would have understood," the coach says. "Once, twice, three times? How much more can a guy take?" Williams admits that there was a fleeting thought that, after the third one, maybe college basketball shouldn't be in his plans anymore. "But I'm too competitive to really give it up," he says. "I feel like I came here for a reason. I wasn't willing to accept that as the end of it."
Williams has taken lessons from each of his injuries. After he tore his ACL the first time, the day after Christmas in 2016 during a practice his senior year of high school, his recovery "focused on rebuilding my left leg and I kind of didn't pay much attention to making sure both legs were strong." When he tore his other ACL, the summer after his freshman year while vacationing in Martha's Vineyard, he regretted the imbalanced approach. After getting his right knee surgically repaired in August of 2018, he thinks he "came back too fast" and suffered the same injury just after his sophomore year in 2019 while working out on campus at Rockwell Gym.
The first time it happened, Williams was mostly confused—because it didn't feel that serious. "That's the thing about ACL injuries. If you've never felt it before, you think you're fine." The second time sparked something more like disbelief. "I was like, There's no way I did it again." The third time? That was the most crushing one of all. When he called his parents to tell them what happened, his dad was in so much shock he had to call him back. Waiting with him in the doctor's office the next day, Donahue gave him a big hug and the pair sat in silence for a spell before Williams proposed taking a semester off to focus on his rehab back home in DC and make sure not to cut any corners.
"Most people don't believe it at first," Williams says. "They're like, What do you mean, you had three? Then that's followed up with: I can't believe you're still playing.
"I kind of like that," he adds. "It makes me feel like I got through something most people couldn't get through."
Williams returned to Penn and got healthy just in time for COVID-19 to throw a wrench into his comeback plans, as the Ivy League was the only Division 1 conference to cancel winter sports last year. But as he waited to return to the Palestra court, he dove headfirst into Black Lives Matter protests during the summer of 2020 (see "Seizing the Moment" on our website) and has since worked with the athletics department to fight for social justice and racial equity.
During the longer-than-usual wait to return, Williams says the team has developed deep bonds, calling it "the closest group I've been a part of—which is crazy because we've had probably the least amount of time in person together." Yet from a basketball standpoint, the Quakers are a difficult team to gauge. The last time they played a game, in March 2020, a senior-laden squad led by all-time leading scorer AJ Brodeur was hoping to make a championship run before the pandemic wiped out the postseason tournaments for the Ivy League and then NCAA. Two of the top five scorers from that team, Jordan Dingle and Max Martz, withdrew from Penn to preserve a season of eligibility, so both are listed as sophomores and hoping to build off impressive freshman campaigns. But other than that duo—and Monroe, who was a regular contributor two years ago—the Quakers will look very different from the last time they stepped on the Palestra floor.
"We may look inexperienced, but we're not young," insists Donahue, who will not only rely on the 23-year-old Williams but also senior forward Michael Wang, who showed a ton of potential as a freshman before an injury scuttled his 2019–20 season, and junior guard Jonah Charles, who has yet to suit up because of an injury. The head coach also expects sophomore guard Clark Slajchert to immediately step into the rotation. "We're older, we're bigger, we're stronger, and I think we're deeper and better than we've been," Donahue adds. Williams, who admits that he lacks the quickness and explosiveness he had before the injuries but has improved his game in other ways, agrees. "We have a lot of veteran guys who will be able to pick up where we left off," the point guard says.
Donahue will be throwing the team right into the fire with a nonleague schedule that includes trips to Florida State and Arkansas as well as to the Myrtle Beach Invitational in South Carolina—all in November. "I think we have arguably the most competitive nonleague schedule in the country," Donahue says. "I want to give these guys a great year. They're chomping at the bit."
Following their November gauntlet, Penn will then pack all four Big 5 games into an 11-day span, beginning with Villanova at the Palestra on December 1. The Ivy League schedule, whose format changed to include fewer of the conference's signature back-to-back games on Friday and Saturday, will begin for the Quakers with a Sunday home contest against Brown on January 2.
"This is the cathedral," Williams says. "We're ready to come back in here, put the jersey on, have the band, the fight song, everything going—and put on a show for the fans that have waited."
Waiting for something, he's come to learn, might just make it even sweeter. —DZ