"Our Beloved Booney"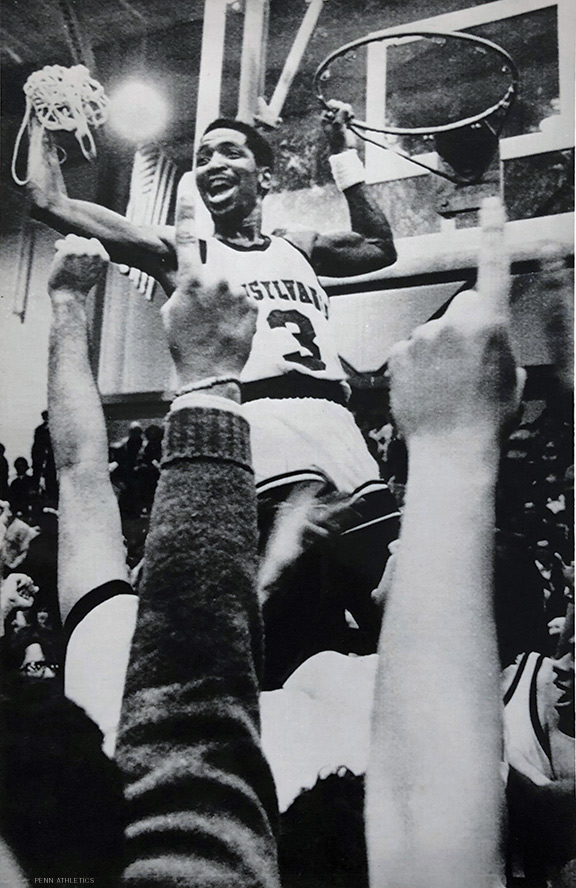 Remembering an indispensable member of Penn basketball's fabled Final Four team.
---
Before celebrating one of the biggest plays in one of the biggest wins in Penn basketball history, Tony Price W'79 went into protective mode.
The Penn star had just thrown a long pass to James "Booney" Salters W'80, who caught the ball in stride and hit a layup late in a second-round game of the 1979 NCAA tournament. But Salters was clipped by a North Carolina player on the play and banged his fist against the court after the hard foul.
"He knew I had his back," Price says. "Nobody's gonna touch him when I was around. Nobody can hurt my point guard."
That feeling of always wanting to be there for his friend and teammate never left Price: from racing down the court to check on Salters, who dusted himself off to complete a pivotal three-point play in Penn's shocking 72–71 win over heavily favored North Carolina en route to the 1979 Final Four, to talking on the phone with him just about every day since then—until Salters, battling pancreatic cancer, no longer had the strength to do so.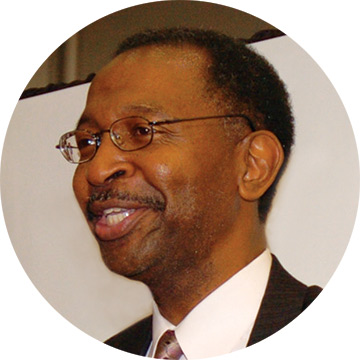 On July 7, Salters—one of the winningest players in Penn basketball history—succumbed to his cancer and died in his home in Long Island, New York. He was 64.
In the Penn Athletics announcement on his death, current Penn men's basketball head coach Steve Donahue said that in addition to playing "a key role in some of the most iconic moments in our program's history," Salters had a "magnetic personality" and "just lit up every room that he entered," especially when he was back at the Palestra for alumni events like the team's 40-year Final Four reunion in 2019.
Price admired Salters' gregarious spirit, even if it was much different from his own. "We were kind of like opposites, and that may have been the reason we got along so well," Price says. "Booney got along with everyone. People were drawn to him. It made me a better person around him all this time. I think I'm now more approachable."
One of Salters' three children, Jasmine Salters C'10 G'10 Gr'16, always appreciated the relationships her father maintained with his old teammates—particularly with Price, or as she's called him since she was a little kid, "Uncle Tony."
"There was a certain laugh he'd have when I knew Uncle Tony was on the phone," Jasmine says, before mimicking her dad's voice on those calls: "Here you go again, Ton!"
Despite his outgoing nature, Jasmine says her dad chose to keep his cancer diagnosis private for a long time. He told Price earlier this year, and when his condition worsened in June, allowed Price to inform others in the Penn community. By then, Salters was in no shape for visitors, so Stan Greene C'78—a former teammate and current member of Penn Basketball's board of directors—helped organize a Zoom video recording with about 25 of his closest friends at Penn, who shared their favorite Booney memories. Jasmine and her two siblings showed the recording to Booney, who spent his final weeks receiving hospice care in his home, shortly before he died. "He was laughing and smiling," says Jasmine, adding that at one point her dad, forgetting the video wasn't live, tried to talk back to Marc Morial C'80, his ex-classmate and current president of the National Urban League.
During the Zoom, Greene shared a story from the 1977–78 season, when Salters was a sophomore newcomer (freshmen weren't permitted to play on varsity then) on a squad loaded with experience and talent. "He was always about keeping things calm," Greene recalls. "I remember in the locker room, Booney had his boombox and a cassette in there with the Parliament-Funkadelic song 'Flash Light.' He would be dancing around the locker room saying, 'Get loose, y'all. Get loose.'"
That attitude helped Salters win over the Quakers' locker room from the start. Opponents, by contrast, seemed to get fooled by Salters, whose slight 5-foot-11, 150-pound frame belied his toughness on the court. Greene was cracking up on the Zoom when Bruce Bergwall C'80 recalled Penn's first game against Princeton in 1978. As Bergwall tells it, when Salters checked into the game, a Princeton player named Billy Omeltchenko, who remembered Salters from the Long Island hoops circuit, told Tigers head coach Pete Carril during a timeout to pay attention to the new guy. "Carril looks at him and goes, 'Listen, I can cover that guy,'" Bergwall laughs. "And Booney immediately gets two steals."
"Booney was always very deceptive," adds Bergwall, who played against Salters in high school before coming to Penn with him. "He never looked like he was as good as he was. His smarts, the speed of his hands, his ability to defend, were just remarkable."
A member of the Penn Athletics and Philadelphia Big 5 Halls of Fame, Salters rose from being a sophomore sparkplug off the bench to forming a reliable starting backcourt with fellow New Yorker Bobby Willis W'79 and forever securing his place in Penn lore as a leader of Penn's fabled Final Four team ["The Outsiders," Mar|Apr 2019].
Yet perhaps his most impressive feat was carrying a young 1979–80 team that had lost to graduation Price, Willis, and the two other Final Four starters, Tim Smith C'79 and the late Matt White C'79, back to the NCAA tournament. As the team's sole captain and leading scorer that season (he averaged 14.6 points per game and shot a blistering 88.7 percent from the free throw line—second all-time at Penn), Salters punctuated his career with the game-winning shot in the Quakers' 50–49 win over Princeton in a one-game playoff for the Ivy title. "That was the greatest shot of my life, and we can beat anybody," Salters was quoted in the New York Times recap after that game. The diminutive guard proceeded to lead Penn to an upset victory over Washington State in the opening round of the NCAA tournament, before his college career ended with a loss to Duke. "He had a whole team of pups and he got 'em in line," Price says. "They believed in him. He was a good leader."
All told, Salters played in a program record 10 NCAA tournament games, winning at least one every year he was on varsity—a remarkable feat considering the Quakers have won just one NCAA tourney game total in the 42 years since Salters graduated.
Beyond basketball, teammates were consistently impressed by Salters' focus and friendship. Bergwall, who ended up leaving the basketball team after one season, recalls many nights when Salters was studying late on Friday nights. "Everybody always underestimated Booney, whether it was on the court or in the classroom or wherever," Bergwall says. And Price says that friends called Booney "Little New" because "if you had a problem, you go to Booney, and he took your problem and he made it brand new. And you came out of it with hope and direction and knew things were going to be better. He made everything new."
Salters made the most of his experience at Penn because he was the first in his family to go to college. He told the Gazette in 2019 that he "had never even heard the word college" for much of his life and that his parents, who grew up in the South, had to forego their own education to work and take care of their families. So for Salters to not only graduate from an Ivy League school but to open those same doors for his children is one reason he always remained "a very, very proud Quaker," says Jasmine, who went to several games and events with her dad at the Palestra while working toward her own Penn degrees, including a PhD from the Annenberg School for Communication. "He instilled in his kids a strong work ethic and the value of higher education," Jasmine says. "He made sure all of his kids went to college and encouraged us to apply to Penn."
It would have been hard for them to escape Penn even if they'd tried. "He had so many Penn photos everywhere in the house—it's really crazy," Jasmine says. "And they're all in impeccable condition. He even still had his letterman jacket in his closet." And, she adds, every year during March Madness, he'd make sure to show his kids highlights of Penn's 1979 NCAA tournament run—one of the great Cinderella stories in college basketball history. The only game they weren't allowed to watch was the Quakers' lopsided loss to Magic Johnson and Michigan State in the Final Four. "My brother said now we can finally watch that one," Jasmine laughs.
Plans are in the works to memorialize "our beloved Booney," as Greene called him, at the Palestra in October, during the team's annual intrasquad Red and Blue Scrimmage. Price plans to be there then, just as Salters was always there for him—from the time his point guard was "right where he was supposed to be" streaking down the court against North Carolina to catch Price's pass to all the other times his best friend provided "constant counseling" for him.
"Booney left me in a better place than he found me," Price says. "He was a very good friend to me, and I was a very good friend to him. I don't think we left anything unsaid or undone." —DZ