Not Just for Laughs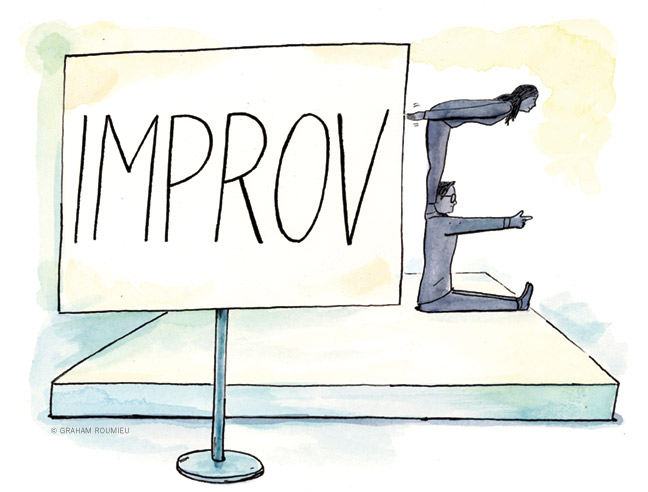 A President's Engagement Prize project blends quick-thinking repartee and a social mission.
---
Meera Menon W'20's friends always marveled at her ability to shine in employment interviews and, as Philip Chen W'20 puts it, "get every job she ever wanted."
"We always would say, Meera, how do you do it?" Chen recalls. "And she'd say, I improvise. That's when the lightbulb clicked."
Now Menon and Chen are cofounders of the Unscripted Project, a nonprofit that brings the same skills Menon used to land jobs and ace impromptu class presentations into Philly public school classrooms.
"Improv is such a powerful medium to develop those people skills—so-called soft skills," Menon says.
"We did a lot of academic research," adds Chen, "and everything we read tied to life skills in the classroom had to do with a form of improvisation."
Each Unscripted lesson centers on a particular life skill, from humor and laughter to persuasive speaking techniques. Over the course of nine weeks, learning takes the form of classic improv games, with teaching artists at the helm. In Menon and Chen's hands, those playful games become tools to help students feel more confident, more creative, and more at home in social situations and even job interviews.
"One improv game can teach a million different things," Chen says. One exercise, for instance, calls on one student to play-act the role of an interviewer while another portrays a job candidate. The rest of the class calls out suggestions for a silly job they might be discussing—like chicken nugget scientist or plant whisperer. "Both the interviewer and interviewee are practicing real-world skills," Menon says, "but the stakes are really low, because I'm interviewing for chicken nugget scientist."
In a further twist, the students might be asked to speak only in gibberish during the faux interview. It gets lots of giggles, but there's an embedded lesson: "They're no longer using words to show that they're confident, but instead have to rely on tone of voice and body language," Menon says.
Through data gathered in pre- and post-program surveys, Menon and Chen report that more than 80 percent of students emerged from their program feeling more attuned to their own and others' emotions, more confident participating in class, and more comfortable interacting with their peers. They also found that 23 percent of students who had screened positive for social anxiety disorder no longer met the criteria after completing the Unscripted Project.
"The biggest thing has been seeing these students develop self-confidence," Chen says. "Some have said, if I can do [that improv game], then I can raise my hand in class."
And Unscripted wouldn't exist without Penn. It's where Menon and Chen met, on the first day of Wharton's freshman orientation. It's where they soaked up the business expertise to turn the Unscripted Project from a well-intentioned dream into a serious nonprofit organization. It's also where they landed a $100,000 prize (plus a $50,000 living stipend) to launch their program ["Gazetteer," Jul|Aug 2020].
"I don't think what we're doing would have been possible at this scale without the President's Engagement Prize," Menon says. Their win also marked the first time that an arts-based project bagged the prestigious award.
The duo tapped into Penn's faculty and alumni communities for help, too. Marcia Ferguson, a senior lecturer in theatre arts, became their faculty advisor and now serves as a board member. Greg Maughan C'05 G'05, the founder and executive director of Philly Improv Theater, became a close mentor and helped craft the program's pilot curriculum.
Further support came from all around the University: faculty in Wharton, the Graduate School of Education, the School of Social Policy and Practice, and Penn Law assisted Menon and Chen on their quest. And with further guidance from improv pros in Chicago's Second City and the Magnet Theater in New York, the Unscripted Project was ready to roll.
But just as Menon and Chen were launching pilot programs inside Philly's Science Leadership Academy in February 2020, the COVID-19 crisis forced everything to a halt. They haven't been able to offer Unscripted in-person since.
In a real-time demonstration of the agility that improv requires, they adapted to a fully virtual 2020–21 school year. "Teachers were telling us about the sense of loneliness students felt with virtual learning," Menon says. "So we revamped our program to have a strong focus on creating community in the classroom."
Through laptop screens, the Unscripted Project reached 359 students in middle and high schools last year. This fall, they'll be in 16 classrooms across the Philadelphia area. The plan is to hover around that number each spring and fall for the next couple years while pursing grants and other funding to help them expand.
And at the same time their program is affecting students' everyday lives, Menon and Chen are finding themselves changed by the experience of running it. They plan to eventually detach from day-to-day operations as the program continues to grow, but "this really caused us to examine what matters to us and what we're looking for in our jobs," Menon says.
"This year we gained so many skills that we never would have gotten if we'd gone straight into the jobs that are typical for Wharton graduates," notes Chen.
"We might be young," he adds, "but we can create meaningful, tangible, measurable impact on the communities we serve. We hope we can inspire our friends and the people around us to think seriously about service and the roles we can all play in creating a better world."
—Molly Petrilla C'06